News

Starship Troopers: Traitor of Mars CG Film Gets Japanese-Dubbed Theatrical Release

posted on by Rafael Antonio Pineda
---
Sony Pictures announced on Tuesday that it will theatrically release Starship Troopers: Traitor of Mars, the new CG-animated sequel to the 1997 film Starship Troopers, in Japan on February 10 under the title Starship Troopers: Red Planet. The film's Japanese website revealed a Japanese-dubbed trailer and Japanese visual.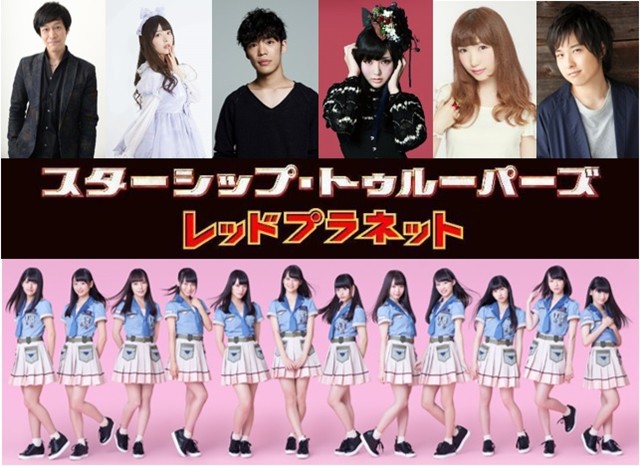 The cast for the Japanese dub include (from left to right in first row in picture above):
In addition, one member of the =LOVE (pronounced "equal love") idol group will be cast as the character Tami Camacho depending on the results of a live event on the ShowRoom live-streaming platform, as well as the consideration of the director.
Fathom Events screened the film for one night only in the United States on August 21. The film was then made available digitally on August 22. The film shipped on September 19 as a 4K Ultra HD/Blu-ray Disc Combo Pack, a regular Blu-ray Disc, and a regular DVD.
Shinji Aramaki, the director for the 2012 CG-animated film Starship Troopers: Invasion, returned to direct the new film. Masaru Matsumoto was the co-director, and Joseph Chou was the producer of the film. Ed Neumeier, the screenwriter for the 1997 film, returned to write the screenplay for the new sequel. Casper Van Dien and Dina Meyer reprised their roles as Johnny Rico and Dizzy Flores, respectively. Comedian DeRay Davis, a fan of Starship Troopers, also had a role in the film.
Japanese production company Lucent Pictures Entertainment and Tokyo-based computer animation studio Sola Digital Arts worked on the film along with Sony's Stage 6 Films.
Fathom Events describes the story:
In "STARSHIP TROOPERS: TRAITOR OF MARS", Johnny Rico has just been demoted and sent to a small satellite station on Mars whilst the Federation attacks the bugs' home planet. While trying to train his new recruits on this remote quiet station, the bugs show up in a surprise attack but the Federation's Fleet is too far away to help. It's up to Rico and his Troopers to save the planet and uncover how the bugs made it so close to home.
Before Paul Verhoeven's loose 1997 live-action film adaptation of Robert A. Heinlein's original Starship Troopers novel and its several direct-to-video follow-ups, Gundam anime studio Sunrise produced a video version of Starship Troopers in 1988. Studio Nue (Macross, Legend of the Galactic Heroes) co-founder Naoyuki Kato had created powered suit designs for his illustrations in the 1977 Japanese reprint of Heinlein's novel.
Source: Animate Times
---