News

Amazon Lists Release of Fujita's Otakoi: Otaku Can't Fall in Love?! Manga by Kodansha Comics (Update)

posted on by April
---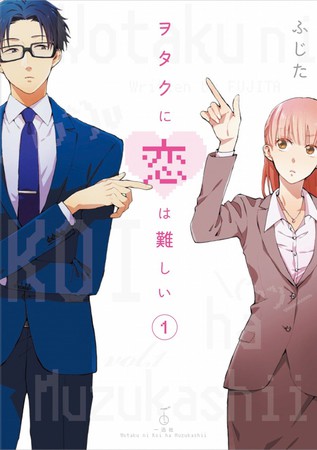 Online retailer Amazon is listing that Kodansha Comics will release first volume of Fujita's manga series Otakoi: Otaku Can't Fall in Love?! (Otaku ni Koi wa Muzukashii) on October 2 in North America. ANN reached out to Kodansha Comics for confirmation but the company did not respond by press time.
The manga's story centers on the awkward romantic comedy between Narumi, a female office worker who hides her fujoshi lifestyle, and Hirotaka, a handsome and capable company man who is secretly a game otaku.
Fujita launched the manga on the image sharing website pixiv in 2014. In November 2015, the manga moved to Ichijinsha's Comic POOL digital manga magazine. Ichijinsha will ship the fifth compiled volume on February 2. The manga has more than 4.2 million copies in print.
The manga was nominated for the 41st Kodansha Manga Awards last year. Japanese bookstore employees ranked the manga #9 in their recommended manga list of 2017. The manga also ranked #1 in the 2016 edition of Takarajimasha's Kono Manga ga Sugoi! (This Manga Is Amazing!) guidebook for female readers.
The series is inspiring a television animation series that will premiere in April.
Thanks to Morgan for the news tip.
Update: Another Amazon page lists an April 17 release date, while Barnes & Noble lists a June 12 release date. Kodansha Comics' distributor Penguin Random House, however, also lists it for October 2. Thanks, Swiftyy and Calico.
Update 2: Kodansha Comics confirmed with ANN on Friday that it will release the manga under the title Wotakoi: Love is Hard for Otaku. The company will release volumes 1, 2, and 3 on April 17, June 12, and October 2, respectively.
---
This article has a follow-up:
Kodansha USA Confirms Wotakoi: Love is Hard for Otaku Manga Release
(2018-01-26 12:15)