News

Live-Action Princess Jellyfish Show Casts Noriko Eguchi as Nisha

posted on by Karen Ressler
Mayumi Wakamura also joins cast as Kuranosuke's mother
---
The official website for the live-action television series based on Akiko Higashimura's Princess Jellyfish manga announced on Monday that Noriko Eguchi will play Nisha in the series. Nisha is an Indian who has lived in Japan for a long time and speaks in the Kansai dialect of he ex-husband. The makeup staff researched how to make Eguchi seem Indian in order to match the character's design in the original manga.

Mayumi Wakamura also joined the cast as Kuranosuke's mother Lina in the 5th episode on Monday.
Comedy duo Nyanko Star participated in the opening theme song "Go Sign wa 1 Coin" by Café Latte Funsui Kōen (Café Latte Fountain Park). The lead singer for Café Latte Funsui Kōen is still a unrevealed, but Nyanko Star member Angola Sanchō wrote the song lyrics.
The previously announced cast includes:
Kyōko Yoshine as Tsukimi Kurashita
Koji Seto as Kuranosuke Koibuchi
Asuka Kudō as Shū Koibuchi
Haruka Kinami as Jiji
Rena Matsui as Banba
Rio Uchida as Mayaya
Eriko Tomiyama as Chieko
Jun Kaname as Yoshio Hanamori
Kinya Kitaōji (One Piece Film Gold's Raise Max) as Keiichirō Koibuchi
Moga Mogami as Kotone Kiriyama
Koyuki as Tsukimi's mother (guest role)
Yumi Adachi as Nomu,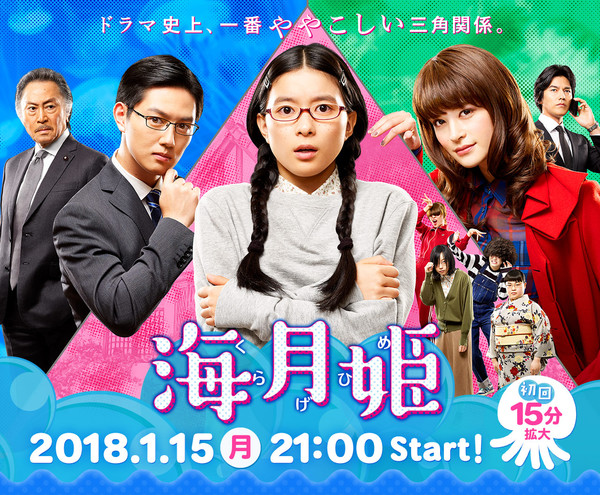 The series premiered on January 15 on Fuji TV and airs on Mondays at 9:00 p.m. Jun'ichi Ishikawa is directing the show, and Yūichi Tokunaga is penning the script.

Kodansha Comics describes the original manga's story:
Tsukimi, who has loved jellyfish from a young age, resides in Amamizukan, a fangirl-only dorm. One evening at the local pet store, Tsukimi sees a lovely jellyfish in danger, but a beautiful woman comes to the rescue. They go back to Amamizukan together, but this "woman"... is actually a man!
Higashimura launched the series in Kiss in 2008, and ended it in August. Kodansha published the manga's 17th and final volume in November. Crunchyroll publishes the manga in English on its online platform, and Kodansha Comics debuted the series in English in print in February 2016. The manga inspired a 2010 television anime series that Funimation released in North America and a 2014 live-action film. The manga was nominated for an Eisner Award last year.
Source: Mantan Web
---