×
remind me tomorrow
remind me next week
never remind me
Subscribe to the ANN Newsletter • Wake up every Sunday to a curated list of ANN's most interesting posts of the week.
read more
News

Anime Tamago 2018's Promo Video Previews Shorts

posted on by Rafael Antonio Pineda
Shorts debut at theatrical screening on March 10
---
The official website for the "Anime Tamago" (formerly "Anime Mirai") project began streaming a promotional video for this year's shorts on Friday. The video has both long and short versions.
The cast for Imagica Image Works and Robot's "TIME DRIVER: Bokura ga Kaita Mirai" (TIME DRIVER: The Future We Draw) includes:
Yoshitsugu Matsuoka as Yūto Matsubara


Mikako Komatsu as Chibi Yūto


Miho Arakawa as Ai Minami/Chibi Ai



Tomokazu Sugita as Time Driver


Saori Ōnishi as Sphere


Tomoko Kaneda as Dark Matter


Other cast members include:
Yukito Souma as Boss/Salaryman/Cameraman
Ayano Ogata as Mother/Announcer
Nako Eguchi as Girl/Office Worker

Director: Junichi Yamamoto (3D animator for your name.)
Producers: Akiko Isobe, Ryousuke Mamiya, Tomoya Iwasawa, Hideki Kanō
Story: Yūto Matsubara is a 27-year-old man who works in the sales department of a major toy maker, but he isn't able to pursue his dreams, and he feels hollow every day. He's even given up on love with his childhood sweetheart Ai. One day a "Time Driver" robot that runs on the power of dreams appears in front of him, and he is forced into the cockpit against his will. Inside is a 12-year-old version of himself. The two companies are also working together on the live-action/CG hybrid "Luna" project.

---
The cast for Studio Nanahoshi and Usagi.Ou's 3DCG Engimon (temporary title) include:
Ayaka Asai as Yamato Amanokawa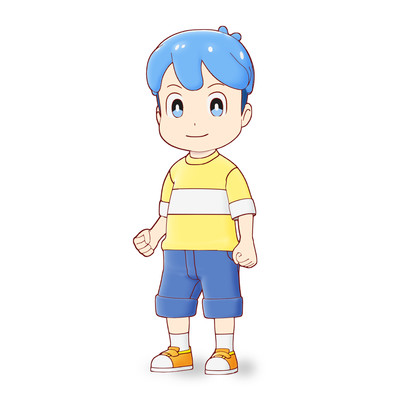 TARAKO as Haruo


Yuka Yamamori as Himi Amanokawa


Uko Tachibana as Kin-chan


Kappei Yamaguchi as Hebikura


Tetsu Inada as Chief Daruma


Kotori Koiwai as Koume


Kouzou Douzaka as Tarafuku


Takayuki Yamaguchi as Fukujirō


Aimi Tanaka as Kofuku


Other cast members include:
Takuma Suzuki as Mikoto Amanokawa
Shin'ichirō Kamio as Store Manager
Saki Nitta as Middle-Aged Woman

Director: Kodai Sato (CGI director for Freedom, Hipira: The Little Vampire)
Producer: Kōta Yamaguchi
Story: In the children's room of the Amanogawa household in the neighborhood of Shichifukujin, there are five Engimon: Haruo (a papier-mache dog), Kin-chan (a goldfish paper balloon), Hebikura (a bamboo snake), Chief Daruma (a daruma doll), and Koume (a Kokeshi doll). They are always watching over the siblings of the household, Himi and Yamato. One day, an Engimon from somewhere else appears, and Himi leaves the house to chase it. Haruo and his friends come alive, much to Yamato's surprise, and together they go to rescue Himi.

---
The cast for Tomason's "Milky Panic twelve" short include:
Taiten Kusunoki as Ippon


Youhei Tadano as Milking


Ami Naitō as Rabbirin


Akio Suyama as Dicte


Miyuki Satou as Cicica


Katsumi Toriumi as Daru


Mitsuaki Kanuka as White


Kenji Nomura as Mosa


Biichi Satou as Inochicchi


Atsuo Hasegawa as Chickento


Yūsuke Noguchi as Mondo


Minoru Shiraishi as Monki


Kōsuke Echigoya as Nyoro


Hiroshi Naka as Butler



Director: Shinnosuke Numata (sound director for Folktalkes from Japan, director and sound director for Furusato Meguri Nippon no Mukashi Banashi)
Producer: Tomonosuke Numata
Story: The town of Milky Town has a problem. All of the animals are drinking the milk from the company Milking, and are slowly turning into cats who have lost all motivation. The cat Milking hatched the evil plan in order to take over the world. By chance, Ippon, a tiger cowboy who used to work on the Charmy ranch, returns from his wanderings to Milky Town. There, he realizes the truth of what's happened to Milky Town, and works to save it alongside his friends.

---
The cast members for Picona's 3DCG "Midnight Crazy Trail" (temporary title) include:
Sumire Uesaka as Makina Markut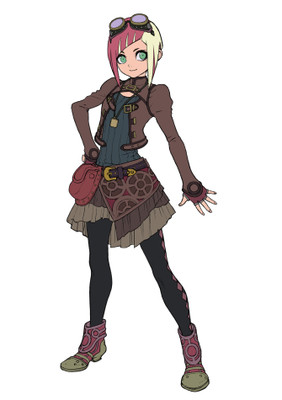 Toshiki Masuda as Shout


Kenichirou Matsuda as Crunch


Masayo Fujita as Dorothy


Tomotaka Hachisuka as Iluge


Other cast members include:
Aya Suzaki as Sōbii
Takayuki Asai as Special Duty Group Leader
Atsushi Kosaka as Operator
Shinya Takahashi as Restaurant Manager
Marie Ōi as Lady in Ice Cream Shop
Yuko Ueda as Bishop
Miki Kikuchi as Customer

Director: Shinichi Watanabe aka "Nabeshin" (Excel Saga, The Wallflower)
Producer: Ken Yoshida
Story: Shout and Crunch are "trash throw away-ers" who work in the dead of night. Makina is a 16-year-old witch who has come to the world of humans and to London to study for one year about how to become a proper bride. But Makina searches for Shout and Crunch, and begs them to throw away her "Witch's Book." Truthfully, Makina wants to quit being a witch and become a normal girl, and the book is just a hindrance. But the book is not something one can simply just throw away.

---
All six companies involved in the 2018 projects are new to Anime Tamago. Half of the works will be 3DCG works.
This year's selection committee consists of:
Kenji Uchida (former president of Sunrise)
Seiji Okuda (executive producer for Shochiku)
Tomoyuki Saito (producer at Dentsu)
Tadashi Sudo (anime journalist)
Masao Takiyama (president of Animax Broadcast Japan)
Mitsuru Hongo (anime director)
Hiroo Maruyama (assistant director at Mainichi Broadcasting)
Masahiko Minami (president of BONES)
As in previous years, the anime shorts will train young animators on-the-job part of the Japanese government's Agency of Cultural Affairs' "Young Animator Training Project." The shorts will debut at a theatrical screening at the Ikebukuro HUMAX Cinemas on March 10.
The Japanese government's Agency of Cultural Affairs launched its "Young Animator Training Project" in 2010 with the aim of fostering the growth of domestic animation studios, and tackling the concern that more of the Japanese animation process is being outsourced overseas. The project has spawned such works as Little Witch Academia and Death Billiards (which inspired the Death Parade television anime). The Anime Tamago 2017 shorts all screened in theaters in Tokyo last March and April.
---