×
remind me tomorrow
remind me next week
never remind me
Subscribe to the ANN Newsletter • Wake up every Sunday to a curated list of ANN's most interesting posts of the week.
read more
News

Legend of the Galactic Heroes TV Anime Adds 6 Cast Members

posted on by Rafael Antonio Pineda
---
The official website and Twitter account for Production I.G's new anime of Yoshiki Tanaka's epic science fiction novels The Legend of the Galactic Heroes revealed additional cast members on Friday.
The new characters for the Galactic Empire include:
Junichi Suwabe as Paul von Oberstein, an Imperial Navy captain and a staff officer attached to the garrison fleet based on Iserlohn Fortress. He is an excellent planner, but his frank manner has earned him the ire of more than a few colleagues.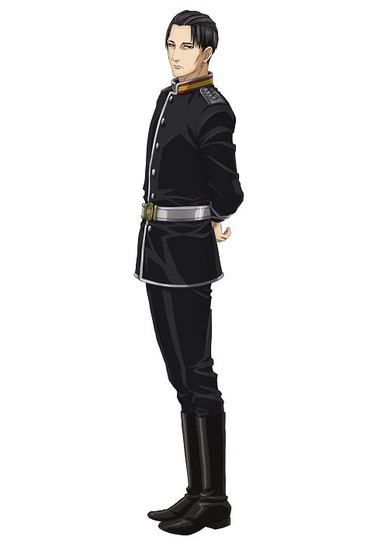 Daisuke Ono as Wolfgang Mittermeyer, an Imperial Navy vice-admiral. He is renowned for his bold tactics conducted at rapid pace, which has earned him the nickname "Wolf der Sturm" (Gale Wolf).


Yūichi Nakamura as Oskar von Reuenthal, an Imperial Navy vice-admiral. He is known for possessing both a high level of tactical command and strategic foresight, and is a man who tempers boldness with knowledge. He has earned the nickname "Bewitching Eyes" for his heterchromia.


The new characters for the Free Planets Alliance include:
Yuuki Kaji as Julian Mintz, a 14-year old boy orphaned by war, and is now the adopted ward of Yang Wen-li. He possesses a mind for both military and academics, and earns accolades for his academic performance. He is also an expert in household chores. He brews excellent black tea.


Tokuyoshi Kawashima as Alex Cazelnes, a rear admiral in the Alliance Navy. He is excellent in administrative duties, and is based out of strategic headquarters. He was an upperclassman of Yang during their officer school days.


Shinichiro Miki as Walter von Schönkopf, a commander in the Alliance Navy. He hails from a family of refugee nobles that fled the Empire. He commands the Rosen Ritter (Rose Knights), an elite special operations unit that specializes in close combat.



Previously announced cast members include:
Galactic Empire
Mamoru Miyano as Reinhard von Lohengramm
Yuichiro Umehara as Siegfried Kircheis
Unshō Ishizuka as Willibard Joachim von Merkatz
Kiyomitsu Mizuuchi as Staden
Takahiro Fujiwara as Fogel
Naomi Kusumi as Erlache
Ryota Takeuchi as Adalbert von Fahrenheit
Free Planets Alliance
Kenichi Suzumura as Yang Wen-li
Shinya Fukumatsu as Paetta
Kosuke Meguro as Pastolle
Tooru Sakurai as Moore
Tasuku Hatanaka as Lao
Yuuki Ono as Jean Robert Lapp
Yoshimitsu Shimoyama voices the narrator of the anime.
The anime will premiere on the Family Gekijo channel on April 3 at 9:00 p.m. (8:00 a.m. EDT). It will then air on Tokyo MX on April 5 at 10:30 p.m., and on MBS and BS11 on April 7 at 26:38 and 25:30 (effectively April 8 morning at 2:38 a.m. and 1:30 a.m.), respectively.
The first season, The Legend of the Galactic Heroes Die Neue These Kaikō (The New Thesis: Star-Crossed), will air as a 12-episode series. The event screenings of the second "season," The Legend of the Galactic Heroes Die Neue These Seiran (The New Thesis: Stellar War), will then play in theaters, as three films of four episodes each, in 2019.
Shunsuke Tada (Kuroko's Basketball, Starmyu) is directing the anime at Production I.G. Noboru Takagi (Durarara!!, Kuroko's Basketball) is in charge of the series scripts. Yoko Kikuchi (Junjō Romantica, Kuroko's Basketball, Sekai Ichi Hatsukoi - The World's Greatest First Love), Iwao Teraoka (The Brave Police J-Decker guest character designs, Kuroko's Basketball storyboarder), and Katsura Tsushima (Kuroko's Basketball episode animation director) are designing the characters, and Takayuki Goto (Kuroko's Basketball, Blood-C) is serving as chief animation director.
Atsushi Takeuchi (Napping Princess) is directing the special effects, and Atsushi Takeuchi (Appleseed, Ghost in the Shell, Yukikaze), Shinji Usui (009 Re:Cyborg), and Shinobu Tsuneki (Ghost in the Shell: Stand Alone Complex, Psycho-Pass) are drafting the mecha designs with original mecha designs by Naoyuki Kato (The Legend of the Galactic Heroes novel illustrations, Starship Troopers). Tanaka's Wright Staff management firm is supervising the project, and Kitty Entertainment is collaborating on the planning. Tokuma Shoten is collaborating on the production, and DMM pictures is collaborating on producing with Shochiku and Production I.G.
Composer Hiroyuki Sawano (Attack on Titan, Re:Creators) is composing the opening theme song "Binary Star" as part of his SawanoHiroyuki[nZk] project, and Uru (Mobile Suit Gundam: Iron-Blooded Orphans, live-action Kounodori) is providing the vocals. ELISA (The World God Only Knows, A Certain Scientific Railgun) is performing the ending theme song "Wish."
---