News

Sekkai Eightraid Anime's 4 Promo Videos Highlight Characters

posted on by Rafael Antonio Pineda
Videos will debut on &CAST!!! app in lead-up to anime
---
Bandai Namco Entertainment began streaming four promotional videos for its Sekkai Eightraid anime on Thursday. Each video highlights a different character. (Note: Name romanizations for characters are not official)
The first video is titled "Makoto Nanase," and features a narrator explaining the world and concepts of the anime. At the end of the video, the narrator notes that the anime is "a story with humanity's continued existence at stake."
The second video is titled "Asuma Mihara." At the end of the video, the narrator notes that the anime is "a story where I am me."
The third video is titled "Rino Nagasaku." At the end of the video, the narrator notes that the anime is "a story of possibility."
The fourth video is titled "Erena Aragaki." At the end of the video, the narrator notes that the anime is "a story where I will not love anyone."
The cast and characters that have been revealed thus far include:
Yoshinobu Sena as Asuma, the main character. He is a first year high school student.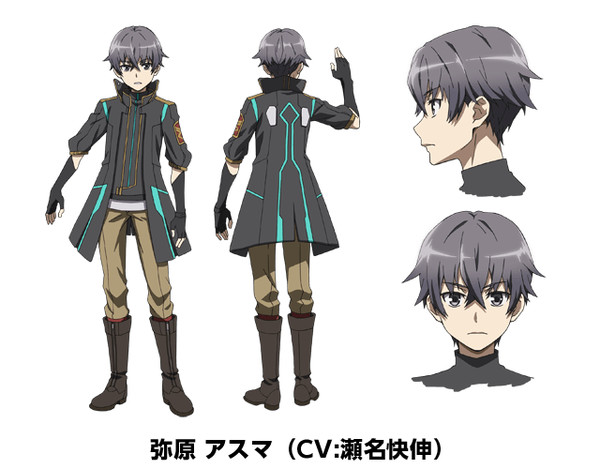 Ayana Taketatsu as Erena, a first year high school student who lived in America for five years.


The staff began taking applications for open auditions for other voice roles in February.
Sena (Vampire Holmes) is also directing the anime. Live-action director Gō Ohara will direct the action scenes based on real actors using wires. Yuugen (Outbreak Company) and Rururu Kondoh (Ten Carat Torte!) are designing the characters, Kenji Andou (Tiger & Bunny) is designing the battleships and war machines, and Hiroyuki Maeda is designing the monsters. Tetsuya Kobayashi (Mitchiri Neko) is composing the music and Yasuyuki Konno (Aesthetica of a Rogue Hero) is handling sound effects. Cucuri and Digital Network Animation are producing the animation.
The story takes place in a universe where countless parallel universes known exist. There is always a link — called "Prism" — connecting the modern world and these parallel worlds, and sometimes energy and substance comes through. One day, monsters known as "Eight" come from a parallel world and begin attacking. Humanity begins its counterattack using a power called "Skuld," which harnesses the power of tomorrow. The government gathers Skuld users into an army known as "Norn," but the Eight still wreak destruction over the years. Then, a boy named Asuma who can use an ancient weapon is discovered.

Bandai Namco Entertainment will lead up to the new anime with videos on "Eightraid Channel," a section of its upcoming interactive livestreaming app "&CAST!!!​," which has opened preregistration ahead of its launch this spring.
On the Eightraid Channel on &CAST!!!, director Sena will serve as the MC for the "Official Stream," which will host guests and share scenes from the anime and details on the production process. There will be opportunities for viewer participation, such as surveys. Another "Cast Stream" will allow users to cheer on "Eightraid Official Ambassadors" as they complete various tasks.

---
Disclosure: Bandai Namco Rights Marketing, Inc., a wholly owned subsidiary of Bandai Namco Holdings Inc., is a non-controlling, minority shareholder in Anime News Network Inc.
---