×
remind me tomorrow
remind me next week
never remind me
Subscribe to the ANN Newsletter • Wake up every Sunday to a curated list of ANN's most interesting posts of the week.
read more
News

Sound! Euphonium's Liz to Aoitori Trailer Previews Film's Theme Song

posted on by Rafael Antonio Pineda
New visuals, character posters also revealed for April 21 film centering on Mizore, Nozomi
---
The official website for Liz to Aoitori (Liz und ein Blauer Vogel or Liz and the Bluebird), the first of two planned all-new anime films in the Sound! Euphonium franchise, began streaming new trailer for the film on Friday. The trailer features the film's theme song "Songbirds" by Kyoto-based three-woman, one-man band Homecomings.
Nozomi: It's a story about a lonely girl named Liz.
Text: They were close friends.
Nozomi: Liz meets this mysterious girl. They got along well, and started living together, but in the last part...
Liz: Wait! Stay with me! Always, always...
Mizore: ...stay with me.
Text: Graduation is fast approaching.
Nozomi: See you!
Reina: Are you not getting along with Nozomi?
Mizore: It's not that.
Text: High school senior year. Their last moment of youth.
Natsuki: Things not going well with Mizore?
Nozomi: It's not that.
Mizore: I thought we would always be together.
Liz: You have wings, a sky that stretches far, far away.
Nozomi: Stories should have happy endings.
Narrator: Liz and the Bluebird

The site also revealed a new visual, as well as new posters featuring pairs of the characters:




Most of the main cast from the previous Sound! Euphonium anime are reprising their roles. The returning cast and characters include:
Atsumi Tanezaki as Mizore Yoroizuka, a third-year oboist. Before studying at Kitauji, she came from Kyoto's Minami Junior High School band program, where she developed top class skills. Nozomi means everything to her, and she can't bring herself to be truly interested in anything else.


Nao Tōyama as Nozomi Kasaki, a third-year flutist. As with Mizore, she also graduated from Minami Junior High School. She did not join band in her first year of high school, but rejoined in the summer of her second year. She is highly skilled and has a bright personality, which endears her to all the underclassmen.


Konomi Fujimura as Natsuki Nakagawa, a third-year euphonist, and the band's vice president. She only started playing an instrument in high school. In her middle school years, she had admired Nozomi within her circle of friends.


Yuri Yamaoka as Yūko Yoshikawa, a third-year trumpeter, and the band's president. She has been worried about Mizore since the crisis two years ago that led many members of the band to quit.


Tomoyo Kurosawa as Kumiko Ōmae, a second-year euphonist.


Ayaka Asai as Hazuki Katō, a second-year tubist.


Moe Toyota as Sapphire "Midori" Kawashima, a second-year bassist.


Chika Anzai as Reina Kōsaka, a second-year trumpeter.


Houko Kuwashima as Satomi Niiyama, a woodwind specialist who Taki hires to coach the section. She regards Mizore's abilities very highly.


Yūichi Nakamura as Masahiro Hashimoto, a percussion specialist who Taki hires to coach the section. He has a bright personality that earns him the trust of the band.


Takahiro Sakurai as Noboru Taki, Kiatuji's band director who has earned fame for taking a weak band program to the Nationals in only his first year.


Shiori Sugiura will voice a new character Ririka Kenzaki. Ririka is a new first-year oboist who tries hard to communicate with her fellow oboist and upperclassman Mizore.

13-year-old figure skater Miyu Honda will have her first voice acting role in the film. Honda will play two characters from the film's in-story fairy tale: Liz, an orphan girl who lives alone by a lake, and a mysterious blue-haired girl who saves Liz when she falls.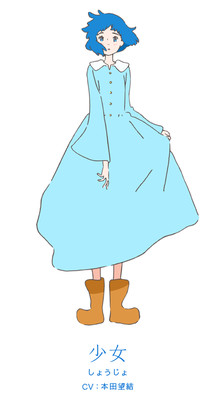 The film will open in Japan on April 21.
The film will tell a new story of third-year students Nozomi Kasaki and Mizore Yoroizuka.
Naoko Yamada (K-ON!, A Silent Voice) is directing the film off scripts by Reiko Yoshida (K-ON!, Yowamushi Pedal). Futoshi Nishiya (A Silent Voice, Free!, episode animation director for both television anime seasons), is returning to design the characters. Mutsuo Shinohara (A Silent Voice, Clannad) is returning as art director. Kensuke Ushio (A Silent Voice, Space Dandy) is composing the music.
Other staff members include:
Color Design: Naomi Ishida
Instrument Setting: Hiroyuki Takahashi
Director of Photography: Kazuya Takao
3D Director: Tetsuo Umetsu
Sound Director: Yota Tsuruoka
Music Production: Lantis
Music Production Cooperation: Senzoku Gakuen College of Music
Music Supervision: Masahiro Ōwada
The second planned film will tell the story of Kumiko Ōmae and others as second-year students. Tatsuya Ishihara (both seasons of Sound! Euphonium) is directing that film.
The second flashback film in the franchise, Gekijō-ban Hibike! Euphonium: Todoketai Melody, opened in Japan last September. Tatsuya Ishihara (both seasons of Sound! Euphonium) served as chief director, and Taichi Ogawa (unit director for Tamako Love Story, A Silent Voice) directed the film. The film looks back on the events of the second season of the anime series.
Source: Comic Natalie
---