News

Cutie Honey Universe Anime's Commercial Streamed

posted on by Karen Ressler
---
The official website for Cutie Honey Universe, the upcoming anime project based on Go Nagai's Cutie Honey manga, posted a 15-second commerical for the anime on Monday.
Pony Canyon USA began streaming an English version of the anime's second trailer on Monday. Since the trailer already had English translations, the new version is nearly identical to the original.
The cast includes:
Maaya Sakamoto as Honey Kisaragi/Cutie Honey

Yui Horie as Natsuko Aki, Honey Kisaragi's close friend


Shintarō Asanuma as Seiji Hayami, a PCIS (Panther Claw Investigation Society) investigator who knows Honey better than most


Atsuko Tanaka as Sister Jill, the leader of the criminal organization Panther Claw. She is a sadist who nevertheless possesses absolute charisma. She seeks Honey's "Airborne Element Fixing Device."


Rie Kugimiya as Sister Jill's servant Tarantula Panther. She harbors strong loyalty and adoration for Sister Jill. She has the abilities of a spider.


Rui Tanabe as Akebi Tetora (left in image below), Yūki Hirose (from AŌP) as Momomi Wareme, a pair of high-tech mecha users who also maintain an excellent intelligence network in the PCIS. They are largely uninterested in matters outside of their job, and disrespect their superiors at every turn.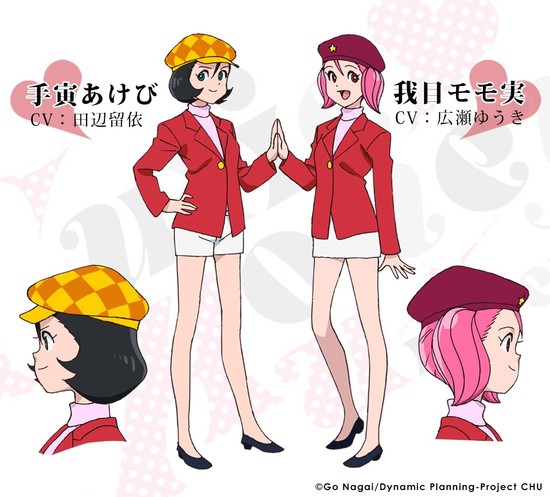 Ippei Orishima as Kogorō Iboji, a member of the PCIS group. He was once a private detective a long time ago. He seems to have a preoccupation with his own butt.


Ryo Naitou as Principal Pochi's wife, the wife of the principal of Saint Chapel. She is not a teacher in the school, but can always be found within. She teases her beloved Alphonne every chance she gets.


Minoru Shiraishi as Alphonne, a teacher at Saint Chapel, and Honey and Natsuko's homeroom teacher. She flirts with the principal's wife behind the principal's back.


Yuka Terasaki as Junpei Hayami, a boy who always goes where his father Danbee goes. He respects his father, and looks to him as an example of what to do and achieve. He loves his older sister.


Kousei Tomita as Danbee Hayami, Junpei's father. He loves women, and is actually very rich. While a pervert, he has a strong sense of justice, and cannot abide villains. He is quite skilled with a sword.


Yu Kobayashi as Miharu Tsuneni, the strict superintendent of the Saint Chapel dormitory. Her nickname is "Histler."


Romi Park as Naoko, a gang leader in Saint Chapel who protects the students alongside her six subordinates. She likes Honey, and considers Natsuko a rival.


The anime will also star Maaya Uchida, Tomoyo Kurosawa, Kana Hanazawa, Yukari Tamura, and Suzuko Mimori as different Honeys, but the staff have not yet revealed which Honey the voice actresses will play. The other Honeys include:
Hurricane Honey


Fancy Honey


Flash Honey


Misty Honey


Idol Honey


The anime will also star Katsuji Mori as Professor Kisaragi.
The series will premiere on April 8 at 9:00 p.m. on the AT-X channel, and then run on the Tokyo MX 1 and BS11 channels.

Akitoshi Yokoyama (Photo Kano) is directing the anime at Production Reed. Natsuko Takahashi (Urahara, Yuyushiki) is handling the series composition and Syūichi Iseki is designing the characters and serving as chief animation director.
The idol unit AŌP (Mr. Osomatsu, In Another World With My Smartphone) are performing the anime's opening theme song "Ai ga Nakucha Tatakaenai" (I Can't Fight Without Love). The male artist luz is performing the ending theme song "SISTER."
The project, like the Devilman crybaby Netflix series and Mazinger Z Infinity film, commemorates the 50th anniversary of Nagai's works.
The classic 1973 manga follows Cutie Honey, an android created by Professor Kisaragi. When he is murdered by an organization seeking the device within her, she seeks revenge.
Nagai's manga has inspired multiple manga remakes, anime adaptations on television and home video, a live-action film, and a live-action television series. Seven Seas Entertainment has licensed the original manga and the Cutie Honey aGoGo! manga. Shinpei Ito wrote Cutie Honey aGoGo! in collaboration with Hideaki Anno.
---