×
remind me tomorrow
remind me next week
never remind me
Subscribe to the ANN Newsletter • Wake up every Sunday to a curated list of ANN's most interesting posts of the week.
read more
News

Dragon Quest Builders 2 Game Takes Place After Original Dragon Quest II Game

posted on by Crystalyn Hodgkins
Story centers on religious organization that rises after Hargon's death
---

This year's 20th issue of Shueisha's Weekly Shonen Jump magazine revealed more information on Monday about the story of Square Enix's Dragon Quest Builders 2: Hakaigami Shidō to Karappo no Shima (Dragon Quest Builders 2: God of Destruction Malroth and the Empty Island) game. The game will take place in the world of Dragon Quest II, and takes place after the events of the game.
In the new game, after Hargon's death, a religious organization rose in his place and inherited his will, and the peace brought by Hargon's death started to crumble. The goal of the organization was the destruction of the world. The organization begins to destroy towns and castles in places all over the world, and not much remains of the lives of the people. To this organization, the Builders are a hinderance and must be eradicated. The organization captures the protagonists and throws them in jail.
In the game's story, the protagonists wash ashore on "Empty Island," surrounded by rotting casks and driftwood. As the name suggests, there are no people, no towns, and no houses on the island. There is, however, an unnatural shrine-like object atop a rocky mountain.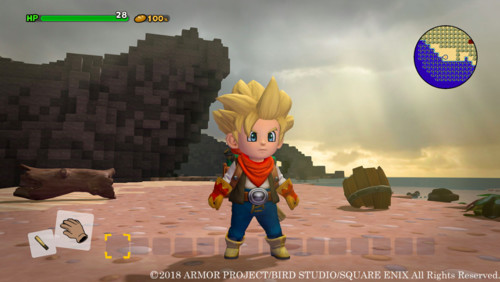 Manga creator Akira Toriyama designed the game's female and male protagonists. The protagonists are the descendants of the legendary builders who once saved the world.

Toriyama also designed the game's character Malroth. Malroth is the name of the final boss from Dragon Quest II. In Dragon Quest Builders 2: Hakaigami Shidō to Karappo no Shima, Malroth will serve as an ally to the protagonists, although he has amnesia.


Square Enix will release the sequel for the PlayStation 4 and Nintendo Switch. The new game will also feature the ability to swim underwater, to have water on top of high locations, and to make waterfalls.
Square Enix released the first Dragon Quest Builders "sandbox action RPG" on PlayStation 3, PlayStation 4, and PlayStation Vita in January 2016 in Japan.
The game is set in Alfegard, the setting of the original Dragon Quest game. The story follows an alternate ending of the game where the hero accepts the Dragon Lord's offer to rule half the world. The player takes control of a new hero to rebuild the land.
Square Enix released the first game in North America and Europe on the PS4 (digitally and physically) and PS Vita (digital only) in October 2016. The game received a release on the Nintendo Switch in North America on February 9 and in Japan on March 1.
---