News

Okko's Inn Anime Film Posts English-Subtitled Video

posted on by Rafael Antonio Pineda
Film opens in Japan in September, will screen in competition at Annecy in June
---
Film distributor Gaga International began streaming an English-subtitled promotional video for the anime film adaptation of writer Hiroko Reijō and artist Asami's juvenile literature series Waka Okami wa Shōgakusei! (The Young Innkeeper Is a Grade Schooler!) on Tuesday. The video features the same footage as the film's first Japanese promotional video.
The film opens in Japan in September. The film will screen in competition at the Annecy International Animation Film Festival in June.
The books are also inspiring a television anime that premiered on April 8 on TV Tokyo and five other affiliates..
The film will tell a story not told in either the original book series or the television series — specifically, a story about "Okko" and her parents.

DLE and Madhouse are animating the film along with the television anime, but Kitaro KOUSAKA (A-Girl, Nasu: Summer in Andalusia) is directing instead of the television anime's directors. Similarly, Reiko Yoshida (K-ON!, The Cat Returns, Girls und Panzer) is writing the script instead of the television staff. Kyōko Yauchi is in charge of art setting, and Shunsuke HIROTA is the animation director.
Youichi WATANABE is directing the art, and Terumi NAKAUCHI is the color key artist. Tomohisa Shitara is directing the CG, and Michiya Katou is director of photography and VFX supervisor. Takeshi Seyama is edting. Masafumi Mima is directing the sound, and Keiichi SUZUKI (No. 6, Tokyo Godfathers) is composing the music. Shizuo KURAHASHI and Sawako Nishi are handling the sound effects.
The film will have the same seven main cast members as the television anime.

The television anime series and anime film star:
Seiran Kobayashi as Oriko "Okko" Seki, the protagonist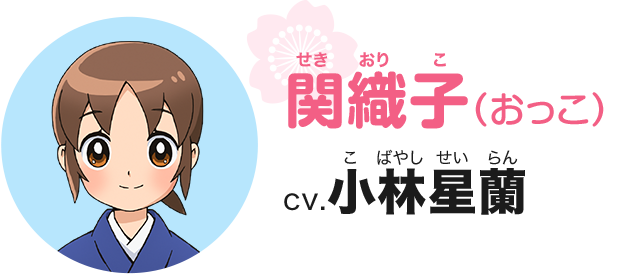 Satsumi Matsuda as Makoto "Uri-bō" Tachiuri, a ghost


Nana Mizuki as Matsuki Akino, Okko's rival


Youko Asagami as Mineko Seki


Teiyu Ichiryusai as Etsuko Tajima


Masaki Terasoma as Kōnosuke "Kō-san" Minoda


Etsuko Kozakura as Suzuki


Mitsuyuki Masuhara (Ace of Diamond, Chi's Sweet Home, Kobato., Polar Bear's Café) and Azuma Tani (Haiyoru! Nyaruani, Honto ni Atta! Reibai-Sensei, Insufficient Direction) are directing the television anime at Madhouse with DLE. Michiko Yokote (Cute High Earth Defense Club LOVE!, Genshiken, Kobato., RIN-NE) is in charge of the series scripts, and Akiko Asaki (The Tower of Druaga: The Aegis of Uruk) is designing the characters. Masafumi Mima is directing the sound at Techno Sound, and Takeshi Hama (Idol Time PriPara, Kobato., TsukiPro the Animation) is composing the music.
Reijō launched the book series in 2003, and Kodansha's Aoi Tori Bunko imprint published 20 volumes with seven spinoff and short story collections. The book series has 3 million copies in print. Eiko Ōuchi serialized a manga adaptation in Kodansha's Nakayoshi magazine, and Kodansha published seven compiled book volumes.
---