News

Miss Machiko Manga Gets New Live-Action Film in September

posted on by Rafael Antonio Pineda
New film set in Tochigi, 10 years after anime's story
---
A live-action film adaptation of Takeshi Ebihara's Maicching Machiko-sensei manga has been green-lit for a September debut. Tomoyuki Kamimura is directing the film, titled Hatsukoi Sketch ~Maicching Machiko-sensei~ (First Love Sketch ~Maicching Machiko-sensei~).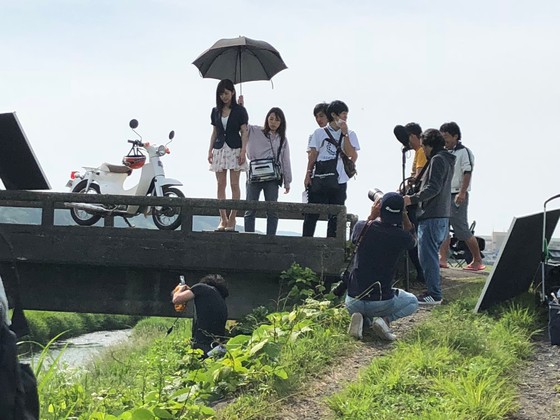 The film launched a Campfire crowdfunding campaign in May to assist the film's production. The campaign seeks to raise 1 million yen (about US$9,000) by July 14.
The film is set in Tochigi prefecture, and the story is set 10 years after the story in the anime. Arama Academy, the school where Machiko teaches, has been closed and converted into a factory, but there are plans to demolish it all together and convert the space into a shopping center. The school's alumni get involved in the debate: some support the plans, while others oppose it.
Ayako Fujiwara, Tochigi prefecture's "Future Ambassador," is the film's producer. Fujiwara noted to the Tokyo Web news website that the film aims to "convey the charm of Tochigi."
The film was shot at Egawa Elementary School in the city of Nasukarasuyama in Tochigi, a school that itself was closed down and partially converted into a factory. There are also plans to demolish this building in a few years.
The film's cast includes:
Reimi Ōsawa as Machiko
Shizuru comedy duo member Jum Murakami as Kenta, a student who has had a crush on Machiko since middle school
Shizuru comedy duo member Kazuma Ikeda as Kinzo
Tomohiro Sekimachi as Kame
Asuka Hanamura as Kyōko
Yuka Masuda as Hiromi
Mariya Suzuki as Nanao
Kee Maeda as Hiroshi
The film also cast about 40 local residents, including some of the local factory workers, as extras for the film.
The manga inspired a television anime adaptation from 1981-1983. Discotek Media licensed the anime for streaming under the title Miss Machiko. Crunchyroll has thus far streamed 75 of the 95 episodes. Discotek describes the anime:
The mischievous students of Arama Academy meet their match in a beautiful and clever new teacher, Miss Machiko! But they're determined to find a prank that will really embarrass her. No matter what they devise she still manages to laugh it off and help them with their school work and problems.
In addition to the television anime, the manga inspired a 2003 original video anime and eight live-action film adaptations from 2003 to 2009.
Source: Tokyo Web (原田拓哉)
---