News

Eiga Sai Festival Shows 3 Live-Action Chihayafuru Films in Philippines

posted on by Rafael Antonio Pineda
---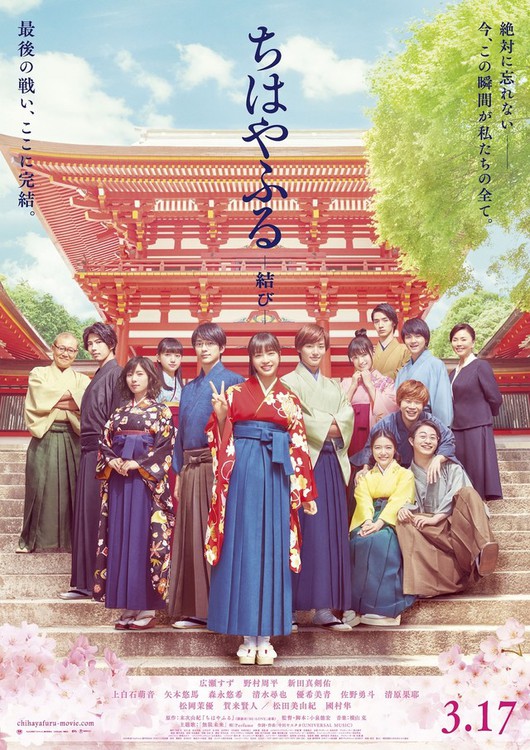 The Japan Foundation, Manila announced the films and screening schedules on Monday for this year's Eiga Sai Japanese Film Festival in the Philippines. The film festival will screen in various locations and dates in Metro Manila, Cebu, Davao, Bacolod, and Naga from July to August. The full schedule is available on The Japan Foundation, Manila's website.
The screening includes the following films:
Chihayafuru Part 1 (Chihayafuru: Kami no Ku)
Chihayafuru Part 2 (Chihayafuru: Shimo no Ku)
Chihayafuru Part 3 (Chihayafuru: Musubi)
Of Love & Law (Ai to Hō)
Seven Samurai (Shichinin no Samurai)
When the Curtain Rises (Maku ga Agaru)
Let's Go, JETS! From Small Town Girls to U.S.Champions?! (Cheer☆Dan ~Joshi Kōsei ga Cheer Dance de Zenbei Seiha Shichatta Honto no Hanashi~)
Rudolf the Black Cat (Rudolf to Ippaiattena)
Survival Family
Honnōji Hotel
Memoirs of a Murderer (22-nen Me no Kokuhaku ~Watashi wa Satsujinha Desu~)
Tora-san of Goto (Gotō no Tora-san)
Tori Girl!
Daytime Shooting Star (Hirunaka no Ryūsei)
Chihayafuru Part 3 opened in Japan on March 17. The movie sold 210,000 tickets for 257 million yen (about US$2.42 million) to rank #3 at the Japanese box office in its opening weekend.
Last year's Eiga Sai event also screened the first two live-action Chihayafuru films.
The first film, Chihayafuru Part 1 (Chihayafuru: Kami no Ku), opened in Japan in March 2016. The second film, Chihayafuru Part 2 (Chihayafuru: Shimo no Ku), opened in Japan in April 2016. The staff announced the sequel film on the same day the second film opened in Japan. Norihiro Koizumi (Midnight Sun, Kanojo wa Uso o Ai Shisugiteru) directed both films.

Rudolf the Black Cat (Rudolph to Ippaiattena) is based on Hiroshi Saitō's original 1986 children's book Rudolf to Ippaiattena.
The film opened in Japan in August 2016.
The New York International Children's Film Festival (NYICFF) screened the film's North American premiere in February 2017, and it describes the story:
Rudolf enjoys a life of comfort and care in Gifu, Japan. Yet true to the adage, curiosity gets the best of the kitten, and he decides to explore beyond the four walls of his home. When he's inadvertently whisked into the back of a cargo truck and lands in Tokyo, he befriends Gottalot, a seasoned street cat who possesses a crucial and unusual skill that will help him find his way home: the ability to read the human language. Rudolf's journey is rich with Japanese culture, and his story celebrates the wonder of discovery—that magical moment when you realize you have the key to unlock the world.

The live-action ReLIFE film is based on Yayoiso's manga of the same name. The manga's story revolves around Arata Kaizaki, an unemployed, single 27-year-old who has just been cut off from his parents' financial support. Unable to find a job due to his leaving his previous employer within three months, he is stuck. One night after drinking with a high school friend, Arata meets Ryō Yoake, a man who offers Arata pills to turn him back into a 17-year-old so he can redo his life. After agreeing to the experiment, Arata joins a high school class, and meets Chizuru Hishiro, a socially awkward silent beauty who yearns to have friends. Through connecting with her and other classmates, Arata must find what he lacks to live a happy life in the real world within a one-year time limit.
The film opened in Japan in April 2017.


Daytime Shooting Star is based on Mika Yamamori's manga of the same name. The manga centers on Suzume Yosano, a high school girl who moves from the countryside to Tokyo. On her first day in Tokyo, she gets lost, and a man helps her. That man turns out to be her new homeroom teacher named Satsuki Shishio. Suzume gradually comes to like Satsuki. Sitting next to Suzume in her class is Daiki Mamura, who hates women. Daiki and Suzume soon become friends.
The film opened in Japan in March 2017. The film ranked at #5 in its opening weekend.
Takehiko Shinjō (live-action Your Lie in April, Paradise Kiss, Boku no Hatsukoi wo Kimi ni Sasagu) directed the film, and Naoko Adachi (live-action Shitsuren Chocolatier) wrote the script. Dream Ami performed the film's theme song "Hayaku Aitai" (I Want to Meet you Soon).

Source: The Japan Foundation, Manila's official website
---