News

Live-Action Rainbow Days Film's Video Previews Kenji Furuya Theme Song

posted on by Rafael Antonio Pineda
Film opens on July 6
---
The official YouTube channel of Japanese film news website Cinema Today began streaming a "special video" for the live-action film of Minami Mizuno's Rainbow Days (Nijiiro Days) manga on Sunday. The video highlights the film's main characters, and previews the film's theme song "Wanderlust," which Dragon Ash vocalist Kenji Furuya created specifically for the film.
The film opens in Japan on July 6.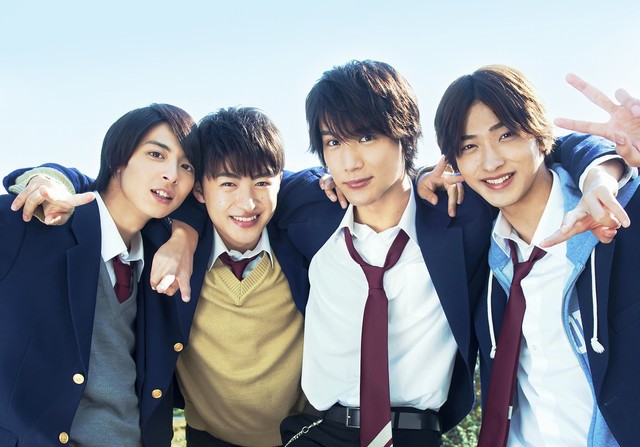 The film's male cast includes, from left to right in the photo above, Mahiro Takasugi as Tsuyoshi Naoe, Reo Sano (of the band GENERATIONS from EXILE TRIBE) as Natsuki Hashiba, Taishi Nakagawa as Tomoya Matsunaga, and Ryūsei Yokohama as Keiichi Katakura.

The female cast includes (clockwise from upper left in picture above):
Riko Yoshida as Anna Kobayakawa, a reserved girl whom Natsuki has a crush on
Yuri Tsunematsu as Mari Tsutsui, Anna's friend who speaks bluntly and hates most men
Nozomi Bandō as Reiko Chiba, a classmate of Natsuki and the others, and a volleyball team member
Mayu Hotta as Yukiko Asai, Tsuyoshi's girlfriend who likes cosplaying

Ken Iizuka (live-action Arakawa Under the Bridge) is directing the film and Rika Nezu (Saint Young Men) is writing the screenplay. Filming took place from mid October to November last year.
The film will also have five insert songs, including "Niji" (Rainbow) and "Baumkuchen" by Fujifabric, "17-sai no Uta" (The 17-Year-Old's Song) by Mao Abe, "Gunjō" (Ultramarine) by Leola, and "your song" by SUPER BEAVER. "Gunjō" is a new song specifically for the film. Composer Shōgo Kaida composed the song, and director Ken Iizuka wrote the lyrics.
Chikusa Kishima is writing a novel based on the film for Shueisha's Orange Bunko light novel label, and it will ship on Thursday, June 21. Hanomakimi is writing a novel based on the film for Shueisha's Mirai Bunko youth literature label, and it will ship on Friday, June 22. Hanomakimi is also writing a novel tentatively titled ~Tsutsui Mari no Yūutsu~ (The Melancholy of Mari Tsutsui) based on the original manga, and it will also ship on Friday from Mirai Bunko.
In addition, the live-action film will get an official book (pictured right) on June 22 with photo shoots, behind-the-scenes photos, and interviews with the main cast. The compiled volume for Nijiiro Biyori, the manga's side story, will ship on June 25 as the manga's 16th volume.
Rainbow Days centers on a group of four male high school students who are close friends: Natsuki, Tomoya, Keiichi, and Tsuyoshi. The four boys have no club activities, and they hurry through their studies so they can spend their days having fun. Their main topic of interest: love. Natsuki has an unrequited crush on Anna, a girl from another class, and his friends keep meddling in their relationship.
Mizuno launched the manga in Shueisha's Bessatsu Margaret magazine in the February 2012 issue and ended the series in March 2017. She published a side-story manga titled Nijiiro Biyori in the magazine in 2016 and launched it as an irregular series last July.
The original manga inspired a drama CD that Shueisha bundled with a limited edition of the seventh volume in October 2014. The manga then inspired a television anime that premiered in January 2016. Funimation streamed the anime as it aired in Japan. The manga's 13th volume also bundled an original anime DVD in September 2016.
Source: Cinema Today's official YouTube channel
---