News

Tsurune Archery Anime's Teaser Video Reveals Cast, Staff, October Debut

posted on by Rafael Antonio Pineda
Kyoto Animation anime casts Ryota Suzuki, Aoi Ichikawa, Yūto Uemura, Shougo Yano, Kaito Ishikawa
---
Kyoto Animation opened an official website for its television anime adaptation of Kotoko Ayano's Tsurune: Kazemai Kōkō Kyūdō-bu (Tsurune: Kazemai High School's Archery Club) novel on Friday. The site is streaming a teaser video for the anime, which reveals the anime's cast, staff, and October premiere. Kyoto Animation also opened a Twitter account for the anime.
The anime will premiere on the NHK-General channel in October.
The site also revealed a visual for the anime.

The cast includes (left to right in image above):
Ryota Suzuki as Ryōhei Yamanouchi
Aoi Ichikawa as Seiya Takehaya
Yūto Uemura as Minato Narumiya
Shougo Yano as Nanao Kisaragi
Kaito Ishikawa as Kaito Onogi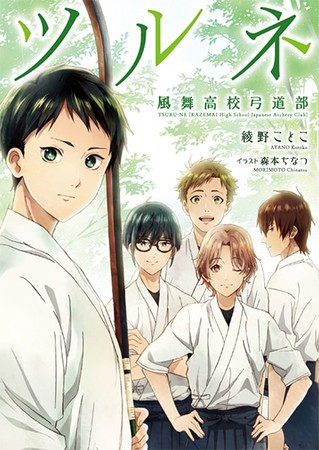 Takuya Yamamura (Violet Evergarden episodes 7 and 12 director, Sound! Euphonium episodes 3 and 10 director) is directing the anime as his series directorial debut, while Michiko Yokote (Shirobako, Children of the Whales, Karakai Jōzu no Takagi-san) is in charge of series scripts. Miku Kadowaki (Beyond the Boundary, Amagi Brilliant Park, Miss Kobayashi's Dragon Maid) is designing the characters. Harumi Fuuki (Miss Hokusai, The Piano Forest) is composing the music. Lantis is credited for music production.
The first novel received a Special Judge Award in the novel category at the 7th Kyoto Animation Awards in 2016. Kyoto Animation then published the book under its KA Bunko imprint in December 2016 with illustrations by Chinatsu Morimoto. KA Bunko released the second novel on February 9.
The "archery youth story" novel follows Minato Narumiya. Minato played Japanese archery in middle school, but after a certain incident, he ran away from the sport. In high school, Minato meets new friends, and together as part of their school's archery club they aim to win the prefectural tournament.
Source: Tsurune anime's official website, Tsurune anime's official Twitter account
---