News

GKIDS to Screen Ankama, Studio 4°C's MFKZ Film in Theaters in October

posted on by Rafael Antonio Pineda
Animated film based on French graphic novel debuted last year
---
GKIDS announced on Thursday that it has acquired the North American distribution rights for Mutafukaz, the animated film based on Guillaume "Run" Renard's comic series of the same name. The company will release the film theatrically with an English dub beginning on October 11 with the title MFKZ.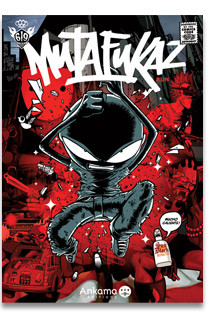 GKIDS describes the film:
Genre-mashup MFKZ is the love-child of French comic artist Guillaume "Run" Renard and ultra-hip Japanese animation house Studio 4°C, creators of Tekkonkinkreet, Genius Party and Mind Game. The Tekkonkinkreet dream team of Shoujirou Nishimi and art director Shinji Kimura reunite to bring to life a dark but stunningly animated sci-fi vision that mixes anime, film noir, Lucha Libre, and gang culture in an orgy of first-person shooter mayhem. The film centers on young Angelino and his skull-and-flame pal Vinny, who live in a seedy tenement in an LA-inspired dystopian metropolis - a burnt-out, gang and cockroach-ridden neo-urban hell that makes Blade Runner's LA seem like The Brady Bunch. Following a scooter accident Angelino starts experiencing migraines and strange hallucinations, as well as fits of rage-inspired superpowers, as he slowly awakens to the truth of his origins: he is half human and half Macho, a supernatural alien race that is bent on taking over the planet.
French video game and comics publisher Ankama and Japan's Studio 4°C (Tekkonkinkreet, Berserk: The Golden Age Arc) co-produced the project. Renard himself directed the film with Tekkonkinkreet animation director Shoujirou Nishimi. Shinji Kimura (Tekkonkinkreet, Steamboy) served as art director.
Mutafukaz previously screened at the Annecy International Animation Film Festival in June 2017. The project was first announced in 2011, and the staff announced in 2015 that the film was slated for release in 2017.
Titan Comics released the first volume of the original French graphic novel in English-speaking countries in 2015.
Source: Press release
---