News

Live-Action Gintama 2 Film Reveals 10 Short Clips

posted on by Karen Ressler
6-second clips preview film opening August 17 in Japan
---
Warner Bros. Japan began streaming 10 six-second ads for Gintama 2: Okite wa Yaburu Tame ni Koso Aru (The Law is Surely There to be Broken), the second live-action film based on Hideaki Sorachi's Gintama manga, on Friday. Each video focuses on a different aspect of the film — such as the cast or action scenes — or on a different situation.
All Cast Together Edition
No Holds Barred Action Edition
Final Summer of the Heisei Era Edition
Good Morning Edition ("If you don't get ready, you'll be late!")
To the People Commuting to Work Edition ("A message from Tosshi: If you work you lose.")
Lunch Break Edition ("Playing Gintama
shiritori
on your break.")
Feeling the Mid-Day Summer Heat Edition ("We're doing it again this year: wasting good-looking guys.")
Before Going to Bed Edition ("You there, watching nothing but
YouTube
before bed! That's no good.")
Nights Where I Want to Cry Edition
"Do You Want to Skip This Ad?" Edition
The film opens in Japan on August 17. The story will cover both the "Shinsengumi Crisis" and the "Shogun Reception" arcs, the latter of which features the introduction of the Shogun.
The film stars (from left to right in top row in picture below): Shun Oguri as Gintoki Sakata, Masaki Suda as Shinpachi Shimura, and Kanna Hashimoto as Kagura, as well as (bottom row) Masami Nagasawa as Tae Shimura and Masaki Okada as Kotarō Katsura. The character Elizabeth (bottom row right) is also returning, but the film's website has not specified if Takayuki Yamada is returning for the role.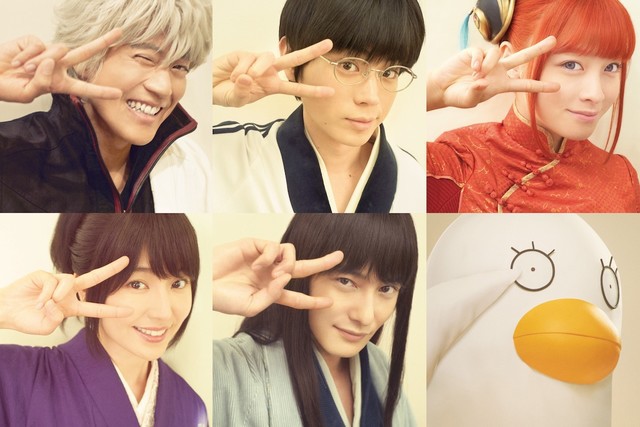 An accompanying three-episode live-action show titled Gintama 2: Yo ni mo Kimyō na Gintama-chan will premiere on August 18 on Docomo's dTV streaming service.
The first film opened in Japan last July, and it earned 980 million yen (US$8.9 million) in its first four days. The film also inspired a live-action net show that debuted on Docomo's dTV streaming service one day after the film's opening. Well Go USA released the first film on DVD, Blu-ray Disc and DVD combo pack, and Digital HD on March 6.
Sources: Warner Bros. Japan's YouTube channel, Mantan Web
---