×
remind me tomorrow
remind me next week
never remind me
Subscribe to the ANN Newsletter • Wake up every Sunday to a curated list of ANN's most interesting posts of the week.
read more
News

Akanesasu Shōjo Anime's Video Highlights Alternate World Premise

posted on by Rafael Antonio Pineda
---
The official website for Animax's original television anime Akanesasu Shōjo (Girl Glowing Red) began streaming a promotional video for the anime on Friday. The video highlights the main characters in an alternate world, and reveals a new character with an identical appearance to the main character Asuka Tsuchimiya.
The cast stars:
Tomoyo Kurosawa as Asuka Tsuchimiya, a second-year Crystal Radio Club member. She has a bright and kind personality. Her family runs an old miso shop. She has a tendency to jump straight into things, dragging everyone behind her, and tends to be accepted for what she does. She has a hobby of telling fortunes using chikuwa fish cake.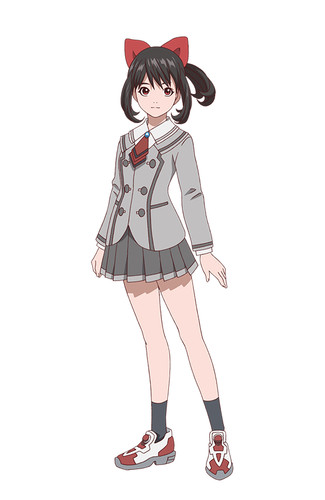 Lynn as Yū Tōnaka, a second-year Crystal Radio Club member. Her self-restraint often leads her to be the girl of reason among the five girls. She has been friends with Asuka since childhood, and has been cleaning up the messes she makes whenever she gets into something. Her family runs a hospital.


Nao Toyama as Mia Silverstone, a first-year Crystal Radio Club member. She was born and raised in Japan. She has an elegant and reserved personality. She admires a "hero" whose existence she considers far from herself.


Ami Koshimizu as Nana Nanase, a second-year Crystal Radio Club member. She carries herself like a fashionable gyaru. She is very easy to get along with, owing to her finely attuned social sense that allows her to belong to any group around her.


Marina Inoue as Chloé Morisu, a second-year Crystal Radio Club member. While of Japanese descent, she grew up in France, and only later returned to Japan. She is fiercely independent, enough to judge interaction with people as not worth her time. Her curt attitude and persona has led her to be able to do most things by herself .She easily gets absorbed into things she likes.



The website provides the following story introduction:
October, 2018. Girls who live in a provincial city perform a certain ritual.

The girls are in the "Crystal Radio Club." It is an interest circle that Asuka Tsuchimiya, a girl known for her cheerfulness, started with friends in her high school.

That ritual was considered just an urban legend. However, with several conditions coincidentally falling into place, it stops being fun and games ….
The official Twitter account also revealed that the title of the first episode is "The 4:44 Ritual."
Kōtarō Uchikoshi (Ever17, Punch Line, Zero Escape: Virtue's Last Reward) is credited for the project's original scenario concept. Jin Tamamura (A Sister's All You Need) is directing the anime at Dandelion Animation Studio and Jūmonji. Yūichi Abe (Ultraman Zero: The Revenge of Belial, live-action Prince of Tennis) is credited as series director.

Masakazu Katsura (Video Girl Ai, DNA², Tiger & Bunny) is drawing the original character designs alongside Hiroyuki Asada (Tegami Bachi: Letter Bee, Cheer Boys!!), who is also credited as concept artist, while Hiroki Harada (Romeo × Juliet, Sasami-san@Ganbaranai, Sweetness & Lightning) is designing the characters for animation.
Shogo Yasukawa (Food Wars! Shokugeki no Soma, Mitsuboshi Colors, Hyperdimension Neptunia) is writing and supervising the anime's scripts. Writer Hiroshi Yamamoto is credited for "SF setting."
Ryu☆ (pronounced "Ryūsei," aka Bemani game series composer Ryūtarō Nakahara) is the music producer, and Kenji Itō (Romancing SaGa, Puzzle & Dragons games) is writing the main theme song. Michi is singing the opening theme song "Soranetarium," and Ami Wajima is singing the ending theme song "Kowarekake no Radio" (Broken Radio). The CD singles for both songs will go on sale on October 24.
Akitomo Yamamoto, Koji Watanabe, and Yuki Kawashima are serving as sub-character designers. Yamamoto is also serving as chief animation director. Ryō Hirata is designing the Equalizer, and Yasuhiro Moriki is designing the "Clutter." The prop designers are Susumu Imaishi, Koji Watanabe, and Sayaka Takase. (Moca News also lists Ryō Hirata, but he is not listed on the anime's website.)
Haruko Nobori is the color key artist, and Stanislas Brunet is drawing the imageboard art. Yusa Itō is directing the art at Kusanagi, and Akihiro Hirasawa is credited with art setting.
Atsushi Satou is the director of photography at Studio Shamrock, and Mai Hasegawa is editing. Hideaki Takeda is handling the 3D CG, and Hiroto Morishita is directing the sound.
The anime will premiere in October on the Tokyo MX and YTV stations, as well as on the Animax, Animax on PlayStation, and other services. The tie-in game will also launch in October for iOS and Android devices. The game shares the anime's original scenario writer, original character designers, concept artist, main theme song writer, and music producer.
Sources: Akanesasu Shōjo anime's official website, Comic Natalie
---