News

Gakuen Basara Anime Unveils More of Cast & Staff, Opening Song Artists

posted on by Rafael Antonio Pineda
New visual also unveiled for October anime
---
The official website for the television anime adaptation of Gakuen Basara, a high school spinoff project based on Capcom's Sengoku Basara game franchise, revealed a new visual for the anime on Thursday. The staff also revealed more cast and staff members, as well as the opening theme song artists for the anime.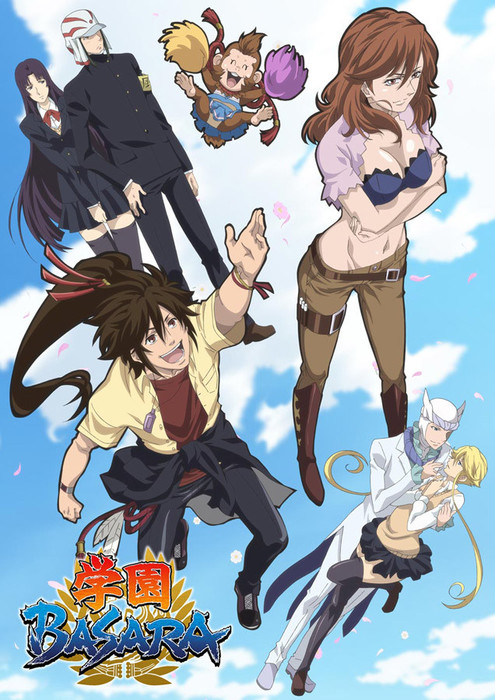 The new cast members include:
Ami Koshimizu as Tsuruhime


Yuko Kaida as Matsu


Tomohiro Tsuboi as Maeda Toshiie


Akira Ishida as Takenaka Shigeharu


Ryotaro Okiayu as Toyotomi Hideyoshi


Sayaka Ohara as Suzuki Magoichi


Additionally, the staff revealed the following character with no cast member:
Fūma Kotarō


EIGHT OF TRIANGLE will perform the anime's opening theme song "Hokore Kedakaki Utsukushiki, Ikizama o" (Live Proudly, Nobly, and Beautifully).
The additional staff members include:
Chief Animation Director: Naoki Aisaka
Art Director: Kazuhiro Arai
Prop Design: Hiroshi Ogawa
Color Key: Yuuko Fukuda
Director of Photography: Yorinobu Oda
Editing: Yasutaka Ikeda
Sound Director: Yoshikazu IWANAMI
Sound Production: Dax Production
Music: Akiyuki Tateyama (HIGH KICK Entertainment)
Background Music Production (HIGH KICK Entertainment)
Theme Song: Takanori Nishikawa
Animation Production Collaboration: Maruga Factory
The show stars:
Kazuya Nakai as Date Masamune


Sōichiro Hoshi as Sanada Yukimura


Toshiyuki Morikawa as Katakura Kojūrō


Takehito Koyasu as Sarutobi Sasuke


Masakazu Morita as Maeda Keiji


Ryuuzou Ishino as Chōsokabe Motochika


Shigeru Nakahara as Mōri Motonari


Toshiki Masuda as Tokugawa Ieyasu (replacing Toru Ohkawa)


Tomokazu Seki as Ishida Mitsunari


Natsuko Kuwatani as Kasuga


Mamiko Noto as Oichi


Kouji Tsujitani as Azai Nagamasa


Romi Park as Uesugi Kenshin


Tesshō Genda as Takeda Shingen


Sho Hayami as Akechi Mitsuhide


Norio Wakamoto as Oda Nobunaga


Additional characters include:
Honda Tadakatsu


Yumekichi



The show will premiere on TBS on October 4 and then on BS-TBS on October 6. The official website also revealed a new key visual.
The Gakuen Basara school battle comedy parody reimagines the Warring States Era warriors of Capcom's action game franchise as rival students in a modern high school. Date Masamune and Sanada Yukimura battle to replace Toyotomi Hideyoshi as the next student council president. The project published several official comic anthologies between 2007 and last year.
As previously announced, Minoru Ohara (Glass Fleet, Lupin III: Episode 0 'First Contact') is directing the anime at Brain's Base, and Kouji Miura (Examurai Sengoku) is in charge of the series scripts. Haruhito Takada (Kaiji) is designing the characters. Capcom's Hiroyuki Kobayashi and Makoto Yamamoto are supervising from the original work.
Capcom's Sengoku Basara franchise already inspired three television anime series, one anime movie, a live-action series with two compilation films, and several stage plays.
Sources: Gakuen Basara's official website, Comic Natalie
---