News

Madoka Magica's Magia Record Stage Play Previewed in 2 Videos

posted on by Crystalyn Hodgkins
Keyakizaka46 members star in play debuting in Tokyo on Friday
---
The official Twitter account for the Keyakizaka46 idol group began streaming a trailer on Thursday for the stage play adaptation of the Magia Record: Puella Magi Madoka Magica Gaiden smartphone role-playing game.
いよいよ明日8月24日(金)から開幕する舞台「マギアレコード 魔法少女まどか☆マギカ外伝」のトレイラーが完成しました
見どころ盛りだくさんの舞台となっておりますので是非チェックしてみてください#けやき坂46#舞台マギレコ#マギレコ#マギレコ1周年https://t.co/SbOVuTOqEa pic.twitter.com/qOrWpcOEcN

— 欅坂46 (@keyakizaka46) August 23, 2018
The play's official website also began streaming a short video for the play on Monday.
The cast members are all members of the Keyakizaka46. The play stars:
Memi Kakizaki as Iroha Tamaki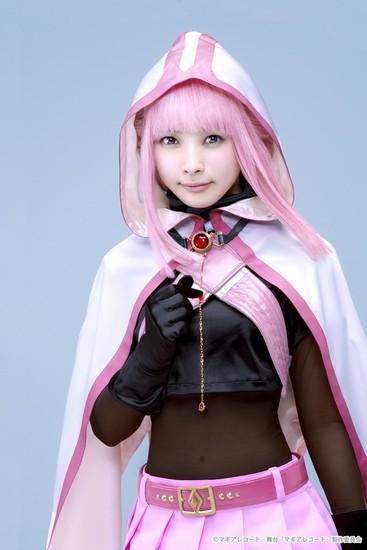 Akari Nibu as Madoka Kaname


Mirei Sasaki as Yachiyo Nanami


Suzuka Tomita as Tsuruno Yui


Sarina Ushio as Sana Futaba


Miho Watanabe as Felicia Mitsuki


Hina Kawata as Homura Akemi


Kyōko Saitō as Kyoko Sakura


Miku Kanemura as Sayaka Miki


Shiho Katō as Mami Tomoe


The play is the Puella Magi Madoka Magica franchise's first stage play adaptation. The play will run at TBS Akasaka ACT Theater in Tokyo from August 24 to September 9.


The play will be an original work based on the game's main story. Akiko Kodama (Live Spectacle Naruto, Fairy Tail stage plays) is directing the play, and Masafumi Hata (Mahō Sensei Negima! ~Okochama Sensei wa Shugyō Chū!~ stage play) is writing the script. Nelke Planning is producing the play.
The game's story, a spinoff of the Puella Magi Madoka Magica anime, takes place in the burgeoning city of Kamihama. Guided by a strange power, magical girls gather in this town and battle with a new power drawn from witches. Iroha Tamaki arrives in this town and joins other magical girls to search for her missing younger sister Ui. Before long, Homura Akemi also arrives in the town. "If I can understand the mystery of this town, maybe I can save Kaname."
The new character Iroha Tamaki (voiced by Momo Asakura) becomes a magical girl with a wish to save her sister from illness. Madoka Kaname (again voiced by Aoi Yūki) also arrives in Kamihama to search for her missing friend Homura.
The game launched for iOS and Android devices in August 2017.
Sources: Keyakizaka46 Twitter account, Magia Record: Puella Magi Madoka Magica Gaiden stage play's official website via Otakomu
---