News

Live-Action Antiquarian Bookshop Biblia's Case Files Film's 2 Short Trailers Streamed

posted on by Crystalyn Hodgkins
Film opens on November 1
---
The official website for the live-action film of En Mikami's Antiquarian Bookshop Biblia's Case Files (Biblia Kosho-dō no Jiken Techō) novel series began streaming two short trailers for the film on Thursday.
The film will open in Japan on November 1. Southern All Stars are performing the film's theme song "Kita-kamakura no Omoide" (Memories of North Kamakura).
The cast includes Haru Kuroki (seen below left) as Shioriko Shinokawa, and Shūhei Nomura (right) as Daisuke Goura.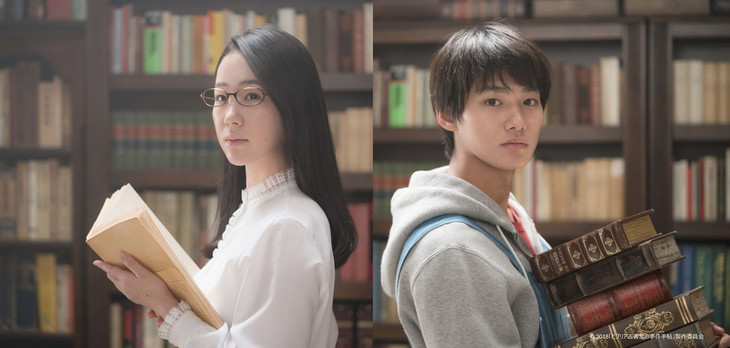 Ryō Narita plays the character Inagaki. The character is Shioriko's colleague who runs a retail website specializing in manga. Inagaki, Shioriko, and Daisuke together form the love triangle central to the story.
Yukiko Mishima (Shiawase no Pan, Tsukuroi Tatsu Hito) is directing the film.

The novel series is also inspiring an anime film.
The series was previously adapted into a live-action television series in 2013. Crunchyroll began streaming the series in 2014, and describes the story:
Shinokawa Shioriko is the proprietor of Biblia Antiquarian Bookshop, her sidekick Goura Daisuke, her lanky gofer and protector, has trouble reading books; they make him dizzy. Shioriko is demure and introverted, an expert on vintage books, a great storyteller, and of course, a lover of books; she also has amazing powers of logical deduction, and can solve big mysteries from the smallest of clues. The unlikely pair join forces to unravel secrets and hidden meanings to help people looking for answers, and the true answers are never what they expect.
Mikami launched the series in 2011 with the novel "Shioriko-san to Kimyō na Kyakujin-tachi" (Shioriko and the Strange Guests), with art by Hagu Koshijima. The novels have more than 6.8 million copies in print, and were nominated for the Japan Mystery Writers Association Award's Long Story category in 2012 and 2014. The seventh and final novel (seen above right) shipped on February 25.
The novel series has two different manga adaptations. The first, by Nakano, debuted in Kadokawa's Altima Ace magazine, then moved to the Asuka magazine in 2013. The series ended in 2014 with six volumes. The second manga, by Ryō Kōda, launched in Kodansha's good! Afternoon magazine in 2012. The manga's third volume shipped in 2014.
Sources: Antiquarian Bookshop Biblia's Case Files film's website
---