News

Kemono Friends 2 Stage Play Reveals Visual, Cast in Costume

posted on by Rafael Antonio Pineda
Ayane
Suzuki, Kotoko Sasaki star in November play set in Snowy Mountains Area
---
The official website for Kemono Friends 2 ~Yuki Furu Yoru no Kemono-tachi~ (Kemono Friends 2: Beasts on the Night When Snow Falls), the new stage play adaptation of Nexon and Mine Yoshizaki's Kemono Friends franchise, revealed the main visual and cast visuals for the play on Thursday.

The play's cast includes:
Ayane Suzuki as Silver Fox


Kotoko Sasaki as Ezo Red Fox


Hotaru Nomoto as Okapi


Moeno Nitō as Mammoth


Rihona Katō as Raccoon Dog


Azusa Inamura as Black Panther


Mao Noguchi as White Tiger


Haruka Satō as Oinari-sama


Kate Mori as Bald Eagle


Mika Taguchi as Polar Bear


Hazuki Nonaka as Reindeer


Yuka Ozaki as Serval


Kana Motomiya as Fennec


Saki Ono as Common Raccoon


Mikoi Sasaki as Royal Penguin


Ruka Nemoto as Emperor Penguin


Kyōka Tamura as Gentoo Penguin


Ikuko Chikuta as Humboldt Penguin


Mami Yamashita as Margay


The play will run at Shinagawa Prince Hotel Club eX in Tokyo from November 8-18.
The play will have three versions that include appearances by Serval, Common Raccoon and Fennec, or Penguins Performance Project and Margay. Ozaki, Monomiya, Ono, Mikoi Sasaki, Nemoto, Tamura, Chikuta, and Yamashita will only appear in the version of the performance featuring their characters.
The play's story is set in Japari Park's Snowy Mountains Area, which is home to Silver Fox and Ezo Red Fox. "Snowy Mountains Area" is also the title of the anime's ninth episode. Hiroki Murakami is returning to direct the play and write the script.
The franchise's first stage play adaptation starred the anime's cast in June 2017, and it received a second run in January. A different adaptation starring the =LOVE idol group members ran in February.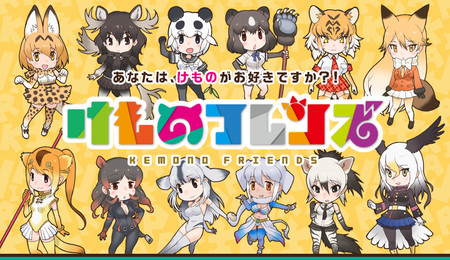 Nexon's original Kemono Friends app game launched in early 2016 and ended service in December that year — before the Kemono Friends anime even aired. The 12-episode television anime then premiered on TV Tokyo and TV Osaka in January 2017 and ended last March. Crunchyroll streamed the series as it aired.
A second anime season is planned. However, the first season's director TATSUKI and anime studio Yaoyorozu will not be involved in the project.
The franchise has also inspired smartphone apps. Video game development company Jupiter announced earlier this month that the franchise is getting a Kemono Friends Picross game in collaboration with Jupiter's Picross series of games. The game will launch this fall digitally only for 1,080 yen (about US$9.75). Additionally, Sega announced on Friday that it is producing a game based on the franchise
Sources: Nelke Planning's website, Anime! Anime! (Tsubasa Matsumoto)
---