News

Anima Yell! Cheerleading Anime's Video Previews Songs

posted on by Jennifer Sherman
Series premieres on October 7
---
The official website for the television anime of Tsukasa Unohana's four-panel manga Anima Yell! began streaming a new promotional video on Wednesday. The video previews the opening theme song "Jump Up ↑ Yell!!" performed by the "Kaminoki Kōkō Cheerleading-bu" unit and the song "Joyful" performed by YURiKA.
The anime will premiere on October 7 on AT-X at 11:30 p.m., and on Tokyo MX and BS11 at 24:00 (effectively, October 8 at midnight).
The cast includes:
Yuka Ozaki as Kohane Hatoya, a constantly optimistic person who loves to support others. She usually has more drive than others, but she is also clumsy and has poor reflexes. She began to be fascinated by cheerleading since a performance she saw toward the end of her middle school years.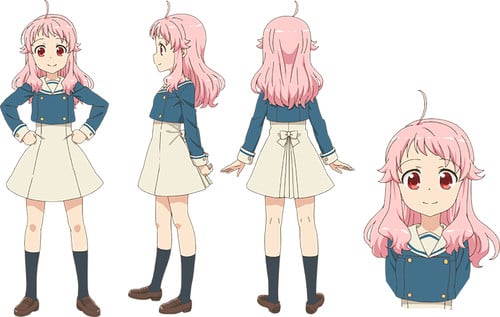 Yuina Yamada as Hizume Arima, a girl experienced with cheerleading. She can be serious to a fault. Her stoic attitude distanced her from her former cheerleading teammates. She is usually expressionless, but can act out a good smile.




Mikako Izawa as Uki Sawatari, Kohane's childhood friend who always ends up bringing Kohane down to Earth, despite Kohane's constant antics. She may project a pragmatic and realistic front, but she actually likes cute things.




Tomori Kusunoki as Kotetsu Tatejima, Kohane's classmate. She is shy and constantly recedes from any risk of drawing attention, but is very frank about what she thinks. She doesn't think very highly of her given name.




Eriko Matsui as Inukai-sensei, the homeroom teacher of Kohane's class. She helps Kohane and the others to start the cheerleading team. She teaches math.


Hiyori Kono as Kon Akitsune


Yurina Furukawa as Basket Senpai


Nao Natsuno as Home Economics Club President


Aimi Tanaka as Akane Sawatari


Risae Matsuda as Suzuko Nekoya


Satsumi Matsuda as Tamako Nekoya


The manga centers on Kohane Hatoya, a young woman who loves to be helpful to others. After she moves from middle school to high school, she becomes fascinated with cheerleading, and she starts a cheerleading club at her high school. Joining Kohane in her cheerleading activities is the experienced Hizume and Kohane's childhood friend Uki.


Masako Sato (Golden Time, Haikyu!! episode director) will make his series directorial debut with the series at Doga Kobo. Fumihiko Shimo (The Disappearance of Haruhi Suzumiya, Clannad, Amagi Brilliant Park) is writing and supervising the series' scripts. Manamu Amasaki (Psychic Detective Yakumo) is designing the characters.
Yuka Ozaki, Yuina Yamada, Mikako Izawa, Tomori Kusunoki, and Haruka Shiraishi perform the opening and ending theme songs under the unit name "Kaminoki Kōkō Cheerleading-bu" (Kaminoki High School Cheerleading Club). The ending theme song is titled "One for All."
Unohana launched the manga in Manga Time Kirara Carat in February 2016. Hobunsha published the manga's third volume on September 27.

Sources: Anima Yell! anime's website, Toho Animation's YouTube channel, Comic Natalie
---