News

Aniplus Asia Posts English-Subtitled 3rd Promotional Video for Tsurune Anime

posted on by Rafael Antonio Pineda
Simulcast premieres on October 22 at 2:00 a.m. GMT +8
---
Aniplus Asia began streaming an English-subtitled version of the third promotional video for Kyoto Animation's television anime of Kotoko Ayano's Tsurune: Kazemai Kōkō Kyūdō-bu (Tsurune: Kazemai High School's Archery Club) novel on Thursday.
Aniplus Asia will air a simulcast of the anime that will premiere on October 22 at 2:00 a.m. GMT +8.
The anime will now premiere on the NHK-General channel on October 21 at 24:10 (effectively Monday, October 22 at 12:10 a.m.), after being delayed one week from October 14.
Pony Canyon USA describes the show's story:
The story opens with Minato Narumiya beginning his freshman year at the local Kazemai High School.
Mr. Tommy, advisor to the Japanese archery Club, is keen to recruit Minato, as well as his childhood friends Seiya Takehaya and Ryohei Yamanouchi. Ryohei convinces the reluctant Minato to attend the Club's orientation, where he also meets Kaito Onogi and Nanao Kisaragi.
Singling Minato out, Mr. Tommy introduces him as a rare Japanese archery talent and asks him to demonstrate in front of everyone. However, Minato's arrow fails to hit the mark because he is afflicted by a serious condition…
Minato, Seiya, Ryohei, Nanao and Kaito.
Japanese archery brings them together. What will they attain as they struggle through their beautiful, yet "bitter" youth?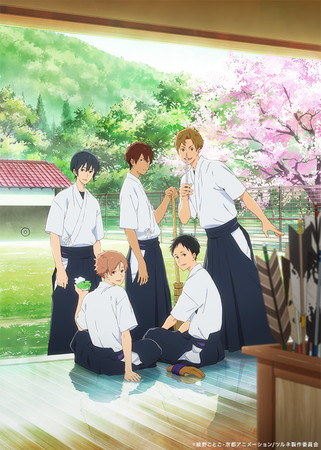 The show stars:
Yūto Uemura as Minato Narumiya
Aoi Ichikawa as Seiya Takehaya
Ryōta Suzuki as Ryōhei Yamanouchi
Shougo Yano as Nanao Kisaragi
Kaito Ishikawa as Kaito Onogi
Shintarō Asanuma as Masaki Takagawa
Kensho Ono as Shū Fujimura
Takuya Yamamura (Violet Evergarden episodes 7 and 12 director, Sound! Euphonium episodes 3 and 10 director) is directing the anime as his series directorial debut, while Michiko Yokote (Shirobako, Children of the Whales, Karakai Jōzu no Takagi-san) is in charge of series scripts. Miku Kadowaki (Beyond the Boundary, Amagi Brilliant Park, Miss Kobayashi's Dragon Maid) is designing the characters. Harumi Fuuki (Miss Hokusai, The Piano Forest) is composing the music. Lantis is credited for music production.
Luck Life will perform the opening theme song "Naru," and ChouCho will perform the ending theme song Orange-iro" (The Color Orange).
The first novel received a Special Judge Award in the novel category at the 7th Kyoto Animation Awards in 2016. Kyoto Animation then published the book under its KA Bunko imprint in December 2016 with illustrations by Chinatsu Morimoto. KA Bunko released the second novel on February 9.
Source: Aniplus Asia's YouTube channel
---