×
remind me tomorrow
remind me next week
never remind me
Subscribe to the ANN Newsletter • Wake up every Sunday to a curated list of ANN's most interesting posts of the week.
read more
News

SolPress Announces New Light Novel, Visual Novel Licenses

posted on by Karen Ressler
2 new light novel titles, 8 new visual novels
---
Sol Press announced several new light novel and visual novel licenses at its Kumoricon panel on Saturday.
Light Novels
The company revealed that it is publishing works from publisher Hobby Japan, and that the first two light novel titles from this partnership are Why Shouldn't a Detestable Demon Lord Fall in Love?! and Redefining the META at VRMMO Academy.

Author Nekomata Nuko and illustrator teffish's Why Shouldn't a Detestable Demon Lord Fall in Love?! (Kiraware Maoh ga Bozuraku Reijō to Koi ni Ochite Nani ga Warui!) tells the story of a powerful demon lord who is transported to another world and meets a cute girl who runs an orphanage. He immediately falls in love with her and decides to help her run the orphanage.
The volume shipped in Japan on September 1. Sol Press hopes to keep a localization schedule that matches the pace of the Japanese releases.

Author Hayaken and illustrator Akita Hika's Redefining the META at VRMMO Academy (VRMMO Gakuen de Tanoshii Makaizō no Susume ~Saijaku Job de Saikyō Damage Dashitemita~) follows characters at a school for VRMMO games. The lead character likes to play the weakest class in any given game, and he has a knack for making his character into the strongest in spite of that.
Hobby Japan released the first novel in June 2017 and the fifth novel on September 1.
In addition, Sol Press confirmed that it will release the Strongest Gamer: Lets Play in Another World 2 and Battle Divas: The Unshakable Winter Blossom Princess light novels in December. The novels will be available digitally on Amazon at launch, with a physical release at a later date.
Visual Novels

Sol Press has partnered with Favorite to localize its Irotoridori no Sekai (Multi-colored Sky) series. The company plans to launch a Kickstarter campaign for this title on December 1.
The visual novel is set at a student dorm in a remote seaside town, and follows a young man who has the power to heal any wound at the cost of his own memories. One day, a girl falls from the sky and asks for his help.

Sol Press is also partnering with developer Harmorise and releasing its debut title Under One Wing (Hitotsu Yane no, Tsubasa no Shita de). The game debuted on February 23 in Japan and is slated for early 2019 in the West.
The story takes place at a boarding school where mock aerial dogfighting with World War II-era planes is the sport of choice. The protagonist goes to the school to follow in his grandmother's footsteps as a master of the sport, and stays at a dorm with all girls.

Sol Press also licensed The Future Radio & the Artificial Pigeons (Mirai Radio to Jinkōhato), the newest visual novel project by Laplacian (Newton & the Apple Tree).
The story takes place in a future when all radio waves have been removed from Earth, so everyone reverts to using carrier pigeons. The protagonist receives a message from the future that says he will die in three weeks.
Sol Press also announced five titles at its 18+ panel. These visual novels will be available on Steam with free 18+ patches.
MORE's Love Among the Sunflowers

PeasSoft's My Fair Princess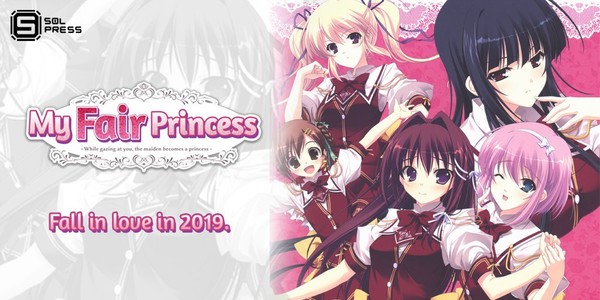 PeasSoft's Choose Your Mistress

Qruppo's tentatively titled Nukitashi

Tinkle Position's Onii♥️Kiss: Onii-chan, Where's My Kiss?

Source: Sol Press' Twitter account
---