×
remind me tomorrow
remind me next week
never remind me
Subscribe to the ANN Newsletter • Wake up every Sunday to a curated list of ANN's most interesting posts of the week.
read more
News

Kōya no Kotobuki Hikōtai TV Anime's 2nd Promo Video Reveals January 13 Premiere

posted on by Jennifer Sherman
More fighter planes also revealed
---
The official website for director Tsutomu Mizushima and scriptwriter Michiko Yokote's original television anime project Kōya no Kotobuki Hikōtai (Kotobuki - The Wasteland Squadron) revealed the second promotional video, January 13 premiere, and more fighter plane designs on Thursday. The video features ZAQ's opening theme song "Sora no Ne" (Sound of the Sky).
The anime will premiere on Tokyo MX on January 13 at 10:30 p.m. The series will also air on TV Aichi, MBS, and BS11.
The N1K1-J "Shiden" is officially designated as "interceptor Shiden." The plane's appearance and designation are similar to the real-world Kawanishi N1K1-J "Shiden" fighter.

The Ki-44 "Shōki" is officially designated as "Type 2 single-seat fighter." The plane's appearance and designation are similar to the real-world Nakajima Ki-44 "Shōki" fighter plane.

The previously revealed cast, characters, and planes are:
Sayumi Suzushiro as Kyile, a pilot with excellent piloting skills and a natural aptitude for the air.


Eri Yukimura as Emma, Kyile's childhood friend, and a pilot with superior dogfight senses and observational skills.


Sayaka Nakaya as Kate, a logical thinker who prefers to remain silent.


Asami Seto as ReoNa, the unit's experienced commander.


Hibiku Yamamura as Zara, the unit's executive officer, who watches over all the squadron members.


Miyu Tomita as Chika, the squadron's youngest and most cheerful member.


Akiko Yajima as Madame Lulu, the president of the Ōni Company, a company that makes a living on the transportation of goods and materials. She maintains a confident and imposing figure as she gives orders to those around her.


Keiji Fujiwara as Saneatsu, an indecisive commanding officer who has occupied his rank for a while. People say that he is always unlucky and draws the short straw.


Rumi Okubo as Natsuo, the chief of the maintenance crew for the fighters. While she may look like a child, she is a full-fledged adult, with the mouth to prove it. She is helpful, and a big sister figure to everyone.


Yōji Ueda as Johnny, the owner and bartender of the bar that the pilots frequent. Aside from the drinks, he also cooks the food. He has a calm and quiet personality.


Nao Tōyama as RIRIKO, the bar waitress. She constantly acts disinterested in her job, and has few words to spare, even for customers. She is especially cold toward Johnny.


Misaki Yoshioka as Anna, a headstrong and determined girl who criticizes and makes quips against Saneatsu without fear.


Miho Okasaki as Maria, a graceful and timid girl. She often talks about shopping with Anna.


Miyuri Shimabukuro, Aoi Koga, and Natsumi Kawaida as Ady, Betty, and Cindy, three girls who are always together at work and outside of work. While they look very similar to each other, they are not related at all.


The Kotobuki Squadron operates the Ki-43-i Model 1 "Hayabusa" fighter plane (official designation "Type 1 fighter"). The plane's appearance and designation are similar to the real-life Nakajima Ki-43-i "Hayabusa" fighter plane.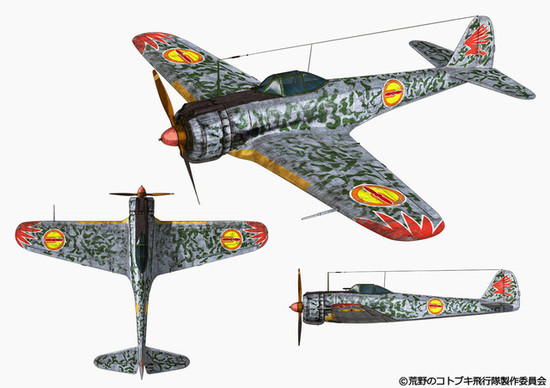 The A6M2b Model 21 "Zero" is officially designated as the "Type 0 carrier fighter." The fighter appears and is similarly named to the real-life Mitsubishi A6M2b "Zero" fighter.


The anime's story will take place in a barren frontier where people trade goods with each other in order to help each other survive. The Kotobuki Squadron are bodyguards for hire, led by a strict but beautiful squadron leader, an unreliable commanding officer, and a true artisan of a crew chief. Alongside pilots who don't lack for personality, they take to the air in dogfights, letting the engine noise of their Hayabusa fighters ring out in the skies.

Mizushima (Girls und Panzer, Shirobako) serves as both the director and sound director for the anime, with Yokote (Shirobako, Prison School, Cowboy Bebop, Rurouni Kenshin) credited for series scripts. Hiroyuki Kanbe (Oreimo) is the assistant director. Hidari (Natsu-iro Kiseki, Santa Company, Phantom in the Twilight) drew the original character designs, and Shou Sugai (The Princess and the Pilot, The Sky Crawlers key animation) is adapting those designs for animation. Shigeyuki Ninomiya (Girls und Panzer, Shirobako, Kuromukuro) is credited for military supervision, while Tetsuya Nakano, Hideyuki Kikuchi (Vampire Hunter D), and Jirō Tokihama are credited for military setting. Digital Frontier is credited for production, while GEMBA is producing the animation. Wao World is handling key animation production.
The six main cast members will perform the ending theme song "Tsubasa o Motsu Mono-tachi" (Those Who Have Wings). ZAQ is composing and writing the lyrics for the ending song.
Mizushima reported on his Twitter account that the anime will be a hybrid of 3D CG and 2D animation, and that he has been working on the anime for a number of years. The anime will only show Japanese planes, and Mizushima specifically said that Germany's Messerschmitt planes will not appear in the anime.
The project will also spawn a smartphone game titled Kōya no Kotobuki Hikōtai - Ōzora no Take Off Girls! (Kotobuki - The Wasteland Squadron: Take Off Girls of the Sky!) that will debut in winter 2019. The iOS/Android game's genre is a "reciprocating-engine air combat simulation RPG," and the game's site is accepting pre-registrations.

Mizushima and Yokote have previously worked together as director and scriptwriter, respectively, on numerous anime including Genshiken, Genshiken: Second Generation, Big Windup!, Joshiraku, xxxHOLiC, xxxHOLiC: Kei, Squid Girl, Squid Girl Season 2, Shirobako, Haré+Guu, Prison School, Witch Craft Works, and Kujibiki Unbalance.
In Mizushima and Yokote's Shirobako anime, the 3rd Aerial Girls Squadron (Dai-3 Hikō Shōjotai) show-within-a-show has a similar concept, but unlike Kōya no Kotobuki Hikōtai, the characters pilot modern jet aircraft.
Sources: Kōya no Kotobuki Hikōtai anime's website, Bandai Namco Arts YouTube channel, MoCa News, Comic Natalie

---
Disclosure: Bandai Namco Filmworks Inc., a wholly owned subsidiary of Bandai Namco Holdings Inc., is a non-controlling, minority shareholder in Anime News Network Inc.
---