News

'Otō-san, Chibi ga Inakunarimashita' Live-Action Film's Trailer Reveals May Opening

posted on by Rafael Antonio Pineda
---
The official website for Hatsukoi ~ Otō-san, Chibi ga Inakunarimashita (First Love ~ Father, Chibi is Gone), live-action film of Keiko Nishi's Otō-san, Chibi ga Inakunarimashita (Father, Chibi is Gone) manga, began streaming a trailer for the film on Tuesday. The trailer reveals the film's May 10 opening date.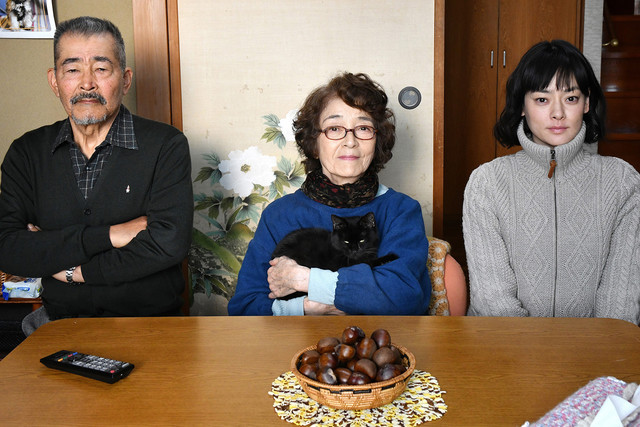 The cast includes (from left to right in image above):
Tatsuya Fuji as Masaru Takei, the domineering husband
Chieko Baisho as Yukiko Takei, the wife who has a long-hidden sadness
Mikako Ichikawa as Nahoko Takei, the daughter
Late actress Yuriko Hoshi plays Shizuko in the film in a posthumous role. Hoshi had finished filming her scenes for the film before she passed away on May 16, 2018.
Shōtarō Kobayashi is directing the film, which is slated to open in spring 2019.

The manga's story is set in an isolated house in Tokyo. After all the kids left, the only people living in the house are an old couple: Shō, the blunt and unsociable husband; and Yukiko, the gossipy wife, with only their cat Chibi for company. One day, Yukiko confides to her daughter that she wants to divorce Shō. Not long after, their cat Chibi goes missing, and all the secrets that the family members have buried in their hearts come to light one by one.
Nishi launched the manga in Shogakukan's Zōkan Flowers magazine in November 2013, and ended it in July 2015. Shogakukan published the manga's one compiled book volume in September of the same year.
Nishi recently ended the Shiro ga Ite (Shiro is Here) manga on March 14. Nishi launched the manga in Zōkan Flowers in November 2015.
JManga published two volumes of Nishi's four-volume series Kyudo Boys, about the romantic relationships of a group of high school boys, digitally in English before the the site ended service. She launched her Hatsukoi no Sekai (World of First Love) manga in Monthly Flowers in January 2016. Shogakukan published the manga's third compiled book volume in October 2017.
Nishi's Otoko no Isshō (A Man's Lifetime) manga received a live-action film adaptation that opened in 2015.
Source: Hatsukoi ~ Otō-san, Chibi ga Inakunarimashita website, Comic Natalie
---