News

Nelke & the Legendary Alchemists Game's Overview Trailer Streamed

posted on by Karen Ressler
Pre-order bonuses announced for March Western release
---
Koei Tecmo America began streaming an overview trailer for Gust's Nelke & the Legendary Alchemists: Ateliers of the New World game on Tuesday. The company also confirmed that those who preorder the game in North America and Europe will receive a DLC bundle with two music packs, an "Atelier 20th Anniversary Appreciation House," the "Mysterious Alchemist' Statue," and an additional resident "Gust-chan."
The game shipped for PlayStation 4, PlayStation Vita, and Nintendo Switch in Japan on January 31 after a delay from December 13. The game will ship in North America on March 26 and in Europe on March 29. The Western release was previously slated for this winter.
The Western collector's edition will be exclusive to the NIS America online store in North America and Europe. The set will contain a hardcover artbook, the game's official soundtrack, a cloth poster, an acrylic standee featuring the main character Nelke, and a collector's box.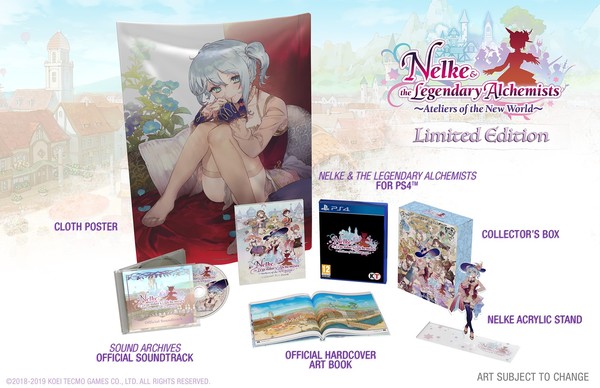 Koei Tecmo describes the game:
Nelke & the Legendary Alchemists: Ateliers of the New World puts players in the shoes of Nelke von Lestamm, a young noblewoman who has always been fascinated by the ancient legend of the Sage of Granzweit; a tale of the Granzweit Tree which is said to bestow great power upon those whom discover it. As she grew up and learned her skills were not in alchemy, she studied hard to become a government official and help those around her. The day Nelke is set to graduate the academy, however, her life changes forever as she hears a rumour that the tree can be found within her father's lands near the small village of Westwald. Her father grants her permission to search for it on one condition – that she becomes governor of the area and develops Westwald into a prosperous city.
NOCO, the character designer from Atelier Sophie and Atelier Firis, returns as the character designer for the game. Mitsuki Nakae performs the game's theme song "Alchemia."
Sources: Koei Tecmo America's YouTube channel, Press Release, Koei Tecmo Europe
---