News

Live-Action Meiji Tokyo Renka Film's Trailer Reveals June Opening

posted on by Rafael Antonio Pineda
KENN
theme song, new poster visual also previewed for new film
---
The official website for the live-action series and film adaptation of Broccoli's Meiji Tokyo Renka romance visual novel began streaming a trailer for the film on Tuesday. The trailer reveals and previews the film's theme song "Kawatare no Sora" (Dawn Sky) by KENN, and also reveals the film's June 21 opening date. The site also revealed a new poster visual for the film.

Before the film, the eight-episode television series premiered on TV Kanagawa on April 9 at 11:00 p.m., and it later debuted on TV Hokkaido, TV Saitama, Chiba TV, Nagoya Broadcasting Network, KBS Kyoto, Sun TV, and QTV. The show is also streaming exclusively on the U-NEXT service.
The cast includes:
Rikki Ihara as Mei Ayazuki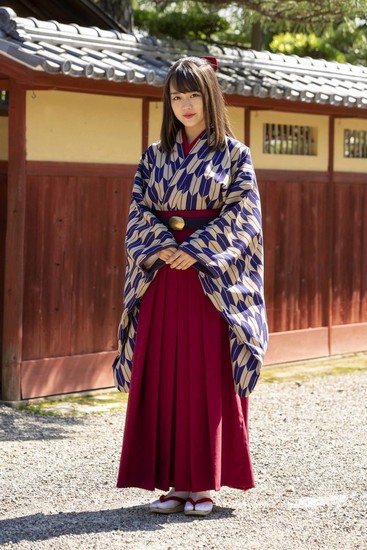 Yutaka Kobayashi as Charlie


Shūto Miyazaka as Ōgai Mori


Makaha Takahashi as Shunsō Hishida


Taiki Yamazaki as Otojirō Kawakami


Toman as Kyōka Izumi


Yūki Kubota as Gorō Fujita


Tetsuya Iwanaga as Yakumo Koizumi


Shōta Matsushima as Tōsuke Iwasaki


In addition, voice actors Daisuke Namikawa, Nobuhiko Okamoto, and Toshiyuki Morikawa appear as tsukumogami (old objects with attached spirits) in voice roles in the project. Namikawa will play Gramophone, Okamoto will play Fountain Pen, and Morikawa will play Pocket Watch. The three actors voice Ōgai Mori, Kyōka Izumi, and Charlie, respectively, in the original game and its anime adaptations.

KENN is performing the theme song "Ichiya no Eien ni Kimi Omou" (I Think of You Forever in a Night) for the series.
The time-travel romance fantasy story centers on ordinary high school student Mei Ayazuki. On the night of a red full moon a self-described magician named Charlie appears and takes Mei back to the Meiji period. Mei sneaks into a party at the Rokumeikan building and encounters Japan's historical figures such as Ōgai Mori. Mei also learns she possesses the "tamayori" power that allows her to see mononoke (spirits). Mei finds out she can travel back to her time on the night of the next month's full moon. Still, Mei is attracted to the prospect of living as her true self in the Meiji period.
Broccoli's Meiji Tokyo Renka visual novel romance franchise began with a 2011 mobile game, which was ported to PlayStation Portable in 2013. The anime film adaptation of the game opened in Japan in 2015, and a television anime premiered on January 9. A new iOS and Android game titled Meiji Tokyo Renka Haikara Date was originally slated for release in summer 2018, but it launched on December 14 after a delay.
Sources: Meiji Tokyo Renka live-action project's official website via Nijimen
---