News

2nd Reborn! Stage Play Reveals 15 More Character Visuals

posted on by Jennifer Sherman
New play runs in Tokyo, Osaka in June
---
The official website for the second stage play adaptation Akira Amano's Reborn! manga revealed 15 additional character visuals on Thursday.
Kōhei Hayashida as Xanxus


Shungo Takasaki as Superbia Squalo


Katsuya Takagi as Lussuria


Shōichirō Oomi as Belphegor


Takanori Yamaki as Levi A Than


Chihiro Kai as Mammon


Ryō Yokota as Gola Mosca


Takeshi James Yamada as Dino


Taiga Fukazawa as Colonnello


Keisuke Yamauchi as Dr. Shamal


Ryūnosuke Kawai as Iemitsu Sawada


Taishō Maeda as Basilicum


Yoshihisa Ishida as Tsuyoshi Yamamoto


Yui Itō as Kyōko Sasagawa


Sakiho Motonishi as Haru Miura


The previously revealed cast members with visuals are:
Neeko
(Reborn! anime's lead voice actress) as Reborn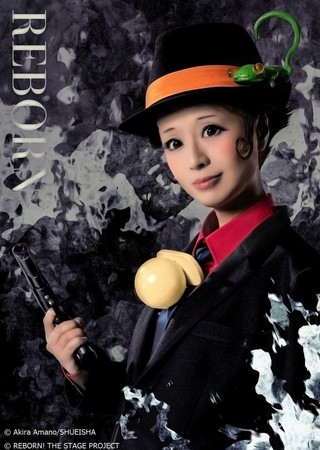 Ryōhei Takenaka as Tsunayoshi Sawada


Motohisa Harashima as Hayato Gokudera


Ryōsuke Yamamoto as Takeshi Yamamoto


Teru Uesugi as Ryōhei Sasagawa


KIMERU as Lambo



Yūta Kishimoto as Kyōya Hibari



The above previously announced cast are reprising their roles from the first stage play, except for Motohisa Harashima, who is replacing Kōsuke Kuwano in the role of Hayato Gokudera.
The new play will run in Tokyo at the Theater 1010 from June 14-23, then in Osaka at the Kashiwara City Cultural-Riviere Hall from June 27-30. Maruichirō Maruo is returning to direct the play and pen the script.
The first stage play adaptation, Katekyō Hitman Reborn! The Stage, ran in Tokyo at The Galaxy Theatre last September, and then in Osaka at the Mielparque Hall last October.
Viz Media released 16 volumes of the 42-volume manga in North America, and it describes the story:
When Reborn, a fedora-wearing, gun-toting toddler, arrives and says he's come to groom Tsuna for his future as boss of an Italian organized crime family, Tsuna is more than a little skeptical. But Reborn may have the "magic bullet" necessary to turn Tsuna's life around!
Amano launched Reborn! in Shueisha's Weekly Shonen Jump magazine in 2004, and ended it in 2012. The manga's television anime adaptation ran from 2006 to 2010. Crunchyroll and Viz Media streamed the anime adaptation outside Japan. Discotek Media licensed the anime and released it on Blu-ray Disc last September and October.
The "Amano Akira Illustrations Exhibition" event presented a special collaboration mini anime video of Amano's Reborn! and ēlDLIVE manga when it opened in July 2016. The video featured the first anime footage of Reborn! in six years since the television anime ended in 2010.
Sources: Katekyō Hitman Reborn! The Stage stage play's website, Comic Natalie
---