×
remind me tomorrow
remind me next week
never remind me
Subscribe to the ANN Newsletter • Wake up every Sunday to a curated list of ANN's most interesting posts of the week.
read more
News

Muv-Luv Franchise Reveals 'Integrate,' 'Mikhail' Projects

posted on by Jennifer Sherman
---
Game developer âge announced during its "âge 20th Anniversary broadcast [still breathing]" livestream presentation on Tuesday a Muv-Luv Alternative sequel project titled "Muv-Luv Integrate" (tentative title). âge's Kouki Yoshimune introduced the project at the event. Audience members at the venue reported that the event showed a promotional video revealing "Muv-Luv Alternative in Animation" after the live stream ended, but ANN could not verify the reports.







Yoshimune is in charge of various parts of the project including planning, mechanical designs, and part of the scenario. The production media are not yet decided, but the developer clarified that the project will be a true sequel to Muv-Luv Alternative rather than an omnibus-style collection of shorts.
âge also teased a separate new Muv-Luv franchise project as "Project Mikhail" during the presentation. Hitoshi Kumano is directing the game, and Yoshiki Kashitani is serving as technical director.







The action game is planned for release for smartphones and PC in Japanese, English, and Chinese in late 2020. The game will let players move Tactical Surface Fighters, and customization for machines and abilities will be possible. The staff noted that the game will use a subscription or battle pass model rather than a "pay to win" model.
Additionally, the staff revealed the "Kimi ga Nozomu Eien Reboot" (Rumbling Hearts Reboot; tentative title) project during the presentation. The staff stated that they want to connect the project to Muv-Luv.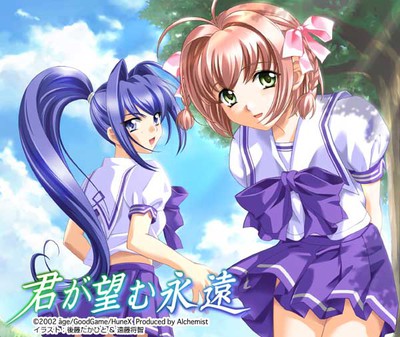 Kimi ga Nozomu Eien started as an adult visual novel developed by âge released for the PC in 2001. The game received an all-ages Dreamcast port in 2002, and a PlayStation 2 port in 2003. The game received a 14-episode television anime adaptation in 2003. Funimation released the series on DVD in 2006 with the title Rumbling Hearts.
The game is loosely related to Kimi ga Ita Kisetsu, âge's first game, as well as the company's later Muv-Luv game. Certain characters, events, and iconic imagery from both Kimi ga Ita Kisetsu and Kimi ga Nozomu Eien appear in Muv-Luv. Apart from the television anime, Kimi ga Nozomu Eien also received the Kimi ga Nozomu Eien ~Next Season~ OVA, which tackles the story from a different series of events, as well as the Akane Maniax comedy spinoff anime.

After creating Kimi ga Nozomu Eien (Rumbling Hearts), adult game brand âge released the first Muv-Luv title in 2003, followed by Muv-Luv Alternative in 2006. The Muv-Luv franchise has since sold more than 500,000 games, as well as more than 3 million figures, models, and other hobby releases.
Muv-Luv Alternative: Total Eclipse, a light novel spinoff of the franchise, inspired a manga and a television anime of the same name. Its prequel, Schwarzes Marken, also inspired an anime. âge's Kimi ga Nozomu Eien inspired a television anime that Funimation released under the title Rumbling Hearts.
Muv-Luv Extra and Muv-Luv Unlimited launched for PC via Steam in English in July 2016, and Muv-Luv Alternative launched on Steam in September 2017. The games received PS Vita ports in Japan in January 2016 and in the West in June 2018.
Publisher Degica and developer Ixtl held a successful Kickstarter crowdfunding campaign in 2015 to fund the English releases. The campaign met its initial goal of US$250,000 within eight hours, and ultimately raised US$1,255,444.
Sources: âge 20th Anniversary broadcast [still breathing] presentation, Dengeki Online (link 2, link 3) via Hachima Kikō
---