News

Under Night In-Birth EXE:Late[cl-r] Fighting Game's Opening Movie Streamed

posted on by Crystalyn Hodgkins
Aksys Games releases game in N. America for PS4, Switch on February 20
---
Arc System Works began streaming the opening movie on Sunday for its Under Night In-Birth EXE:Late[cl-r] fighting game. The video features Sakura Ishadō's theme song "Itsuwari no Para-real."
Aksys Games will release the game for the PlayStation 4 and Nintendo Switch in North America on February 20, 2020. The game is getting a collector's edition that includes a 96-page color art book, a soundtrack, and a black rubber keychain of the new character Londrekia. The game will also launch in Japan on February 20.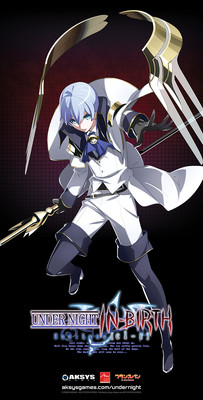 The game is the latest entry in the Under Night In-Birth 2D fighting game franchise. French-Bread is developing the game with "nearly a thousand balance changes," new moves, and a new playable character.
Aksys Games describes the franchise's story:
In Under Night In-Birth, a mysterious phenomenon, known only as "the Hollow Night," has enveloped regions of Japan in darkness for several centuries. Every area affected by the Hollow Night is beset by shadowy monsters--known as "Voids"--who feed off of a power called "Existence." Most humans don't possess the ability to see or come in contact with Voids, and therefore remain safe. You, however, are not so lucky. As one of a cast of unique characters, players fight their way through the dangers of the Hollow Night and defeat those who would try to get in your way. The game features classic 2D anime fighter controls with a splash of devastating combos and unique fighting styles sure to keep your appetite for battle sated. A fight is more than just pressing buttons!
The previous installment in French Bread's Under Night In-Birth fighting game series is Under Night In-Birth Exe:Late[st]. The arcade version of the game launched in July 2015 in Japan, and Arc System Works released the game on the PS3 and PS4 in Japan in July 2017. Aksys Games released the game for the PS4 and PS Vita in North America in February 2018, and PQube Games released the game on the same platforms in Europe on the same date. Arc System Works released the game on PC via Steam in August 2018.
Ecole Software and French Bread (Melty Blood) developed the original Under Night In-Birth arcade game, which launched in Japan as an arcade game in 2012 and it was followed by an updated arcade game titled Under Night In-Birth Exe:Late in 2013. Arc System Works released a PS3 port of Under Night In-Birth Exe:Late in Japan in 2014. Aksys Games released the game for PS3 in North America in February 2015.
Source: Arc System Works' YouTube channel
---