News

The Demon Girl Next Door Manga Goes on 2-Month Hiatus Due to Author's Health

posted on by Rafael Antonio Pineda
Creator
Izumo Ito
suffering from autonomic ataxia
---

Manga creator Izumo Ito announced on Wednesday that they will put their Machikado Mazoku manga on a two-month hiatus to recuperate from autonomic ataxia (dysfunction of parts of the nervous system). The manga will resume in January.
Ito elaborated on their condition, saying that they had been suffering symptoms since last month. Two years ago, after they recovered from a fever from inflamed tonsils, they started suffering from inflammation in her throat and ears any time they were fatigued.
Ito noted that they had a bad habit of slowing down and resting when working, especially when they got into a good part of the manga, which would eventually ruin their health and make their manuscript submissions late. They described it as a "vicious cycle" of submitting manuscripts and then wasting time just sleeping and not eating or exercising well. But because they found their job fun, they didn't feel like they were suffering or were in danger. Eventually the inflammation in their ears became worse, and around the time when they finished with work for the anime, they found it hard to move their arm and body, and started suffering from dizziness, headaches, joint pain, and vision problems. When they went to the doctor, they were diagnosed with ataxia.
Ito did not publish a chapter last month, and has been resting for most of November, only doing supervision and minor touch-up work. Ito did not recover as fast as they thought, so they decided to go into an extended hiatus on the advice of their editor. Ito noted that they will try to change her lifestyle after they recover.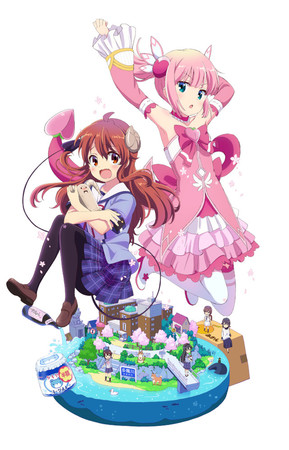 The manga inspired a television anime that aired from July to September earlier this year. Sentai Filmworks licensed the and streamed it on HIDIVE as it aired in Japan with the title The Demon Girl Next Door. Sentai Filmworks describes the story.
Yuko Yoshida is just an ordinary schoolgirl — until one day her dormant, devilish powers are unleashed by the demon Lilith! Yuko transforms into Shadow Mistress Yuko, a supernatural powerhouse with horns and a devil tail. Now she must defeat another mystical being named Momo Chiyoda, the shrine maiden of the Light Clan… who just so happens to go to Yuko's school! But being a demonic magical girl isn't as easy as it looks, and Yuko has a whole lot to learn before she's ready to fulfill her destiny and take on the Clan of Light.
Ito launched the manga in Houbunsha's Manga Time Kirara Carat magazine in September 2014. Houbunsha published the manga's fifth compiled volume on June 27.
Source: Izumo Ito's Twitter account via Hachima Kikō
---