News

Eternity Anime's Video Reveals October 4 Premiere

posted on by Rafael Antonio Pineda
Anime adapts 12 Eternity Books stories for adult women in both regular, "deluxe" version with adult scenes
---
The official Twitter account for Eternity: Shinya Nurekoi Channel (Eternity ~Late Night Wet Love Channel~), the television anime based on 12 works from AlphaPolis' adult women-oriented novel and manga imprint Eternity Books, began streaming a promotional video on Thursday. The video reveals the anime's October 4 premiere date.
『エタニティ 〜深夜の濡恋ちゃんねる♡〜』PV解禁!#濡れちゃん

《通常版》2020年10月4日(日)25:05〜 TOKYO MXにて放送予定
《デラックス♡版》2020年10月4日(日)25:05〜 配信開始予定

第1〜3話の豪華キャストも発表❤️
CV:#岩崎諒太 #石原舞 #大須賀純 #清水愛 #中村源太 #社本悠 他 pic.twitter.com/WI0LREuQqe

— TVアニメ「エタニティ 〜深夜の濡恋ちゃんねる♡〜」公式 (@Eternity_Anime) August 20, 2020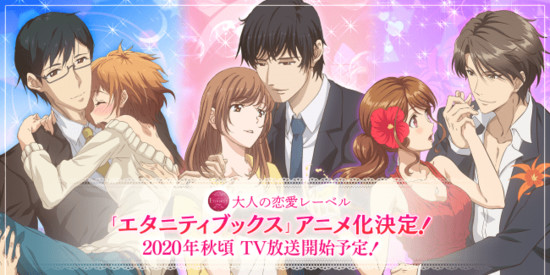 Each new weekly episode will center on one of the works, with a "regular version" airing late-night on Tokyo MX, and the "deluxe ♡ version" streaming with adult scenes.
The 12 works included in the anime (in episode order) include:
Each of the novels is available from Eternity Books, and each also has a manga adaptation available.
Source: Eternity anime's Twitter account
---