News

Netflix Lists Gundam: Hathaway Film, New Shaman King Anime, Edens Zero Anime in India

posted on by Adriana Hazra
Netflix
announced all 3 anime for release outside Japan during its Geeked Week livestream
---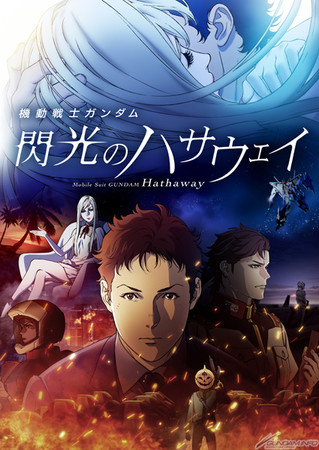 Netflix is listing the the Mobile Suit Gundam Hathaway (Kidō Senshi Gundam: Senkō no Hathaway) anime film, the new television anime of Hiroyuki Takei's Shaman King manga, and the television anime of Hiro Mashima's Edens Zero manga for release in India. The listings do not yet have release dates.
Netflix announced on Thursday during its Geeked Week livestream that it will begin streaming Mobile Suit Gundam Hathaway outside Japan on July 1. It describes the film:
After Char's rebellion, Hathaway Noa leads an insurgency against Earth Federation, but meeting an enemy officer and a mysterious woman alters his fate.
Netflix is also listing the Mobile Suit Gundam: Char's Counterattack, Mobile Suit Gundam I, Mobile Suit Gundam II: Soldiers of Sorrow, and Mobile Suit Gundam III: Encounters in Space films for June 18.
Mobile Suit Gundam Hathaway opened in Japan on Friday.
The film was previously delayed three times. The movie was originally slated to open in Japan in July 2020, but was delayed due to COVID-19. The film was delayed in April from May 7 to May 21, and was then delayed again last month due to the extended state of emergency declared in Japan. The current state of emergency is scheduled to last until June 20.
Shukou Murase (Ergo Proxy, Gangsta., Witch Hunter Robin, Genocidal Organ) directed the project, and Yasuyuki Mutou (Basilisk, Mobile Suit Gundam Unicorn RE:0096, Deadman Wonderland) wrote the script. Pablo Uchida, Naoyuki Onda, and Shigeki Kuhara adapted Haruhiko Mikimoto's original character designs for animation. Hajime Katoki, Kimitoshi Yamane, Seiichi Nakatani, and Nobuhiko Genba adapted Yasuhiro Moriki's mechanical designs for animation. Hiroyuki Sawano (Attack on Titan, Mobile Suit Gundam Narrative, Mobile Suit Gundam UC) composed the music.


Netflix announced on Thursday during its Geeked Week livestream that it will begin streaming the new Shaman King anime outside Japan on August 9.
The anime premiered on April 1 and is ongoing. The anime will have 52 episodes.
The anime will adapt all 35 volumes of the manga's new complete edition, which Kodansha started publishing in print volumes in Japan last June. The first anime adaptation of the manga premiered in 2001.
Joji Furuta (The Seven Deadly Sins: Revival of The Commandments, Uta no Prince Sama Maji Love Kingdom, Double Decker! Doug & Kirill, ēlDLIVE) is directing the new anime at Bridge (Fairy Tail, The Royal Tutor). Shoji Yonemura (Pokémon franchise, Wave, Listen to Me!) is in charge of the series scripts. Satohiko Sano (Heybot!, Welcome to Demon School, Iruma-kun, Talentless Nana) is designing the characters. Yuki Hayashi (My Hero Academia, Haikyu!!) is composing the music, with King Record as the music producer. Masafumi Mima is the audio director.
Megumi Hayashibara is once again performing the anime's opening song "Soul salvation" and ending theme song "#Boku no Yubisaki" (My Fingertip). (She performed two opening songs and two ending songs for the 2001 anime.)

Netflix announced on Thursday during its Geeked Week livestream that it will begin streaming Edens Zero outside Japan on August 26.
The anime premiered on NTV and other channels on April 10. In Japan, the show premiered streaming on Netflix and Hulu on April 10, and is also streaming on other services in Japan.
Shinji Ishihara (Fairy Tail, Log Horizon) is the chief director of the anime at J.C. Staff, and Yūshi Suzuki (episode director for Fairy Tail season 3) is directing the anime. Mitsutaka Hirota (Zoids Wild, Rent-A-Girlfriend) is overseeing and writing the series scripts, and Yurika Sako (key animation for Food Wars! The Third Plate) is designing the characters for animation.
Kodansha Comics publishes the manga in English both digitally and in print. The company describes the story:
At Granbell Kingdom, an abandoned amusement park, Shiki has lived his entire life among machines. But one day, Rebecca and her cat companion Happy appear at the park's front gates. Little do these newcomers know that this is the first human contact Granbell has had in a hundred years! As Shiki stumbles his way into making new friends, his former neighbors stir at an opportunity for a robo-rebellion…And when his old homeland becomes too dangerous, Shiki must join Rebecca and Happy on their spaceship and escape into the boundless cosmos.
Mashima (Fairy Tail, Rave Master) launched the manga in Weekly Shōnen Magazine in June 2018.
The manga is also inspiring a 3D action RPG for consoles, and a top-down RPG for mobile devices. Konami is developing the games.
---