News

Alice in Borderland Season 2, He's Expecting Series Previewed in Netflix's Live-Action Japanese Lineup Video

posted on by Egan Loo
---
The "New Live-Action Japanese Lineup" video during the Netflix Festival Japan 2021 event previewed the second live-action Alice in Borderland season and the live-action He's Expecting series on Tuesday.
Alice in Borderland season 2
He's Expecting

The new season based on Haro Aso's Alice in Borderland (Imawa no Kuni no Alice) manga again stars Kento Yamazaki (live-action Kingdom, Orange, JoJo's Bizarre Adventure, Your Lie in April) as Ryōhei Arisu and Tao Tsuchiya (live-action Rurouni Kenshin, Orange, Library Wars, Aozora Yell) as Yuzuha Usagi. Shinsuke Satō (live-action Bleach, Kingdom films; Oblivion Island anime film) returns to direct the series. The new season is now in production.
The first season debuted on Netflix on December 10, 2020 in 190 countries worldwide. It was the most viewed live-action series in Japan last year, and it ranked in Netflix's top 10 in 40 countries and territories worldwide.
Yoshiki Watabe and Yasuko Kuramitsu penned the fist season's scripts with Satō. ROBOT is credited with planning and production.

The manga centers on Ryōhei Arisu (pronounced the same as "Alice" in Japanese), a male high school student who is irritated with his intolerable everyday life. One night, he tags along with his bad friends Karube and Chōta to hang out in town. However, the town is suddenly covered in giant fireworks. When he comes to his senses, Ryōhei notices that no one else is around. Finding themselves in a different world, Ryōhei, Karube, and Chōta are forced to participate in survival games or die right off the bat. The three fight to live, as well as to find a way back to their own world.
Aso began serializing the manga in Shogakukan's Weekly Shonen Sunday S (formerly Shōnen Sunday Chō) magazine in 2010. The series transferred to Weekly Shonen Sunday as it entered its final story arc in March 2015. The manga ended in March 2016, and Shogakukan published 18 compiled book volumes. The manga's 12th, 13th, and 14th volumes shipped with original video anime (OVA) episodes.
A spinoff series titled Alice in Borderland: Chi no Kyokuchi - Daiya no King-hen ran from October 2014 to February 2015 in Weekly Shonen Sunday. Aso also launched a separate spinoff series titled Imawa no Michi no Alice in Shogakukan's Monthly Sunday GX magazine in August 2015, with art by Takayoshi Kuroda. The manga ended in February 2018, and Shogakukan published eight volumes for the series.
Aso launched a new spinoff manga series titled Imawa no Kuni no Alice Retry (Alice in Borderland Retry) in Shogakukan's Weekly Shonen Sunday magazine on October 14.
Viz will start publishing the original manga next spring, and Sentai Filmworks licensed the OVA adaptation, which HIDIVE is now streaming.

He's Expecting adapts Eri Sakai's Hiyama Kentarō no Ninshin (Kentarō Hiyama's First Pregnancy) manga. Takumi Saitō (left in image below) stars as titular protagonist Kentarō Hiyama, while Juri Ueno (right) stars as Kentarō's partner Aki Seto.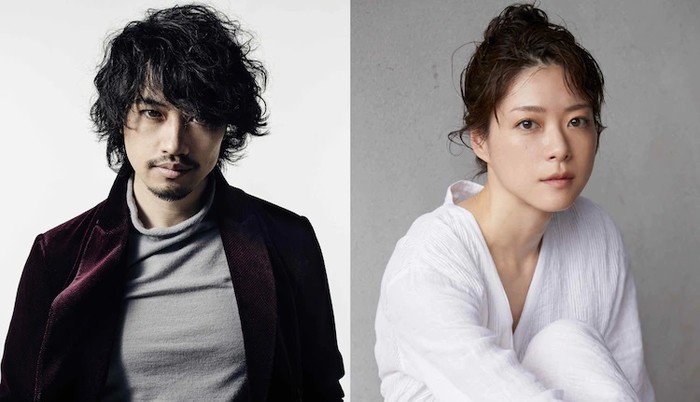 The additional cast members include Mariko Tsutsui, Lily Franky, Ryō Iwamatsu, Kazuya Takahashi, Shōhei Ueno, Maho Yamada, Gaku Hosokawa, Kō Maehara, Yūsaku Mori, Ai Yamamoto, Shima Ise, Yukiko Shinohara, Atsushi Hashimoto, Yuriko Ono, Mai Kiryū, Shigeru Saiki, and Toshie Negishi.
Yūko Hakota and Takeo Kikuchi are directing the series. Yoshitatsu Yamada, Yukiko Sode, and Chihiro Amano are penning the scripts. Netflix will debut the series in 2022.

The manga is set in a world where men are now able to become pregnant. Elite office worker Kentarō Hiyama has an unexpected pregnancy, and while he suffers from prejudice from being a man carrying a child, he forges on alongside his partner Aki.
Yuko Hakota and Takeo Kikuchi are directing the series. Yoshitatsu Yamada, Yukiko Sode, and Chihiro Amano are penning the scripts. AOI Pro. is credited with collaborating on the production.
Sakai published the manga in Kodansha's Be Love magazine in 2012, and Kodansha published one compiled book volume for the manga.

---