×
remind me tomorrow
remind me next week
never remind me
Subscribe to the ANN Newsletter • Wake up every Sunday to a curated list of ANN's most interesting posts of the week.
read more
News

Manga Up! Publishes Mechanical Buddy Universe, 3 More Manga in English

posted on by Adriana Hazra
---
Square Enix's Manga UP! service announced on Thursday that it has launched the Mechanical Buddy Universe manga in English. The company has recently published the following manga in English: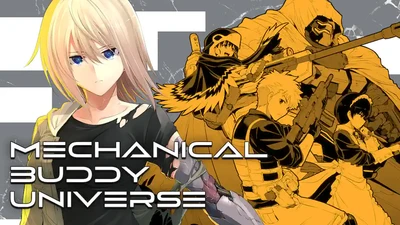 Title: Mechanical Buddy Universe
Manga Creator(s):
Takuji Katō
Summary: An android that has long fulfilled its original mission and a child abandoned in the ruins of an old city. One comes across the other on rainy day, and a family is formed out of a machine and a human. As they grow older, their story begins to involve other unusual pairings...
---

Title:
I Was Called Inept at Home, but Turns Out I'm Super Adept Compared to the Rest of the World
Manga Creator(s):
kimimaro
,
Masashi Suzuki
,
Mokyu
Summary: Noah was raised by his exceptionally capable older sisters. He leaves his home to the nearby city to become an adventurer, but every time he performs he shocks those who witness him with wonder... "Wait? Am I actually strong...?" He really shouldn't be surprised by his abilities when all five of his older sisters that raised him are the worlds greatest in their respective fields! He has unbelievable potential! Here begins Noah's shining new life getting the acknowledgment he deserves, but his older sisters are chasing after him...? He who was supposed to be inept is actually a super rookie! Noah's life as an adventurer begins!!
---

Title:
I'm Glad They Kicked Me From The Hero's Party... But Why're You Following Me, Great Saintess?
Manga Creator(s):
Renge Hatsueda
,
Kaito Shibano
,
Pinko Kurimoto
Summary: Written off as nothing more than a useless bag boy, Mihama Ariake is driven out of the hero's party he had been traveling with. However, his true strength is in his unlimited use of all extant skills, a power directly bestowed upon him by God—and it is God's will that he use those skills to back up the hero's party.
Freed from that duty, he goes where his whims lead him, running into many surprising people and unexpected things along the way. Based on a wildly popular novel published by Square Enix, join Ariake as he and his invincibility carve out a new path!

---

Title:
The Amazing Village Creator: Slow Living with the Village Building Cheat Skill
Manga Creator(s):
Shichio Kuzu
,
Yasutaka Isegawa
,
j1 Kaido
Summary: Presented with the strange Gift of Village Building, Luke, the son of a lord, is cast out of the domain in shame. He arrives in a barren land with plans to develop it as well as he can, and to live a simple, quiet life...when suddenly his mysterious Gift activates! Enjoy Luke's amazing, slow life, and watch as his village grows, his Gift levels up, and his village-building capabilities transform in this new comedic series!
---
The first two to three chapters of each title are available to read for free.
Square Enix launched an English version of its Manga UP! web manga site and app on July 25.
Square Enix originally launched Manga UP! for iOS and Android devices in Japan in January 2017. The Japanese version of the app uses an in-app currency that can be earned through certain actions, or purchased. The currency can then be redeemed to read a number of chapters for the manga.
Source: Email correspondence
---