Original Dragon Ball Z Collectible Card Game Returns After Ten Years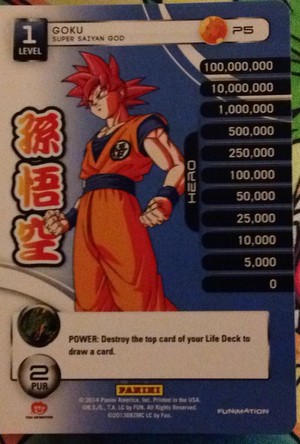 San Diego, California (July 23, 2014) – Panini America unveiled the next transformation of the Dragon Ball Z Collectible Card Game tonight at Comic-Con International. Revealing a few card images at their booth, including some with scenes from the new "Dragon Ball Z: Battle of Gods" movie, this new release uses the same rules system developed by veteran game designer Jim Ward and first released by Score Entertainment in 2000. It is somewhat fitting that a series known for its prolonged and exaggerated "powering up" sequences would have its next installment arrive over ten years after the last expansion for the game was released in 2003.
In a story that's become pleasantly more common in recent years, the game was not revived by gathering the seven Dragon Balls but rather by a group of dedicated fans through their efforts on social media. Most prominent among them was JustSaiyan.com, headed by Score Entertainment alums Garrett Wilkinson and Joshua Morris. What started as a simple website with only card images from the original game, soon exploded into a full blown community with regular content being posted and an event circuit being established so players could meet and play games in person around North America and even Australia.
"We didn't have any money to put into advertising, but we kept coming up with fresh content and encouraged the community to submit their own," said Morris, the social media manager for JustSaiyan.com and former manager at FUNimation Entertainment. "This kept folks coming back daily, and we watched as our numbers grew and our events started attracting more attendees than some for games that were still in print and even had a marketing budget."
It wasn't long before existing product for the game started to become scarcer. Prices for cards on the secondary market skyrocketed and some fans even began taking their own Dragon Ball Z fan art to the next level by adding game text and using their own unique creations in games. Soon organizations like Panini America and FUNimation Entertainment took notice to the success that Wilkinson and Morris had achieved with an old game, an even older license and no budget. The result was another lease on life for the Dragon Ball Z Collectible Card Game.
The new Dragon Ball Z Collectible Card Game is releasing this fall and will have over 150 cards available in both starter decks and 12-card booster packs. The playable characters revealed so far are Goku, Vegeta, Krillin, Piccolo and Frieza, with an exclusive Super Saiyan God Goku being passed out this weekend at Comic-Con International. For more information and up to date news on the game both classic and new, check out www.JustSaiyan.com.
About JustSaiyan.com: Also known as RetroDBZ and the "Gaming Community with Balls," JustSaiyan.com is focused mainly on Dragon Ball and other anime based games. Founders Garrett Wilkinson and Joshua Morris are veterans of both the games and anime industries and have worked with many entertainment companies and conventions over their careers.
---