Abbyshot and Capcom Partnership Announced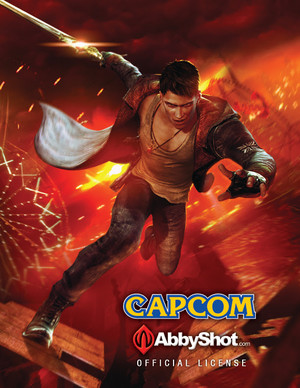 Mount Pearl, NL, CA: Capcom recently awarded AbbyShot Clothiers of Canada the rights to create real clothing and accessories inspired by their wildly popular video game, DmCDevil May Cry™.
AbbyShot designers are busy recreating screen-accurate demon-hunting apparel in SSSensationalstyles for DmCDevil May Cry™ mature fans.
"It's an incredible feeling to be able to take something from the virtual world and bring into the real world," says Bonnie Cook, President of AbbyShot, whose company already holds apparel licenses for various movie and television series. "We are very much a fan-driven, imagination-based company and it's our distinct honor to provide Capcom fans the experience of feeling supercharged while wearing a coat just like Dante's!"
Soon DmCDevil May Cry™ fans can take down a demon boss in Dante's rebellious two-toned, highly detailed coat...lead the charge of The Order in Vergil's sophisticated black coat with blue embroidery...or gape in Limbo from under the hood of Kat's blue and orange hoodie!
Along with fashion apparel and accessories, DmCDevil May Cry™ has also spawned the creation of comic books, novels, an anime series, guides, collectibles, publications, and a variety of action figures. Apparel and accessories from AbbyShot will both help to heighten the game playing experience and will bring it from the virtual world into the real world!
AbbyShot Clothiers creates distinctive, high quality, screen-accurate clothing, inspired by great games, movies and television characters from the virtual worlds as well as science fiction and comedy. Their unique products are designed to elevate their clients' wardrobes above the norm. AbbyShot has been in business for a dozen years thanks to their keen attention to detail, which has given them amazing support worldwide. Their current collection can be viewed by visiting their website at http://abbyshot.com.
Capcom is a leading worldwide developer, publisher and distributor of interactive entertainment for game consoles, PCs, handheld and wireless devices. Founded in 1983, the company has created hundreds of games, including best-selling franchises Resident Evil®, Street Fighter®, Mega Man® and Devil May Cry®. Capcom maintains operations in the U.S., U.K., France, Germany, Tokyo, Hong Kong and Korea, with corporate headquarters located in Osaka, Japan. More information about Capcom and its products can be found at www.capcom.com or www.capcom-unity.com.
Capcom, Devil May Cry,Mega Man and Resident Evil are either registered trademarks or trademarks of Capcom Co., Ltd., in the U.S. or other countries. Street Fighter is a registered trademark of Capcom U.S.A., Inc. All other marks are the property of their respective owners.
---