Tenkai Knights Airing in Russia Next Week
VIZ Media Europe brings "TENKAI KNIGHTS" to Russia for broadcast on THT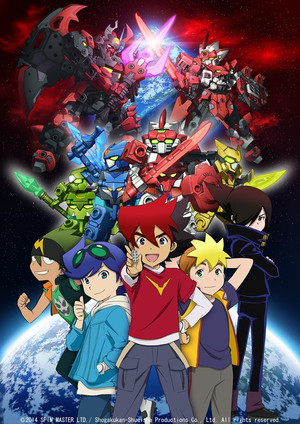 VIZ Media Europe continues to expand its new hit TV series "Tenkai Knights" in Europe with the announcement of a major broadcast partner and a major licensing agent in Russia.
"Tenkai Knights", the brand new boys 6-12 2D/CG animated series co-produced by leading Japanese animation producer Shogakukan-Shueisha Productions (Pokemon, Hamtaro, Megaman) and Spin Master (Bakugan) is supported by a 360° integrated marketing campaign, a much anticipated toy line, "webisodes", mobile games, video games, and a major licensing program.
VIZ Media Europe (VME) is distributing the show and handling Merchandising rights in EMEA, Spin Master is responsible for distributing "Tenkai Knights" in North & South America, ShoPro in Asian territories.
The series will air on THT in Russia starting 1st of September 2014 after its debut on 2x2 Russian channel in April, and its successful launch in other key European countries (France, Italy, Germany, Belgium, The Netherlands,) and Israel, the US, Canada and Japan. Several other broadcast deals in EMEA will be announced shortly.
Plus Licens has been named as the exclusive licensing and promotion agent in Russia, and will work closely with Saks, appointed as the exclusive distributor of the "Tenkai Knights" toy range across the region.
"Russia is a strategic country for VIZ Media Europe and Spin Master. We are thrilled to partner with such key players and we believe Tenkai knights will become a major franchise", says Aadil Tayouga, Licensing Manager at VIZ Media Europe.
"We are excited to have THT and 2x2 as broadcast partners and look forward to Tenkai Knights expansion in Russia. We believe Tenkai Knights will be a hit with kids in Russia", says Paul Tush, Managing Director Plus Licens Russia, licensing agent for Tenkai Knights in Russia.
TV BROADCASTING:
USA: Cartoon Network (On Air)
France: Canal J (On Air), Gulli (September 2014)
Germany: YEP! on ProSieben MAXX (On Air)
Italy: Discovery Italia (On Air)
Netherlands: Disney XD (On Air)
Belgium: Club RTL (On Air)
Canada: Télétoon (On Air)
Japan: TV Tokyo (On Air)
For more information please visit: www.tenkaiknights.com
SYNOPSIS
In Tenkai Knights, teenagers Guren, Ceylan, Chooki and Toxsa accidentally stumbled into an interdimensional portal and ended up on the world known as Quarton. They emerged as Bravenwolf, Tributon, Lydendor and Valorn, the legendary Tenkai Knights. Now these four friends hold the fate of two worlds in their powerful robotic hands and must master amazing powers to stop the evil Vilius and his army of shapeshifting robots from destroying both Quarton and Earth.
INFORMATION
TV series – 52 episodes of 30 minutes
Animation studio: BONES

About VIZ Media Europe
Headquartered in Paris, France, VIZ Media Europe (VME) specializes in managing the development, marketing and distribution throughout Europe, Middle East and Africa of Japanese animated entertainment and graphic novels (manga). Owned by three of Japan's largest creators, publishers and licensors of manga and animation, Shueisha Inc., Shogakukan Inc., and Shogakukan-Shueisha Productions, Co., Ltd., VME handles the comprehensive distribution, licensing and promotion of some of the most popular Japanese manga and animation properties for consumers of all ages. VME administers an integrated product line including graphic novels, consumer products, DVD and music. Current VME animated properties include: BLUE EXORCIST, BLEACH, BLUE DRAGON, DEATH NOTE, HAMTARO, INAZUMA ELEVEN, JEWELPET, KILARI, MAGI, MIRMO, TENKAI KNIGHTS, VICTORY KICKOFF!!
Contact VIZ Media Europe at 45 Rue de Tocqueville 75017 Paris, France. Website: www.vizeurope.com.
---