Hello Kitty is in Chef de Bubble
Decorate with Limited Edition Hello Kitty Items in GAMEVIL's Chef de Bubble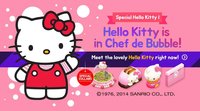 LOS ANGELES, CA – September 4, 2014 – In concurrence with the 40th anniversary of Sanrio's "kawaii" cat character Hello Kitty, leading mobile games publisher GAMEVIL is collaborating with the Japanese brand to release 40 limited edition Hello Kitty items in the Korean and global services of Chef de Bubble.
Chef de Bubble combines city-building with restaurant simulation to let players create unique snow globe worlds and share them with friends. As players expand their shops and improve their magic and cooking skills, they gain access to more dishes and decorations – including Hello Kitty-themed items from now to December.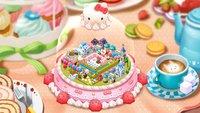 Currently, players can decorate with ten items from the "Special Hello Kitty" collection, including a Hello Kitty Toaster, Hello Kitty Phone, Hello Kitty Frame Wall, Hello Kitty Globe, and even a Dear Daniel House.
Hello Kitty fans will be able to collect even more adorable items as Chef de Bubble releases the "World Traveler Hello Kitty," "Amusement Park Hello Kitty," and "Christmas Hello Kitty" collections throughout the remainder of the year.

Chef de Bubble on App Store:
http://bit.ly/ChefdeBubbleAS
Chef de Bubble on Google Play:
http://bit.ly/ChefdeBubbleGP
Chef de Bubble on Facebook:
https://www.facebook.com/PlayChefdeBubble
For more details, please visit
www.gamevil.com
.
About GAMEVIL
GAMEVIL®, with over 400 million game downloads and experience publishing hundreds of games on multiple platforms, is one of the most active and innovative mobile game companies in the world. Established in 2000 and with offices in Los Angeles, Tokyo, Beijing and Seoul, GAMEVIL is an experienced global mobile game publisher working with more than 70 top studios around the world.
With deep industry and regional knowledge, GAMEVIL has been able to craft numerous award winners through a diverse portfolio of games. Backed by unparalleled expertise in mobile, GAMEVIL continues to lead the sector with a commitment to establishing mobile gaming as a way of life.
GAMEVIL is currently listed on the KOSDAQ Market (Ticker: 063080, Bloomberg: 063080:KS, Reuters: 063080.KQ)
Follow the GAMEVIL on Twitter at
http://www.twitter.com/gamevil
and "Like" GAMEVIL on Facebook at
http://www.facebook.com/gamevil
.
---