NIS America Announces Ground Control to Psychoelectric Girl Standard Edition
Ground Control to Psychoelectric Girl Standard Edition Available in North America on December 9!
Santa Ana, CA (November 17, 2014) – NIS America is thrilled to announce that Ground Control to Psychoelectric Girl Complete Series Standard Edition, the out-of-this-world comedy involving a group of teenagers living in "the city of aliens," will be available for purchase across North America on December 9. This title comes as a two Blu-ray, two DVD disc set with a number of on-disc bonus features. Makoto, an ordinary high school student, moves in with his aunt and meets his cousin Erio for the first time. She introduces herself as an alien. This lone experience marked when his normal adolescent life took a turn for the extraordinary. The title will be available at the following select online retailers: Right Stuf, The Anime Corner Store, Anime Pavilion, Collectors Anime, and NIS America Online Store.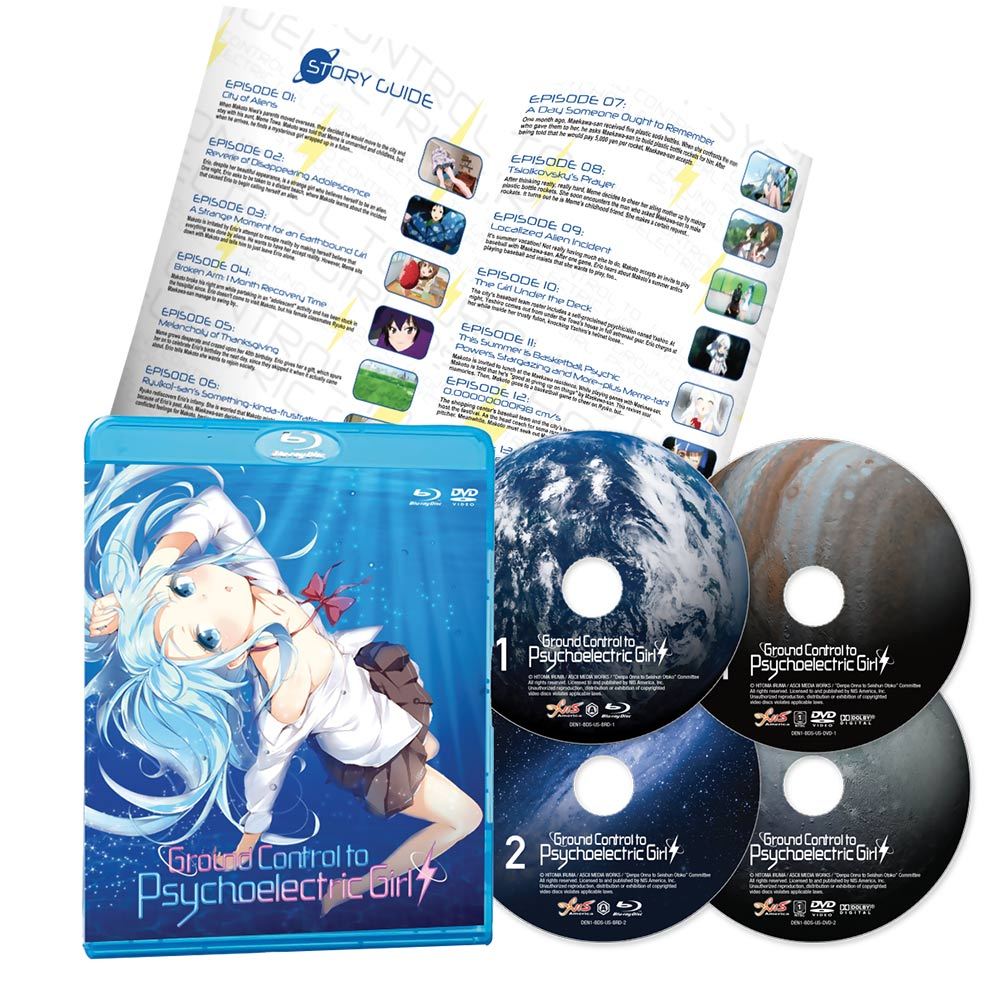 About the show: Makoto Niwa just moved to the city to live with his aunt Meme after his parents were reassigned to work overseas. He is perfectly fine with that, saying it will give him the chance to live the dream life of an adolescent boy. He keeps track of the things he does by assigning "points" to them—positive or negative—and adds them up on a regular basis to grade his adolescent life. And then he discovers Meme has a secret daughter (and self-proclaimed alien) named Erio. He finds her rolling around by the front door of Meme's house wrapped up in a futon. It is then that he realizes that his dream adolescent life will not come true, and he begins a life of experiences that are out of this world.
About the extras: - Clean opening and endings, plus the Japanese commercial - Story Guide leaflet
Cast Miyu Irino as Makoto Niwa
Asuka Ogame as Erio Towa
Emiri Kato as Ryuko Mifune
Mai Fuchigami as Maekawa-san
Ai Nonaka as Meme Towa
Staff Director - Akiyuki Simbo Animation Production - SHAFT

| | |
| --- | --- |
| Title | Ground Control to Psychoelectric Girl Complete Series Standard Edition |
| MSRP | US$59.99 |
| Release Date | December 9, 2014 |
| Item # | DEN1-BDS-US-SE |
| UPC | 813633014852 |
| Age Rating | Teen |
| Length | 333 Minutes |
| Format | 2 Blu-ray, 2 DVD disc Set |
| Language | Japanese Audio, English Subtitles |
About NIS America In 2003, NIS America was established in Southern California to bring exciting, one-of-a-kind Japanese culture to North America. NIS America's team members devote themselves to the fans. Their respect for their fans is at the heart of everything they do. As an established entertainment publisher in the U.S., NIS America is committed to continuous growth and improvement. NIS America is a subsidiary of Nippon Ichi Software, Inc., a Japanese company famous for its unique line of strategy RPGs with titles such as Disgaea, Phantom Brave, and Makai Kingdom. NIS America has also become a publisher of Japanese anime titles, such as Toradora!, anohana: The Flower We Saw That Day and bunny drop.
---
discuss this in the forum (1 post)
|