Etrian Odyssey 2 Untold: The Fafnir Knight Arrives in the Americas August 4

And Also an EO2U Video Where We Teach You All About Cooking (Seriously)

Mark your calendars for August 4, 2015, because that's when Etrian Odyssey 2 Untold: The Fafnir Knight hits retail stores and the
Nintendo
eShop. The first-person dungeon crawler from the classic Etrian franchise is updated with an all-new standalone story, complete with voiced characters who must adventure through the mysterious forest labyrinth and the ruins of Ginnungagap, where they may uncover the secret origins of the Fafnir Knight and his power to transform and use demonic powers.
The story mode is only half of the game, as Classic mode will allow players to play in the traditional Etrian fashion - by putting a party together from 13 unique classes and then clawing through dungeons to prove your mettle. Introduced in the first Untold game, both Classic and Story modes allow players to choose their own difficulty, from Picnic to Expert.
The choice of whether to start with Story or Classic mode will be up to you, when Etrian Odyssey 2 Untold: The Fafnir Knight launches on August 4!
Now - on to cooking class.
Cooking Trailer
A short while into your adventures in EO2U (in either Story or Classic mode), you'll be asked to help out Regina in the finest cafe in all of High Lagaard! The legendary cook Apicius left his books of recipes in the labyrinth, and Regina wants your help in finding them and preparing them! Unfortunately, he wasn't exactly thorough in his note-taking, so it will be up to you to decipher what ingredients are needed for his incredible dishes, such as owl cartilage karaage or stir-fried roller. Once you figure them out, you can order the dish for your party, which provides valuable buffs in the labyrinth.
You can check out the Cooking Trailer here:
Download
http://www.atlus.com/assets/EO2U/EO2U_Cooking_vid.zip
YouTube
https://www.youtube.com/watch?v=ZQbUfg9KNn0
Review Codes
The first wave of codes was distributed already; if you would like to review the game, please email me about this soon!
European Version
NIS America
will be handling all aspects of publishing for EU press! Make sure to get in touch with them if you're interested. :)
Bonus Items
Reminder: pre-order and limited launch editions of Etrian Odyssey 2 Untold will come in a collectible box and include the game, the "Rough Sketch" soundtrack CD arranged by legendary series composer
Yuzo Koshiro
, and the "Official Staff Book" with pages of artwork, detailed descriptions and background information on the characters, and QR codes which will unlock some beginner-friendly Grimoire Stones.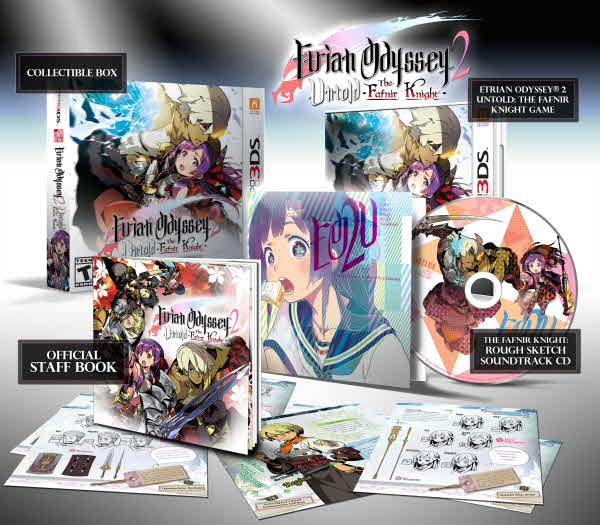 About ATLUS
Atlus U.S.A., Inc. has become known across the industry as a mark of high-quality, deeply immersive, uniquely Japanese video game experiences. With award-winning titles that reach across a variety of genres and platforms, including the Shin Megami Tensei® and Persona® series of role-playing games, the ground-breaking action-adventure/puzzle game Catherine™, and the much-celebrated RPG Demon's Souls™, Atlus is committed to offering the highest standard in interactive entertainment experiences.
www.atlus.com
---