Pony Canyon Announces Etotama Collector's Edition 03 Details

TOKYO, JAPAN – December 31st, 2015 - Audio-visual entertainment company
PONY CANYON
is pleased to announce
ETOTAMA
Collector's Edition 03 release details! Pre-orders for Collector's Edition 03 are available now on
RightStuf.com
. It will be released March 10, 2016!
We've added a special new gift for ETOTAMA fans! Customers who pre-order ETOTAMA Collector's Edition 03 by
January 31st
will now receive an
autographed
Uri-tan card from
Yumiri Hanamori
! Yumiri Hanamori is the voice-actress of Uri-tan, the Eto-shin representing the Boar zodiac.

ETOTAMA Collector's Edition 03 (Blu-ray, DVD, & CD Combo Set)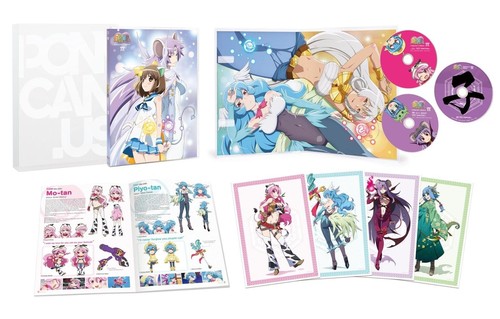 Details
Release Date: Mar. 10, 2016
SRP:$89.98
Store Price: $71.98
UPC: 742617600111
Customers who pre-order ETOTAMA Collector's Edition 03 by January 31st will also receive an autographed Uri-tan card from Yumiri Hanamori!
Disc Features
Spoken Languages: Japanese
Subtitles: English/Spanish
Aspect Ratio: 16:9 widescreen
Episodes: Episodes 9-12
Number of Discs: 3 Discs (1 BD + 1 DVD + 1 CD)
Total Run Time: approx. 100 min.
Rating: 13 UP
Extras
Stage scene movie collections, TV Commercial collections
Opening CD coupling song「Sol/Lull Kurenya!」& Ending CD「moment [LIVE ARRANGE ver.]
EXCLUSIVE BONUS MATERIALS & SPECIAL PACKAGE
Exclusive Mega Tall size "DODEKA" Disc Case
Double-sided cover illustrated by Koike Satoshi
Deluxe booklet
2 Collectible Wall Pin-up Pictures illustrated by Akio Watanabe
Exclusive "PONYCAN US" Plastic Slipcase
About ETOTAMA
The Eto-shin(Zodiac Gods), are twelve divine messengers who have protected the Land of the Rising Sun since ancient times. "Eto-musume," zodiac girls representing all kinds of animals, revere the Eto-shin and aspire to become one of them.
Every sixty years a tournament is held, and the only way to become one of the twelve Eto-Shin, is to defeat all the current Eto-shin in competition. So great is the power of the Eto-shin that, in the past two-thousand years, no Eto-musume has managed to win the tournament.
It is now time for another tournament and thousands of Eto-shin have gathered from across the land for the opportunity to be immortalized as one of the twelve Zodiac signs. Among all these Eto-shin, there exists a single cat Eto-musume.
Her name is Nya-tan (nya, as in meow). She is believed to be the most capable of becoming an Eto-shin. Unfortunately she is an unlucky girl whose efforts are constantly undermined by evil rodents.
Takeru Amato is only an ordinary high-school boy; but when he meets Nya-tan an extraordinary story begins!
About PONY CANYON INC.
PONY CANYON INC. celebrating its 50th anniversary next year and has been dedicating itself to the development and nurture of varied types of entertainment software including production, manufacture, and distribution of diverse packaged software, as well as digital distribution services focusing on entertainment. One of the biggest producers/distributors of Blu-rays and DVDs in Japan, PONY CANYON has been involved in the production of many hit anime titles including
Attack on Titan
,
Fairy Tail
,
K-ON
, and
Free!
Visit
www.ponycan.us
for additional information.
PONYCAN US official Twitter account:
@PONYCANUSA
PONYCAN US official
Facebook
page:
facebook.com/PonycanUSA
PONYCAN US contact email address:
[email protected]
---