×
remind me tomorrow
remind me next week
never remind me
Subscribe to the ANN Newsletter • Wake up every Sunday to a curated list of ANN's most interesting posts of the week.
read more
Mobile Suit Gundam: The Witch From Mercury
Episode 18
by Christopher Farris,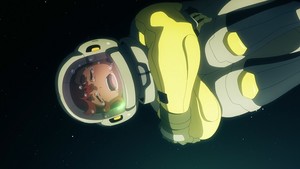 Suletta is (not) okay. We could guess things were getting rough in the fallout of the previous episode's upheavals. If everyone's favorite tomato tanuki had felt a little out of focus in her show over the past few episodes, this is one vicious way to shove her back in the central spotlight. The cruelest irony is that this comes through Suletta losing so many of her previous main-character markers, having been cut off from her engagement with Miorine, and even the Aerial and her mother abandoning her by the end of this episode. If you thought Suletta's moment of despair at the end of the preceding episode hit hard, get ready for a whole succession of her getting kicked while she's down this week. This is the kind of emotional terrorism we happily come to Gundam for.
Suletta's sad-time struggles are the emotional focus of this episode, with the other events revolving around the figurative and literal business driving the mechanical parts of the plot. It is amusing to see Miorine chafing under Prospera's marketing manipulations, even if she's technically not her daughter-in-law anymore. It's also all in service of setting up the point that her hope for "non-violent" marketing of Gundams probably isn't going to last much longer. Weapons make sales, and I can't imagine that Prospera wants Miorine to show the Aerial off to riotous protestors to demonstrate the machine's dancing prowess. It feeds into the arms race driving this presidential race as we glimpse all the other sides, seeking to obtain their Gundams in one way or another.
"Confessions" are a big recurring element for this episode. Much of it is for the sake of the narrative, with things like the fifth Elan expounding more world-building details on the exact nature of his group's arrangement or Eri communing with Suletta to give the clearest explanation yet of both their origins and what was being sought with raising the Permet Score. Yet, it also manifests in other ways, such as Martin (who still sucks, by the way), trying to absolve his guilt over the Nika affair in an actual confessional, which turns out to be a gossip mine run by Secelia. We know she lives for the drama. Sometimes the truth is an important detail we'll need to know moving forward in the story, but other times the truth hurts.
Apart from the attempts at tough-love interference and motivation by friends like Chuchu, Suletta does seem to be coming to an understanding of the truth by the end of this one, even as she's still a sobbing wreck upon doing so. For once, she's able to question how truthful her mom's mantra of "Move forward, gain two" actually is, although that breakthrough also provides Aerial herself with the motivation to move on her own. It creates an interesting exchange of roles, highlighting how Suletta initially "filled in" for Eri, who is portrayed as hollow, as alluded to by others in this episode. With Suletta hollowed out by her recent experiences, Aerial can now leave her.
The ethereal conversation scene between Suletta and Eri is the clear highlight of this episode. The setting of the scenery and the background music makes the whole thing feel almost sweet—until the emotional knife twist of Eri tells Suletta they don't need her anymore. But even the delivery carries an air of cruel care, reminiscent of Miorine's projected coldness in the previous episode as she convinced herself that what she was doing was in Suletta's best interest. If you read the prologue tie-in novel, 'Cradle Planet', you'll know that Eri/Aerial truly cares for Suletta, and did not want her to be used as an instrument of her mother's revenge. Thus, using Suletta's despairing breakthrough as the key to moving on her own, Aerial might think she's doing what's best for Suletta. Of course, per Chuchu's protestations, such decisions shouldn't be made by the likes of Miorine or Aerial on behalf of Suletta. However, the latter will probably need to keep falling through the directionless void of space before she finds a rock bottom to hit that she can pick herself up from.
Alongside the point about her recently-neglected status as the main character, there's the argument that Suletta's had little agency in getting anywhere, including to this point in the storyline. This entertaining emotional manipulation is expected, given the whole thing is about her learning to actualize, other than as a mobile suit pilot or tomato caretaker. As much as I enjoy navigating some fun cartoon depression, it would probably be best for Suletta's rebound to come sooner rather than later. It's uncharted territory for The Witch From Mercury, but not storytelling in general. I'll keep my faith in it for now, even if trusting in the plan is how Suletta wound up in a mess like this.
It helped that the rest of the episode was so dedicated to moving the other plot points around effectively, if a little clunkily in places. Why did they even have that confessional for Martin to use other than as a Black Rose reference atop the show's stacked litany of Utena call-backs? Like everyone's unfolding election schemes, it's all in the name of moving things forward, regardless of whether they'll gain two from doing so.
Rating:
Mobile Suit Gundam: The Witch from Mercury is currently streaming on Crunchyroll.
Chris is keeping busy keeping up with the new anime season, and is excited to have you along. You can also find him writing about other stuff over on his blog, as well as spamming fanart retweets on his Twitter, for however much longer that lasts.

---
Disclosure: Bandai Namco Filmworks Inc. (Sunrise) is a non-controlling, minority shareholder in Anime News Network Inc.
---
discuss this in the forum (458 posts)
|
back to Mobile Suit Gundam: The Witch From Mercury
Episode Review homepage / archives