One Piece
Episode 758
by Sam Leach,
How would you rate episode 758 of
One Piece ?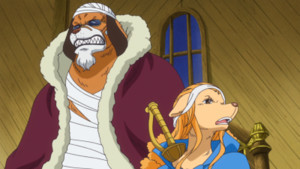 Last week, we saw our heroes on their way to meet the Duke of the Day, Dogstorm (or "Inuarashi" for those who prefer the untranslated name). Apparently in the world of the Minks, they have two leaders: Dogstorm by day and somebody called the Cat Viper ("Nekomamushi") by night. The story is that these two rule the country equally, but they hate each other and would probably make attempts on each other's lives if given the chance. This day/night relationship is their agreement to both rule in peace, without the threat of having to see each other's faces.
The cliffhanger last week had Luffy blurting out something about the samurai of Wano, after several episodes of reminders that that is a taboo subject among the Minks. The cliffhanger implied something dramatic about to happen, but this episode opens immediately with the rest of the Straw Hats viciously beating Luffy for flapping his gums in a jokey attempt to disguise Luffy's words from Wanda. The whole exchange gets brushed off and the audience is spared any real drama.
We meet a few new characters in this episode, mainly Dogstorm himself, a giant dog Mink, probably around the size of somebody like Whitebeard. He's bedridden and still healing from the wounds he sustained in the battle with Jack's men. The second half of this episode continues that story as the Minks' Musketeers arrive on the scene to fend off the Gifters of Jack's group. These Musketeers include Wanda and Carrot, two of the stronger warriors on Zou, as well as a Lion Mink with a twisty mustache named Shishilian.
This episode is one of the kind that reviewers have the most difficult time with. There's not a whole lot especially good or especially bad to talk about, leaving it right in the boring middle. Honestly, the animation probably looks a tad bit nicer than it did last week, but not in any particularly exciting way. The new characters introduced this week seem cool enough, but they each have much more interesting counterparts hanging out in the background (Cat Viper for Dogstorm, and Pedro for Shishilian). The most interesting detail revealed in this episode was easily the Gifters' bizarre pseudo-Devil Fruit abilities. We already knew that Kaido was building an amy using Caesar and Doflamingo's fake Devil Fruits, but we only ever had a vague idea of what that meant. In this episode, we get to see a guy's hand turn into a wolf's head, and that's just weird enough to want to see more of it.
The biggest strength of the Zou arc so far has been its color palette. Usually One Piece does a pretty good job at making sure each arc has its own unique color feel that you associate it with, but Zou goes above and beyond in making sure that every scene is much more atmospheric than what we've gotten in the past. Even when the animation is below average, or exactly average like it is this week, you still have those colors to fall back on. That said, I'm a little let down by how little I have to talk about this week in terms of story, and I'm counting on it getting interesting again soon.
Rating: C+
One Piece is currently streaming on Crunchyroll and Funimation.com.
Sam Leach writes and records about One Piece for The One Piece Podcast and you can find him on Twitter @LuckyChainsaw
---
discuss this in the forum (576 posts)
|
back to One Piece
Episode Review homepage / archives