Pop Team Epic
Episode 5
by Gabriella Ekens,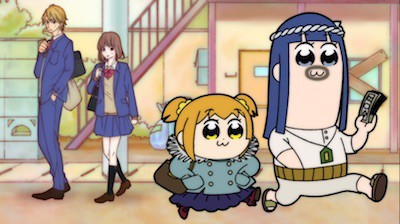 There once was a reviewer named Gab
Who gave Pop Team Epic a stab
She isn't a poet
And sure as hell knows it
So apologies in advance for the flab

Every weekend I choose a new gimmick
And for this one I've gone with a limerick
If you don't like what I do
Tell me how else to review
A show that's most like Tim and Eric

Two schoolgirls, four man-hands, aesthetic
That's the recipe for Pop Team Epic
But it wouldn't be nice
Without the mystery spice:
Ten pounds of hallucinogenic

Our decoy heroine of the day
Thinks she's in a romance anime
But she'll never be free
Of Po-kasan and Papa-mi
Flipping birds throughout her DNA

From kouhai to onee-chan to bride
She's been through one hell of a ride
It's not technically incest
Cuz anime knows best
Or could Eromanga Sensei have lied?

AC-bu is still riding high
With segments that make me want to die
Well thank goodness this owl
Was less noxious and foul
Than the Tootsie Roll Pop one, I cry

There's also that one bit iconic
Where the two girls are trapped in demonic
Sunglasses of a hippie
As they shout obscenity
What the hell's going on in this comic?

Cooking, multiplication, the net
They're the shorts that I don't really get
If you know what they mean
Then please help me glean
It by yelling at me in a comment

The head pats, hiccups, Iyo's story
Had jokes more self-explanatory
Who hasn't been badgered
By the parental hazard
of dancing Tomino's repertory?

At the end, a reference unexpected
To that bus shooting straight as directed
Through the desert posthaste
With no time to waste
For eight-and-a-half hours projected

So now I am forced to relay
My sum-up of this crap anime
With the wind at my back
As an authorized hack
I solemnly say:

Grade: C
Pop Team Epic is currently streaming on Crunchyroll and HIDIVE.
This week, all complaints must be submitted in verse or be duly ignored. Send complaints about this to Gabriella Ekens' Twitter, where they will also be duly ignored.
---
discuss this in the forum (126 posts)
|
this article has been modified since it was originally posted; see change history
back to Pop Team Epic
Episode Review homepage / archives