×
remind me tomorrow
remind me next week
never remind me
Subscribe to the ANN Newsletter • Wake up every Sunday to a curated list of ANN's most interesting posts of the week.
read more
TONIKAWA: Over The Moon For You Season 2
Episode 7
by MrAJCosplay,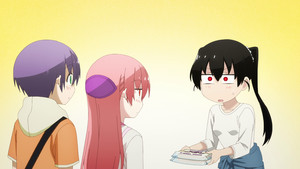 I never thought this show would introduce a potentially aromantic lesbian but here we are I suppose. This episode was interesting because aside from all of the usual fun and random antics, I was actually digging the little insight into what kind of person Nasa was before he met Tsukasa. We did get sort of an abridged idea of what Tsukasa was like when the show first started; we know he's a diligent hard worker that usually can get tunnel vision sometimes when he hyper-focuses on something for too long, whether it's his work or his wife. But we've always seen him as somebody that is typically an over-the-top romantic who always says what's on his mind. The fact that we got perspective from a former classmate who basically says she could never picture that older version of Nasa ever acting the way that he currently does is interesting and kind of makes me wish we got more flashbacks into what Nasa was actually like growing up from other people's perspectives. It's actually kind of interesting that the show has never done much with that idea yet considering that we keep running into random people from his past.
Some people will never understand what it means to fall in love and there is absolutely nothing wrong with that while others might start off like that until they actually come across the right person. Everyone is different and while I guess it was cute having Nasa's friend contemplate whether she should suddenly start looking for a wife after being enamored with Nasa's overly involved conversation about how much he loves the smell of his wife, I cannot help but feel like we didn't need that. It would be nice to have a character that's just sort of content being on their own, detached from all of the cute wholesome stuff while still appreciating it. But I don't think that's the kind of story the show is interested in telling.
While there is an overarching mystery revolving around Tsukasa (and I'm shocked that we're still in the realm of teasing it rather than just straight up getting into it, especially since the season is almost over), TONIKAWA has always been more interested in the little things. As someone who lives in an area where the summer heat is starting to rear its ugly head, I related a little too hard to the entire segment about getting an air conditioner and trying to fall asleep at the perfect temperature. That is a string of consciousness that I can appreciate but also you guys suck for calling me out like that! I might as well install my air conditioner now while I wait for next week's episode to come out.
Rating:
TONIKAWA: Over The Moon For You is currently streaming on Crunchyroll.
---
discuss this in the forum (16 posts)
|
back to TONIKAWA: Over The Moon For You Season 2
Episode Review homepage / archives