×
remind me tomorrow
remind me next week
never remind me
Subscribe to the ANN Newsletter • Wake up every Sunday to a curated list of ANN's most interesting posts of the week.
read more
Shelf Life
Finer and Dandier
by Paul Jensen, Gabriella Ekens,

As I was putting together the list of this week's new releases, I noticed that we're getting quite a few lower-priced rereleases of older titles. Most of the big companies have at least one product line for bringing their older licenses back into circulation, and it's nice to be able to save a few bucks if you discover a series after it's been around long enough to get the value treatment. I can't help wondering how well these sets sell, though. Surely the bulk of sales must happen when a show first comes out, but I guess the companies wouldn't bother with rereleases if they didn't turn a profit. In any case, that's enough of my baseless economic musings for one week. Welcome to Shelf Life.
Jump to this week's reviews:
Space Dandy Season 2
Tamayura Hitotose

On Shelves This Week

Blessing of the Campanella – Complete Collection [Anime Elements] DVD
Nozomi – 300 min – Sub – MSRP $34.99
Currently cheapest at: $20.16 Rakuten

Synopsis: An item crafter in an adventuring guild discovers a living automaton who seems to think that he's her father. Accompanied by an entourage of colorful characters, they set out to uncover the automaton's origin.
Extra: You can read a review of this fantasy-harem hybrid here, or watch it online on Funimation or Hulu.
---

Fafner – The Complete Series + Movie [S.A.V.E] BD, DVD
Funimation – 745 min – Hyb – MSRP $29.98|$24.98
Currently cheapest at: $20.72 Rakuten|$17.28 Rakuten

Synopsis: With most of the Earth assimilated by alien invaders, a class of pilots is trained to operate giant mechs called Fafners. Faced with the seemingly hopeless task of protecting humanity, they must risk their own lives to defeat the enemy.
Extra: This mecha series spawned several sequels, so it must be at least halfway decent. You can read a review here or watch it streaming on Funimation.
---

Fairy Tail – Collection 5 BD+DVD
Funimation – 600 min – Hyb – MSRP $54.98
Currently cheapest at: $35.71 Rakuten

Synopsis: The characters travel to a remote island in order to compete for the coveted title of "S-Class," but the proceedings are interrupted when the dark guild Grimoire Heart arrives on the island with much more nefarious plans.
Extra: This collection covers episodes 97-120 of Fairy Tail, and you can read a review of the latter half of those episodes here. The series is, as always, streaming in a variety of places including Crunchyroll, Funimation, and Hulu.
---

GLASSLIP – Complete Collection BD, DVD
Sentai – 325 min – Sub – MSRP $59.98|$49.98
Currently cheapest at: $35.04 Rakuten|$29.20 Rakuten

Synopsis: Toko's peaceful life is interrupted when she starts catching glimpses of future events when she looks at reflections in glass. Things become more complicated when a new boy arrives in town and claims that a mysterious voice led him to her.
Extra: You can check out some episode reviews of this series here, or watch it online on Crunchyroll or The Anime Network and decide for yourself.
---

He is my Master – Complete Collection [Sentai Selects] DVD
Sentai – 300 min – Sub – MSRP $29.98
Currently cheapest at: $17.52 Rakuten

Synopsis: Runaway sisters Izumi and Mitsuki start working as maids for a wealthy, eccentric young man named Yoshitaka in order to pay the bills and feed their pet alligator. Things at the house get even crazier with the arrival of a third unusual maid named Anna.
Extra: The premise doesn't sound like a recipe for television gold, but I'm a little intrigued by the presence of a pet alligator. You can read a review here or stream the show on The Anime Network.
---

Hidamari Sketch x Honeycomb – Complete Collection DVD
Sentai – 300 min – Sub – MSRP $49.98
Currently cheapest at: $29.53 Rakuten

Synopsis: As Sae and Hiro get ready to graduate, Yuno does her best to act as a mentor for the younger students at the Hidamari Apartments while taking on some challenging artistic projects.
Extra: This is the fourth season of Hidamari Sketch, which is a pretty long run for a slice of life comedy. You can read a review of the first season here or watch this season on Hulu or The Anime Network.
---

If Her Flag Breaks – Premium Edition BD
NIS – 306 min – Hyb – MSRP $64.99
Currently cheapest at: $48.74 Right Stuf

Synopsis: High school boy Sota can see "flags" above other people's heads that signal critical life choices or emotions. He's not terribly fond of his power, but he may need it to survive life in a dormitory full of beautiful girls.
Extra: I watched a few episodes of this series when it first started streaming, and the idea of turning narrative "flags" into actual objects works pretty well. You can read a review of the full series here or watch it on Crunchyroll.
---

Ladies Versus Butlers – Complete Collection BD, DVD
Media Blasters – 306 min – Hyb – MSRP $29.98|$24.98
Currently cheapest at: $22.49 Right Stuf|$11.67 Rakuten

Synopsis: Hino Akiharu enrolls in a boarding school, where he's placed in a program that teaches students to work as maids and butlers. Despite his best efforts, he's dragged into the feud between the school's various cliques.
Extra: We don't have an official review for this series, but the user ratings are pretty decent at around 6.9. You can watch it online on Crunchyroll.
---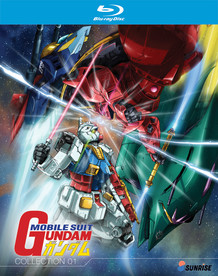 Mobile Suit Gundam – Collection 01 BD, DVD
Bayview – 525 min – Hyb – MSRP $74.99|$59.99
Currently cheapest at: $42.62 Rakuten|$34.55 Rakuten

Synopsis: The Principality of Zeon launches an overwhelming attack on the Earth Federation using new weapons called mobile suits. The Federation's only hope rests in their own prototype mobile suit: the Gundam.
Extras: This is the Gundam series that started it all, and we'll have a Shelf Life review ready for you in the next couple of weeks.
---

Mobile Suit Gundam: The Origin – Artesia's Sorrow [Import] BD+DVD
Bandai Visual – 60 min – Sub – MSRP $99.98
Currently cheapest at: $99.98 Right Stuf

Synopsis: Casval and Artesia flee to Earth while the Zabi family seizes power in Side 3 and begins developing a new weapon in order to combat the forces of the Earth Federation.
Extra: Whether by coincidence or by design, this modern prequel to the original Gundam series comes out this week as well. Best of luck getting a copy, though, as it's listed as out of stock as of this writing.
---

Turn A Gundam – The Movies DVD
Bayview – 257 min – Sub – MSRP $49.99
Currently cheapest at: $28.78 Rakuten

Synopsis: A separate race of humanity based on the Moon invades Earth armed with superior technology. A scout for the Moonrace finds an ancient mobile suit on Earth and finds himself caught up in the war.
Extra: These movies are compilations of the Turn A Gundam series. Gabriella reviewed the first half of the series last week, and you can read a review of the second half here.
---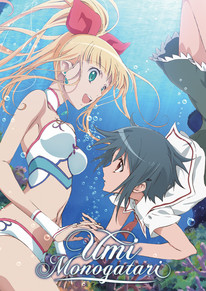 Umi Monogatari – Complete Collection DVD
Nozomi – 325 min – Sub – MSRP $39.99
Currently cheapest at: $23.02 Rakuten

Synopsis: Marin and Urin's peaceful life under the sea is interrupted when a ring falls from the sky. They set out together to return the ring to its owner on the surface world.
Extra: Umi Monogatari shares a director with the series that I'm reviewing this week, and we'll take a look at this one in a future installment.
---
Shelf Life Reviews
It's an all-Shelf Worthy week this week, though these two shows are about as different as you can get. Whether you like your anime loud and crazy or quiet and cute, there's a pretty good chance that we've got you covered.
First up is Gabriella's review of the second half of Space Dandy.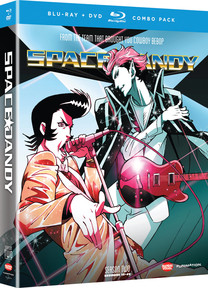 Picking up for our original Shelf Lifer-in-chief Bamboo Dong, I'm here to review the second half of Shinichiro Watanabe's playpen for the maestros of Japanese animation, Space Dandy. Starring a buffoonish alien hunter and his friends in their quest to make fast cash and hang out at Space Hooters, Space Dandy is an episodic comedy that doubles as a tour de force for artistry in anime. As a result of this revolving door of artists and style, things can never be simple for Dandy. He's a bit of a lightning rod for interdimensional shenanigans, and each episode pits him against an outrageous but also familiar genre narrative. He may or may not survive the ordeal, but the next episode always treats us to a fresh, parallel universe Dandy. On one level, it's a nerdy situation comedy in the vein of a show like Dan Harmon's
Community
… in space.
Structurally Space Dandy is closer to American animated science-fiction comedies like Futurama or Rick and Morty than anything in anime. This probably has to do with the fact that it was largely made for a North American audience – episodes premiered on Adult Swim in English a day before they did in Japan. Each episode takes a familiar genre or stock storyline – say "zombies," "time loops," or "high school musical" – and parodies them in a farcical science fiction setting. But while Western animated sitcoms aren't known for their dynamic visual experimentation, Space Dandy is a playground for many of Japan's premiere animators, directors, and designers. Shinichiro Watanabe, the man behind perennial best-anime-of-all-time contender Cowboy Bebop, pretty much just got a bunch of his buddies together and let them do whatever they wanted together with his copious resources and connections. These include such luminaries as Sayo Yamamoto (director on Michiko and Hatchin, The Woman Called Fujiko Mine), Masaaki Yuasa (director on Ping Pong the Animation, Kick-Heart), Dai Sato (who wrote Eureka Seven), Keiko Nobumoto (who wrote Cowboy Bebop and Wolf's Rain), as well as many other obscure but no less talented creators.
While the title character started out as a comically crude buffoon, latter half Dandy has grown into something of a romantic antihero. This is for the better, I believe. Space Dandy's first couple episodes were some of the least memorable overall, while season two is almost entirely hits. Many episodes concern Dandy's romantic entanglements with various women, like Scarlet the alien registration clerk, Catherine the fourth-dimensional being, and the goddess of a purgatory planet. The show never stops being a comedy first and foremost, but overall, it dips its toes more into the melancholy on display in first season episodes like "The Poor Lonely Pooch Planet, Baby" and "Even Vacuum Cleaners Fall in Love, Baby." As a result, Space Dandy ends up being a surprisingly emotional experience. Sure, it doesn't have great truths to reveal about the human condition, but you've got to admire how Dandy lives his many, many alternate lives to the fullest. It makes the universe out to be an exciting place full of adventure and wonder, but still grounded in a common, comforting humanity. It's a nice change of pace from the cynicism and occasional meanness that plagues Rick and Morty, Space Dandy's closest relative that's still airing on TV right now.
If you were to make a list of, say, the top five Space Dandy episodes, you could make a convincing argument for three quarters of the show's run. The quality is especially concentrated in this second half, where there are only two episodes that I'd call duds. Those are "Gallant Space Gentleman, Baby," a tepid attempt at a romcom riff that just feels like a diluted version of a later episode, "Lovers are Trendy, Baby." The other is "Dandy's Day in Court, Baby," a courtroom drama episode with fascinating pseudo-realistic direction but a lack of good jokes. To me, the immediate standouts are "Slow and Steady Wins the Race, Baby," "Rock 'n' Roll Dandy, Baby," and "A World with No Sadness, Baby." The first, helmed by Masaaki Yuasa, is a surreal science fiction romp in the vein of one of his earliest works, Kaiba. "Rock 'n' Roll Dandy, Baby" is Sayo Yamamoto's baby and a chronicle of Dandy's efforts to start a band alongside Johnny, his soul mate in belligerence and part-time high commander of the Jaicro Empire. It's Space Dandy at its sexiest, directed in a faux-music video style that emphasizes the characters' slick moves and writhing bodies. "A World with No Sadness, Baby" is Space Dandy at its most meditative, a soulful requiem for all the Dandys that have met their end in the pursuit of our entertainment. It's also a showcase for the design sensibilities of Yasuhiro Nakura, an experienced but rarely celebrated animator and character designer. While his distinct illustration style has never dominated an entire project, he's been animation director on a number of classic projects, most notably Angel's Egg. Other adventures include Dandy going undercover at a musical high school, a Taoist dance-off, and an encounter with a serial killing ukulele-strumming puppet alien.
More than anything, I've never seen a single show navigate as many different moods as Space Dandy. Sure, it's ultimately a raucous comedy, but you can easily pinpoint episodes as the scary one ("There's Music in the Darkness, Baby"), the wistful one ("An Other-Dimensional Tale, Baby"), the romantic one ("Lovers are Trendy, Baby"), etc. For the most part, episodes succeed as fun little stories in the genres they're supposed to be riffing on. While it's not inaccurate to call Space Dandy a show made out of references to other anime or even film as a whole, the sincerity and passion on the part of its creators turns it into something more, something that gets the viewer invested in its own right.
Funimation's release is solid. The most notable extras are some episode commentaries featuring English voice actors. The winning performance is easily Ian Sinclair as Dandy. He's raucous but also charismatic. I prefer the English to the Japanese track, if only because Space Dandy is a show where I don't want to be distracted by subtitles. Keep in mind that this is a rare anime where the dub and sub were released simultaneously. In this case, the dub is as close to the "original experience" of Space Dandy as the sub. (The character Johnny may have been designed as an extensive joke about his English-language voice actor, Johnny Young Bosch. If any other anime has ever paid this much attention to an English-language voice actor, I haven't heard about it.) Listen to whichever version you want, just remember that the "sub purity" argument is particularly weak for this one.
If you're a fan of animation as an art form, you should watch Space Dandy. Even when it doesn't altogether succeed, the attempt itself is likely unique in anime, as well as a ton of fun. You want to see people try to animate a jukebox musical? Well, that happens. How about a constant stream of distinct monster designs and alien vistas? That too. And a walking tour of essential creatives working in anime right now? Sign me up. Linking the crude with the exquisite, Space Dandy has it all, baby. And with this release, you can too.
-Gabriella[TOP]
If Space Dandy somehow fails to tickle your fancy, perhaps Tamayura Hitotose will get the job done instead. Here's my review.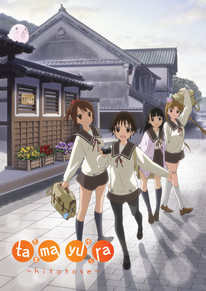 While some anime directors are able to work in a wide variety of styles and genres, others seem to specialize in doing one particular thing well. In the case of Junichi Sato, that specialty seems to be stories about girls figuring out who they want to be as they grow up. Sato's credits include Sailor Moon, Kaleido Star, and Aria the Animation to name a few, and Tamayura Hitotose sits comfortably in his wheelhouse. If you replace the Venice-in-space setting of Aria with a quiet Japanese seaside town, you'll have a pretty good idea of what to expect from this series.
The show stars Fuu, a high school student who grew up taking photos with her father's old camera. She walked away from photography after her father died, but decides to pick the camera back up at the start of the series. Fuu moves to a seaside town that she used to visit with her family, where she starts taking pictures of just about everything she sees. Along with her three friends, Fuu gets used to living in a new place and tries to get a better sense of who she is as a person. If all the sweeping vistas and youthful optimism aren't enough to hold your interest, there's also a big, fluffy pink cat that has amusing misadventures from time to time.
As one might expect from a series that has the same director as Aria the Animation, Tamayura Hitotose is pleasant and inoffensive to a fault. Every single character is good-natured at heart, and each episode's plot exists for the sole purpose of building friendships and letting the characters discover their personal ambitions and hidden talents. It's the kind of show that has a yukata episode instead of a swimsuit episode. I'm an absolute sucker for friendly slice of life shows like this, but even I found it all to be a bit much at times. The biggest issue with the surplus of warm fuzziness is that it tends to hinder any attempt at comedy. When the writing is this hesitant to do anything at the cast's expense, even well-timed jokes often end up being too bland and good-natured to actually be funny.
While it may be weak on the comedic front, the writing excels at the subtle, quiet style of character development that this genre relies on. Tamayura Hitotose brings out its main characters' personalities through their creative pursuits, which range from writing and photography to more unusual activities like making potpourri. Most of these hobbies either say something about the individual character or help her to grow as a person; Fuu uses her camera as a way of staying connected to her father while Maon uses music and storytelling to overcome her shyness. Tying character development into everyone's hobbies works fairly well, and the show is able to cover a broader emotional range than I initially expected. Not every slice of life series can cover things like grief and self-doubt while remaining upbeat and optimistic, but this one manages to keep everything in balance.
This set includes the two-part Tamayura OVA, the twelve-episode series that follows it, and an additional "episode 5.5," all of which are arranged in a logical order on the discs. The OVA presents an interesting contrast with the longer series, as it's much more focused in its storytelling. The series wanders more from episode to episode, but it's able to do a more thorough job of developing the characters and the setting. There's not much of a difference between the two in terms of art style or production value, but the transition is a bit bumpy in a chronological sense. The first episode of the series is set before the events of the OVA, but it's written with the assumption that the viewer has already seen the OVA. It's an awkward fit, but things get much smoother after an episode or two.
As is often the case with this genre, Tamayura Hitotose has some fairly bland mid-season episodes to get through once it finishes building the world and introducing the cast. The good news is that it's able to finish strong, with the final three episodes rivaling the OVA in terms of good storytelling and emotional impact. We see the characters grow more confident in themselves as they start to figure out what they want to do with the rest of their lives. As cheesy and overused as the "just be yourself" message is, this series manages to convey it in a way that doesn't feel preachy or generic. Even if you're not currently a teenage girl in a small town, the stories and characters are relatable enough that it's easy enough to connect with someone or something onscreen.
Tamayura Hitotose isn't as much of a shoo-in for the Shelf Worthy rating as some other shows I've reviewed, but it's able to make the cut by being a strong example of its genre. It has much more to say than the average "cute girls drinking tea" series, and its artistic efforts are strong enough to produce some very pretty visuals. There's a second season out there which has yet to be licensed in the U.S., and I hope it'll get picked up at some point. There's certainly enough here to merit a return visit.
-Paul[TOP]
That's it for this week's reviews. Will we be lucky enough to have two more good shows next time, or will the vengeful anime gods derail the happiness train? You'll just have to check back next week to find out.

This week's shelves are from Yuusaku, who managed to combine the various parts of his collection into one truly imposing image. I've included the original along with a few individual sections for easier viewing:
"Hello,
I go by the moniker "Yuusaku Godai" and I been into anime circa 1995. My collection has grown slowly in the past 20 years; more so now since I'm focusing on a pilgrimage to Japan in search for employment during the summer of 2016.
As you can see my tastes in anime is all over the place and more retro than other collections probably.  I particularly love the classics from the 1980's & 1990's but I'm really digging the contemporary anime of today.
What really got me into anime has how vastly different and stylized the genre is in comparison to western style of animation.  The colors, sights, sounds.. the cinematography, characters, and stories that can't been seen elsewhere.  It was also a breath of fresh air to not see anthropomorphic characters that plagues western animation.  Not saying that's bad but just not my cup of tea.
The art style of Anime and Manga is highly engrossing for me and I can't simply take my eyes off it. Anime, for me, is the perfect example of "art in motion".  Anime and manga knows no limits and can be for anyone who's willing to give it a chance.  Anime is this magical place, that once you visited it, you never want to leave."
That's quite the collection. It's great to see some old favorites mixed in with the newer stuff!
If you want to show off your own shelves, send those photos my way at [email protected]!
---
discuss this in the forum (17 posts)
|