Shelf Life
Shirobako Part 1
by Paul Jensen,

I started watching Dimension W right around the time its Toonami run was announced, and now I'm facing a dilemma. I'm enjoying the subtitled version and want to keep up with it, but you only get so many chances to watch anime on real, honest-to-goodness American TV. Do I watch both with the understanding that I'll always know what's going to happen on the TV broadcast? Do I switch to just the dub and spend my every waking moment dodging spoilers? Am I thinking entirely too hard about something that's really pretty trivial? Of course I am, but that's half the fun when it comes to watching anime. Welcome to Shelf Life.
Jump to this week's review:
Shirobako Part 1

On Shelves This Week

Bleach Movies: The Unforgiven Double Feature DVD
Viz - 180 min - Hyb - MSRP $14.98
Currently cheapest at: $14.98 Amazon

Synopsis: This set includes Bleach the Movie: Fade to Black and Bleach the Movie: Hell Verse. The first movie features Ichigo visiting the Soul Society only to discover that someone has caused a massive amount of destruction and the Soul Reapers suspect him. The second movie follows an attempted prison break in Hell that involves the kidnapping of Ichigo's sister.
Extra: Both of these movies came out on disc a few years ago, so this new set is mainly a convenient rerelease for anyone who didn't pick them up individually. Our user ratings for both are pretty solid at 7.4 and 7.5 respectively. You can stream the TV series on Crunchyroll and Hulu.
---

Fate/kaleid liner Prisma Illya 2wei! - Complete Collection BD, DVD
Sentai - 250 min - Hyb - MSRP $69.98|$59.98
Currently cheapest at: $49.99 Amazon|$44.99 Right Stuf

Synopsis: As Illya and Miyu recover from the events of the previous season, Illya temporarily loses control of her powers, leading to the arrival of a sinister clone of herself. The dark version of Illya seems determined to eliminate her, meaning Illya and Miyu must work to defeat the mysterious girl.
Extra: This is the second of the four Prisma Illya seasons (the fourth hasn't aired yet), and we've got a review of the first season here. If you want to check out this unusual spinoff of the Fate/stay universe, it's available on Crunchyroll, Hulu, and The Anime Network.
---

Fate/stay night: Unlimited Blade Works Season 2 BD, DVD
Aniplex - 325 min - Hyb - MSRP $219.98|$99.98
Currently cheapest at: $179.98 Right Stuf|$79.98 Right Stuf

Synopsis: As the fight for the Holy Grail continues, Caster carries out a plan to capture Saber, and Rin and Archer decide to go their separate ways. Without Saber around to help him, Shirou's resolve will be put to the test.
Extra: This set doesn't have an encyclopedia page as of this writing, so the title link will take you to the entry for the show itself. The extra hundred bucks for the Blu-Ray set gets you some premium packaging and physical extras, just in case that helps you decide between the two versions. Episode reviews are here, and the show is streaming on Crunchyroll, Hulu, and the Aniplex Channel.
---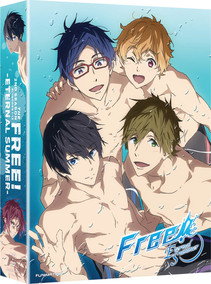 Free! Eternal Summer + OVA BD+DVD, Limited Edition, Premium Edition
Funimation - 325 min - Hyb - MSRP $64.98|$69.98|$119.98
Currently cheapest at: $42.24 Right Stuf|$45.46 Right Stuf|$89.99 Amazon

Synopsis: The Iwatobi boys return for another season of competitive swimming. Haruka and Rin's rivalry continues to heat up as the guys begin to make plans for their futures. A new arrival on the Samezuka team raises the level of competition between the two schools.
Extra: These sets were originally scheduled to come out a while ago, but they were delayed until now. You'll find episode reviews of this season here, and the show is available on Crunchyroll, Hulu, and Funimation.
---

Love Live! School Idol Project - Season 1 [Standard Edition] BD
NIS - 307 min - Hyb - MSRP $59.99
Currently cheapest at: $44.99 Right Stuf

Synopsis: When Honoka Kosaka learns that her beloved high school is on the verge of closing due to a lack of new students, she decides to form a school idol group in order to draw more attention to the school. Along with eight other students, she sets out to save her school through the power of music.
Extra: Standard editions of shows that have already come out in collector's versions usually aren't a big deal, but this set is somewhat interesting since it includes a new English dub. You'll find a review of this season here, and the show is available streaming on Crunchyroll and Hulu.
---

Love Live! School Idol Project - Season 2 [Premium Edition] BD
NIS - 308 min - Hyb - MSRP $69.99
Currently cheapest at: $52.49 Right Stuf

Synopsis: With the future of their school secured, the girls of µ's set their sights on a national tournament. As they compete against other groups of school idols, they also face their own personal challenges.
Extra: You can read a review of this second season here, and the same streaming sites that carry the first season have this one as well. Just to stir the 'ol idol pot a little, I'm going to stick my neck out and state definitively that Eli is best girl.
---

Space Brothers - Collection 7 BD, DVD
Sentai - 300 min - Sub - MSRP $59.98|$49.98
Currently cheapest at: $42.99 Amazon|$37.49 Right Stuf

Synopsis: As Mutta prepares to go through underwater training, Hibito travels to Russia in search of a way to recover from the trauma that he went through on the moon.
Extra: I'm guessing that this will be the second-to-last Space Brothers collection, which means I'm running out of excuses to tell you to watch this show. You'll find one of several reviews here, and you can watch it on Crunchyroll, Hulu, and The Anime Network.
---
Shelf Life Reviews
This week, I decided to watch an uplifting series about donuts and their amazing power to provide inspiration and motivation to human beings. Oh, and I suppose there was something about a fictional anime studio in there as well.

From time to time, I'll find myself thinking that while an anime series is really well made, it's not necessarily my cup of tea. For one reason or another, I'm not the ideal viewer that a particular series was made to appeal to. While watching Shirobako, I had the exact opposite of that feeling. This show is almost unnervingly well matched to my background and interests. It's an anime series about the anime industry, which is immediately intriguing for someone who writes about anime several times a week. For bonus points, the main character does the same kind of work at an anime studio that I've done for college TV stations and video production companies in the past. It's inevitable that I'd end up liking Shirobako, but the good news for everyone else is that it's also a pretty good series on its own merits.
The story follows five girls who vow to get jobs in the anime industry after making a short animated film for their high school club. A few years after making that promise, two of the club's former members have ended up working at a small anime studio. One is a production assistant, while the other is an animator. Of their three friends, one has a job at a CG animation company, one is studying to become a writer, and one is trying to become a voice actress. While the five of them struggle with their own ambitions, the anime studio works on producing an original series.
Shirobako is a series that tries to do several things at once: it looks at how things get done in the anime industry, it talks about the ups and downs of turning a personal passion into a career, and it attempts to wrap all of these insights and musings into a compelling story. As an anime series about anime, it's naturally filled to the brim with trivia, in-jokes, and references to real people and companies. Many of the studios that appear in the show bear more than just a passing resemblance to the companies that they're based on, and longtime veterans of the industry inspire the appearances and personalities of many of the show's older characters. Shirobako drops the audience straight into the middle of the production process, and it's more interested in showing how things work than it is in explaining the basics. For viewers who already know some industry jargon and understand who's in charge of what, it offers a chance learn some more while playing "spot the reference." For folks who haven't already watched at least a few "making-of" videos, it can be a little overwhelming.
When it's not busy looking over the shoulders of directors and animators, Shirobako spends a lot of time talking about the challenges that come with working in a creative field. The ensemble cast includes people at all stages of their careers, from a rookie voice actress in search of her first role to a gray-haired animator who's spent most of his life working on anime. As interesting as all the industry references are, this is the part of Shirobako that I like the most. This isn't a series that glosses over inconvenient facts with generic platitudes about doing your best and trusting others. Characters are forced to take hard looks at what they're doing, and not all of them end up liking the answers that they find. The series brings us the high points of characters overcoming challenges and mastering new skills, but those personal victories rarely come without plenty of work and soul-searching. It's a mix of optimism and realism that conveys a love for the medium without coming across as overly sappy or idealistic.
The foundation that supports all of this abstract stuff is a relatively simple story about a small production company trying to finish a 13-episode series on time. Tension and drama is maintained through the unexpected problems that crop up along the way, from last-minute delays to feuds between 2-D and 3-D animators. It's a competent little story that usually ends up getting upstaged by the characters. Shirobako's cast is funny, believably flawed, and endearing. There's a wide enough range of personalities that most viewers will likely find someone to relate to or root for. In the absence of any tangible villain, we end up wanting to see the characters succeed simply because we want them to achieve their goals.
The trouble with trying to do so many things at once is that Shirobako's many different pieces don't always fit together. The large cast may give us a chance to see every part of the industry, but it also means that the early episodes are burdened by a huge amount of information. Until the audience gets up to speed and figures out who everyone is, it can be tough to make much of an emotional investment in the story. It doesn't help that the characters' names and job titles are presented as on-screen text, which requires anyone who doesn't speak Japanese to follow two sets of subtitles at the same time. The plot does eventually build up some momentum, and the script starts to integrate its industry insights into whatever crisis the studio happens to be going through at the moment. By the end of this set of episodes, it gets easier to keep track of the story while still learning a few new things in each episode.
I'll be the first to admit that Shirobako is not the easiest series to get into, especially if you've only recently started watching anime. It assumes a lot of knowledge on the part of the audience, and it sort of just drops you into the deep end and expects you to swim. However, I do think it's the kind of show that has the potential to enrich your enjoyment of anime as a medium. Just like some really good shows help the viewer appreciate the cool things that animation can do, Shirobako offers a slightly better understanding of the human element behind the shows that we watch.
-Paul[TOP]
That's it for this week. I still don't seem to have any submissions for Shelf Obsessed, so send me photos of your collections at [email protected] or I'll be forced to fill the space with boring stuff that only I like. Maybe I'll do some political commentary or talk about Formula 1 pre-season testing. Do not give me this power, as I cannot be trusted to use it responsibly. Send me those pictures.
---
discuss this in the forum (23 posts)
|