Shelf Life
Dororo
by Paul Jensen, Gabriella Ekens,

Oh my good golly gosh, y'all. We've got a lot of new releases this week. In fact, we've got so many that I'm not even going to hold you up with a lengthy introduction. Go on, dive into that bottomless sea of anime. Welcome to Shelf Life.
Jump to this week's review:
Dororo

On Shelves This Week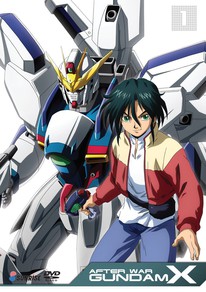 After War Gundam X - Collection 1 DVD
Right Stuf - 475 min - Sub - MSRP $49.99
Currently cheapest at: $29.04 Amazon

Synopsis: In the aftermath of a war between the Earth and its space colonies, a young war orphan with a talent for piloting mobile suits gets caught up in the beginning of a new conflict.
Extra: We've got a recent review of this '90s Gundam series, which you can read here. Sounds like a curious cousin to Gundam Wing, at least going by its vintage and position within the franchise.
---

Berserk: The Golden Age Arc - Movie Collection BD, DVD
Viz - 264 min - Hyb - MSRP $39.99|$29.98
Currently cheapest at: $26.44 Barnes and Noble|$26.99 Right Stuf

Synopsis: The legendary swordsman Guts joins forces with Griffith, the leader of the mercenary group Band of the Hawk. As they fight battle after battle, Guts begins to question his decision to support Griffith's ambitions.
Extra: There doesn't seem to be an official running time for this collection, so I just added up the times from the three previous individual releases. Speaking of those previous releases, you'll find reviews of them here, here, and here.
---

El-Hazard: The Wanderers - Complete Collection [Anime Elements] DVD
Right Stuf - 650 - Hyb - MSRP $29.99
Currently cheapest at: $19.49 Right Stuf

Synopsis: When inventor Makoto's latest creation goes haywire, it transports him, his rival Jinnai, and several other people to a parallel world full of amazing sights and dangerous enemies.
Extra: You can check out a Shelf Life review of a previous collection of this series here. You can stream the series on the Nozomi Entertainment YouTube channel.
---

Fairy Tail - Part 20 BD+DVD
Funimation - 325 min - Hyb - MSRP $54.98
Currently cheapest at: $35.74 Right Stuf

Synopsis: Natsu and Gray head to Sun Village to investigate a magical incident, but their investigation is put on hold when they get caught up in a battle with treasure hunters from the Sylph Labyrinth guild.
Extra: You'll find a review of the previous set here. Streaming options for this series include Crunchyroll, Funimation, and Hulu.
---

Gonna be the Twin-Tail!! - Complete Collection BD+DVD
Funimation - 300 min - Hyb - MSRP $64.98
Currently cheapest at: $42.24 Right Stuf

Synopsis: High school student Soji has an unhealthy obsession with the twin-tail hairstyle, which comes in handy when he's recruited to fight otherworldly monsters by transforming into a girl with twin-tails.
Extra: This is most definitely a real thing, and I'm sorely disappointed that our review coverage is limited to some Preview Guide entries. You can watch it streaming on Funimation and Hulu.
---

Lupin the 3rd: Alcatraz Connection DVD
Eastern Star - 90 min - Sub - MSRP $24.95
Currently cheapest at: $16.22 Right Stuf

Synopsis: Lupin and the gang plan to steal the gold cargo of a sunken ship, but they must contend with Inspector Zenigata, the local police, and a ruthless gangster.
Extra: Since we don't have any reviews of this particular entry in the Lupin franchise, I'll point you to episode reviews of the most recent TV series and my review of the Jigen's Gravestone movie.
---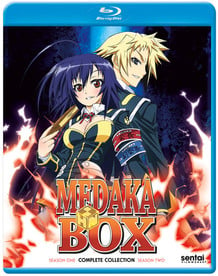 Medaka Box - Complete Collection BD, DVD
Sentai - 600 min - Hyb - MSRP $99.98|$79.99
Currently cheapest at: $54.99 Amazon|$44.99 Amazon

Synopsis: When high school student council president Medaka creates a suggestion box for students to submit their problems, she and her fellow council members end up stumbling upon an incredible secret.
Extra: This set contains both seasons of the series, and you'll find a couple of reviews of the first season here and here. You'll find this show streaming on Crunchyroll and The Anime Network.
---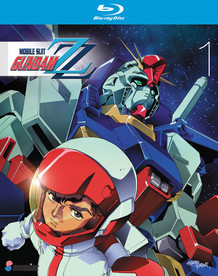 Mobile Suit Gundam ZZ - Collection 1 BD, DVD
Right Stuf - 550 min - Sub - MSRP $74.99|$59.99
Currently cheapest at: $48.74 Right Stuf|$38.99 Right Stuf

Synopsis: Junk dealer Judau sneaks aboard a damaged military vessel with the intention of stealing one of the ship's mobile suits, but finds himself forced to join the ship's crew instead. With Neo Zeon forces in hot pursuit, the crew's only hope lies in a new Gundam.
Extra: This series follows the events of Mobile Suit Zeta Gundam, which you'll find reviews of here and here.
---

Psycho-Pass The Movie BD+DVD, DVD
Funimation - 113 min - Hyb - MSRP $34.98|$24.98
Currently cheapest at: $26.24 Right Stuf|$22.49 Right Stuf

Synopsis: Akane is sent overseas as part of the first international implementation of the Sibyl System, but her investigation leads her to a standoff with a former ally.
Extra: We've got a review from this movie's brief US theatrical run that you can read here. Sounds like the second season of the TV series isn't necessarily required viewing if you want to check out the movie.
---

Shonen Hollywood: Holly Stage for 49 - Season 1 DVD
Funimation - 325 min - Sub - MSRP $44.98
Currently cheapest at: $29.24 Right Stuf

Synopsis: Fifteen years after the legendary idol group Shonen Hollywood put on their most famous performance, a new group of performers step up to become the group's next generation.
Extra: We've got episode reviews of this season here. You can also get your handsome idol fix in streaming form from Funimation.
---

Sound! Euphonium - Part 1 [Collector's Edition] BD+DVD
Ponycan - 115 min - Sub - MSRP $89.98
Currently cheapest at: $71.98 Right Stuf

Synopsis: After an emotional experience in junior high, high school freshman Kumiko isn't sure if she wants to follow her friends and join the brass band club. Things get more complicated when she runs into her former bandmate Reina.
Extra: Episode reviews! Get your episode reviews right here! You can also stream the show on Crunchyroll if you're in the mood for some nicely animated band drama.
---

The Boy and the Beast BD+DVD, DVD
Funimation - 119 min - Hyb - MSRP $34.98|$29.98
Currently cheapest at: $22.74 Right Stuf|$19.49 Right Stuf

Synopsis: A young orphan finds himself in a world of beasts, where he's taken in as an apprentice and son by a warrior beast. The bond between them will be tested by a dark force that threatens both the human and beast worlds.
Extra: You'll find a review of this latest Mamoru Hosoda movie here. No streaming sources for this one, though.
---

The Girl Who Leapt Through Time [Hosoda Collection] BD+DVD, Collector's Edition
Funimation - 99 min - Hyb - MSRP $34.98|$49.98
Currently cheapest at: $22.74 Right Stuf|$32.49 Right Stuf

Synopsis: High school student Makoto obtains the ability to jump backwards in time and immediately puts her new power to work for her own benefit. However, her constant tinkering with the past carries plenty of unintended consequences.
Extra: Looks like we've got a Hosoda double feature this week (or a quadruple feature if you count each version separately). You can read a review of this movie here.
---

Wake Up, Girls!: The Movie BD, DVD
Sentai - 52 min - Sub - MSRP $29.98|$19.98
Currently cheapest at: $15.99 Amazon|$10.99 Amazon

Synopsis: Tasked with assembling a pop idol group from scratch, talent agent Matsuda gathers a motley crew of high school girls. With more spirit than actual talent, the group will have to work hard to succeed.
Extra: Well, would you look at that? We reviewed this movie in this very column just last week! You can stream it and its sequel TV series on Crunchyroll and The Anime Network.
---

Yona of the Dawn - Part 1 BD+DVD
Funimation - 300 min - Hyb - MSRP $64.98
Currently cheapest at: $42.24 Right Stuf

Synopsis: Princess Yona's life takes a turn for the worse when her cousin murders her father and seizes control of the country. On the run with her bodyguard, Yona searches for four legendary warriors who can help her reclaim her kingdom.
Extra: We've got episode reviews of this one, along with a full series review. You can stream it on Crunchyroll, Funimation, and Hulu.
---
Shelf Life Reviews
We're going way, way back in time this week with Gabriella's review of the 1969 series Dororo.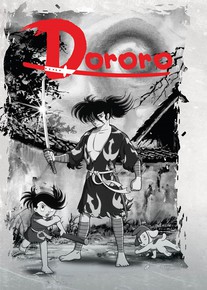 It's that time again on Shelf Life – time to review some Old Anime. This time, we're going further back than ever before to 1969, a time many consider pre-anime. But it is not! In this age, when mecha wasn't even a genre yet, and magical girls consisted of exactly one show, Osamu Tezuka – the God of Manga himself – still wandered the Earth, spreading his influence as the Johnny Appleseed of Japanese cartoons. While pretty much all anime bears a debt to Tezuka, Dororo is one of the seeds that fell directly from his hand, adapted from his manga by his personal studio, Mushi Productions. A supernatural procedural about a ronin and a child thief wandering through Sengoku-era Japan, Dororo isn't one of the Tezukas that most people can name (like Astro Boy or Black Jack) but it does enough to stand out in his vast, vast oeuvre.
Prior to Hyakkimaru's birth, his father, Daigo Kagemitsu, sold his son's body to 48 sealed demons in exchange for power. They took one body part each, and Hyakkimaru was born a barely-living blob of flesh. Abandoned to die, he was instead found and adopted by the kindly Dr. Honma. As he grew older, Hyakkimaru learned to compensate for his lack of – well – anything with spiritual power, while his foster father constructed him an elaborate full-body prosthesis. Now grown, Hyakkimaru is on a journey to slay the 48 demons and retrieve his stolen body. Soon enough, he finds a companion in the child thief Dororo, whose happy-go-lucky demeanor hides a number of secrets. At first burdened by his fellow traveller, Hyakkimaru quickly bonds with the scamp, and Hyakkimaru discovers a strange happiness in his quest. But can it last forever?
A few more details on Dororo's production history – the manga was cancelled early into its run and is infamous for its abrupt ending. Released the year after that, this anime contains an expanded, but still quite brief conclusion. In both formats, Dororo feels like an unfinished work. (Probably because it is.) As an example, for being the title character, Dororo doesn't get nearly as much focus as Hyakkimaru. That's because the manga was cancelled before it could shift in focus to being about the kid's coming-of-age story. That's all left as an implication, and while it's interesting, the final taste this show leaves is one of undeserved melancholy. It doesn't jive with the affection we've developed for Hyakkimaru and Dororo as partners over the course of the show. At the same time, these types of jarring tonal irregularities are hardly rare for anime from way before the industry had become today's streamlined production machine. For the sake of comparison, Astro Boy ended with the titular character flying into the sun and never coming back. Can you imagine if Disney did that?
Still, in spite of the serialization snafus and general 60s-ness, I enjoyed Dororo immensely. I generally have fun with old anime – it's neat to see what goes down in the absence of modern anime's tone control – but beyond that, Dororo is just a well paced, creative, and action-packed production. The leads are endearing, and the animation broke ground in depicting action. (Fun fact: color anime was already the standard at the time. Dororo is in black-and-white both for budgetary reasons and to tone down the gushing geysers of blood. The addition of a cute puppy sidekick was also a compromise for the censors.) It's also aged quite well visually. If you're not just allergic to the crusty old anime style altogether, Dororo features some striking compositions by master artisans.
As a plus, it's also not a million years long. While most old anime have are at least 50 episodes, Dororo clocks in at a manageable 26. The format is mostly procedural, with our heroes slaying around one monster per episode. As entertainment, it mostly reminds me of those recent classic throwback shows put out by MAPPA. GARO: The Animation and Ushio and Tora resemble Dororo in their balance of juvenile hijinks, sudden violent content, and occasional forays into more serious storytelling within the episodic format. There're some good baddies in here too. My favorite is the guy who sits at one spot all day because his butt is the seal locking away a killer demon. Some of the serious ones also stand out, like Dororo's encounter with a sword that possesses its wielder to kill, and Hyakkimaru's repeated skirmishes with his father.
Dororo is a seminal work in the history of anime. It features early contributions by many of the medium's legends – series direction by Gisaburo Sugii, episode direction by Osamu Dezaki, storyboards by Yoshiyuki Tomino, and in-betweening by Yoshiaki Kawajiri, to name a few. It's a boon to early animation scholars to see this released in English. The only downside is that there isn't much writing on Dororo in the English language 'net. This is the type of show where I'd really appreciate some sort of companion booklet or commentary track to help contextualize its importance. While I'm glad it was released (and good on Discotek for picking it up after Anime Sols' closure) the body of writing that should surround this doesn't exist. If you're curious, I suggest just checking it out, and maybe putting up what you think online. This period in anime is under-examined, but very worthwhile.
-Gabriella[TOP]
That wraps up this week's review section. Thanks for reading!

There is no Shelf Obsessed entry this week. I need more collections to show off here! If you'd like to show the world your awesome treasure trove of anime/manga/other cool stuff, send me your photos at [email protected]
---
discuss this in the forum (14 posts)
|